WASHINGTON, D.C. – (RealEstateRama) — As an Economic Development, Public Buildings, and Emergency Management Subcommittee hearing yesterday on 21st Century Infrastructure quickly became chiefly devoted to the impacts of recent hurricanes, Congresswoman Eleanor Holmes Norton (D-DC) raised the increasing importance of finding ways to improve investments in pre-disaster infrastructure.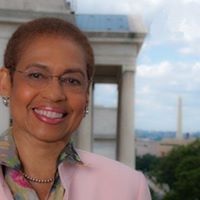 "As climate change increases the severity and frequency of natural disasters, our nation, starting with Congress, must start asking harder questions on how we prepare for storms and mitigate their destructive costs," Norton said. "I am looking closely at ideas for possible legislation."
At the hearing, Norton directed her questioning to Steven Linkous, chairman of the National Association of Mutual Insurance Companies. Norton said she was shocked by Linkous' testimony that only "15 percent of those in the path of severe flooding caused by [Hurricane] Harvey maintain flood insurance" and that "[the Federal Emergency Management Agency] spent a massive 89 times more on post-disaster assistance than pre-disaster mitigation." To help deal with the unsustainable costs of post-disaster relief, Linkous proposed allocating "10 percent of all funds appropriated for the existing, post-disaster Hazard Mitigation Grant Program…to the new National Hazard Mitigation Grant Program," which Norton called "tough love."
Norton said that because the District of Columbia is located on two rivers, it is particularly vulnerable to flooding and storm surges. In her most recent effort to reduce flood risk, Norton got funding to build a levee on 17th street to protect businesses and buildings near the Mall and downtown D.C. She has also introduced a bill to amend the Coastal Zone Management Act of 1972 (CMZA) in order to make D.C. eligible for federal coastal zone management funding.
Norton has been especially active on the Economic Development subcommittee because of the large number of development projects in the District that she has gotten passed out of the subcommittee, including her bills to develop the Southeast and Southwest Waterfronts.
###