Norton Will Meet with State Department Official to Continue Work on Efforts to Engage Foreign Missions to Improve Facilities
WASHINGTON, D.C. – (RealEstateRama) — Congresswoman Eleanor Holmes Norton (D-DC), who asked the U.S. State Department to address a growing number of buildings owned by foreign governments in the District of Columbia that have been vacated and fallen into poor condition, released the U.S. State Department Office of Foreign Missions' (OFM) response to her letter, which shows heightened progress on a number of these properties.  Norton also said that D.C. Council Chairman Phil Mendelson today introduced legislation allowing D.C. to tax vacant and blighted foreign government properties after she wrote to the Council urging such legislation.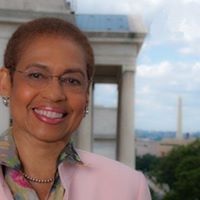 In its response to Norton's letter, OFM said it "stands ready to aggressively engage with foreign missions" to address the growing number of buildings owned by missions that have become vacant or fallen in disrepair.  OFM shared its views on where the situation stands at properties and embassies listed by Norton in her letter (Argentina, Egypt, Iraq, Serbia, and Sri Lanka) and offered to meet with Norton to further discuss how to improve or eliminate run-down foreign government buildings.
"I thank the State Department for their willingness to work with me on this mixed federal-local matter," Norton said.  "It is critical that we continue to put pressure on foreign governments to maintain their properties here in the District.  When buildings fall into a visible state of disrepair, it hurts our neighborhood not just by depressing nearby property values, but also increasing health and safety risks.  Taking a two-pronged approach at the federal and local levels will hopefully lead to action."
Below are excerpts from OFM's letter regarding the properties raised in Norton's letter.
Argentina 2136 R St. NW – "OFM was informed earlier this year that the Argentine Government has authorized the Embassy to sell this and several other properties they own in the District."
Egypt 5500 16th St. NW – "The Embassy has informed OFM that they have recently awarded a contract to renovate this property."
Iraq 3110 Woodland Dr. NW – "The Department has informed the Embassy that it must initiate the long planned renovation of this property no later than October 31, 2017, in order to prevent the removal of the location's diplomatic status – inviolability and tax exemption."
Serbia 2221 R St. NW – "This property has been vacant since the breakup of the Yugoslavia in 1992…Once Serbia became the legal owner of the building they developed a full renovation/modernization plan and obtain the approval of the Foreign Missions Board of Zoning Adjustment to proceed.  However, the Serbian Embassy does not have funding available at this time to execute this contract.  OFM is working with the Embassy on some alternative options."
Sri Lanka 2148 Wyoming Ave. NW – "The Embassy has reversed its original decision to make this building available for commercial leasing and is now moving to use it as an annex of its chancery."
Click here to read the State Department's letter.
###