WASHINGTON, D.C. – (RealEstateRama) — Faced with the almost-disappearance of affordable housing in the District of Columbia and across the nation, Congresswoman Eleanor Holmes Norton (D-DC) filed an amendment to the fiscal year 2018 Transportation, Housing and Urban Development Appropriations (THUD) bill to increase the funding for Section 8 tenant-based vouchers by 1 percent, or $187 million, which would translate into approximately 21,000 new housing vouchers. Recipients use the vouchers to reduce their rents in private apartments. The federal government, which currently funds about 2 million vouchers, has not funded new housing vouchers, other than for special purpose vouchers, such as for homeless veterans, since 2002. Norton said that affordable housing today is often turned into higher-priced units and is not being replaced. According to the Congressional Budget Office, only 25 percent of individuals eligible for federal public housing assistance, including Section 8 vouchers, receive it. Norton said that the demand for housing assistance has so greatly outpaced available housing assistance that waitlists across the country, including in the District of Columbia, have long been closed to new applicants.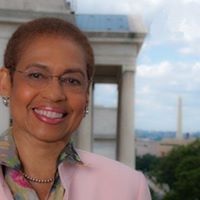 "My amendment for a 1 percent increase in Section 8 housing vouchers is a deliberate drop in the bucket to challenge Congress to confront the existing affordable housing emergency," Norton said. "If Congress will not even raise funding by 1 percent, it will show its bankruptcy in coming forward to help Americans secure affordable housing. As the staggering shortage of available affordable housing gets worse, Members have an obligation to show their constituents where they stand on beginning to address the nation's affordable housing crisis."
Norton's Section 8 housing voucher amendment is the seventh amendment Norton has submitted to several House Appropriations bills that are scheduled to be considered when Congress returns from recess next month. Norton's other amendments would strike anti-home-rule riders that prohibit D.C. from spending its local funds on marijuana commercialization and on abortions for low-income women, as well as those that repeal D.C.'s medical aid-in-dying law, the Death with Dignity Act, and budget autonomy referendum; prohibit states that receive federal transportation funding from engaging in unconstitutional profiling based on physical characteristics; and prohibit the Federal Bureau of Prisons from carrying out the law that requires individuals in halfway houses and on home confinement to pay a subsistence fee to offset the cost of being housed or supervised.
###