Projects Continue WSSC's Commitment to Provide Safe, Clean, Reliable Drinking Water
Laurel, Md. – July 20, 2017 – (RealEstateRama) — WSSC commissioners today approved two construction contracts totaling $7 million to improve drinking water infrastructure in Montgomery and Prince George's counties. These contracts underscore WSSC's clean water mission by replacing aging water mains in the Beltsville area of Prince George's County and installing a new elevated water storage tank in the Clarksburg area of Montgomery County.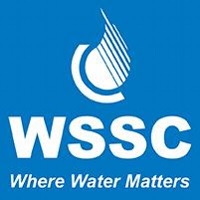 "For nearly 100 years, WSSC has provided safe drinking water that meets or exceeds strict federal standards," said WSSC General Manager and CEO Carla A. Reid. "These two projects underscore our commitment to replace aging infrastructure and meet the safe drinking water needs of our customers for another century."
The approved contracts include:
Powder Mill Road Water Main Replacement – $2.8 Million
WSSC will replace and relocate 2.7 miles of water main and 0.8 miles of water house connections along Powder Mill Road in Beltsville. The new water mains will be zinc-coated ductile iron pipe wrapped in a protective coating, giving the pipes a life expectancy of at least 100 years. WSSC was the first utility in the country to use this innovative pipe material. The project extends from Riggs Road to Beltsville Drive. Work is expected to begin this fall, weather permitting.
Clarksburg Elevated Water Storage Facility – $4.3 Million
WSSC will build a new one-million-gallon elevated water storage tank in Clarksburg. The project also includes construction of storm water management facilities, an access road and associated site work. Construction is expected to begin this fall, weather permitting.
WSSC will invest nearly $2 billion over the next six years (FY 2018 – FY 2023) to upgrade buried assets. Approximately 40 percent of WSSC's water and sewer mains are more than 50 years old. WSSC is making progress addressing aging infrastructure by replacing approximately 61 miles of water mains and 20 miles of sewer mains each year, which equates to 150-200 active construction projects throughout both counties. WSSC also invests $6 million per year to rehabilitate water storage tanks.
Follow WSSC on Twitter @WSSCWaterNews and/or Facebook at WSSCWater for updates on major construction and customer-specific information. For water or sewer emergencies, customers should call 301-206-4002.
Established in 1918, today WSSC is among the largest water and wastewater utilities in the nation. We proudly serve the 1.8 million residents of Prince George's and Montgomery counties, providing life's most precious resource. WSSC drinking water has always met or exceeded federal standards.
Contact
Luis Maya


301-206-8100