"The Confident House Hunter" Earns Silver from National Association of Real Estate Editors
Seattle, WA – July 11, 2017 – (RealEstateRama) — Seattle area home inspector and first-time author Dylan Chalk has won America's top contest for real estate authors, receiving the Silver Award from the National Association of Real Estate Editors (NAREE) 11th Annual Robert Buss Real Estate Book Awards for "The Confident House Hunter: A Home Inspector's Tips for Finding Your Perfect House" (Cedar Fort, Inc. Publishers, July 2016).
The affable, story-telling Chalk, who has completed more than 6,000 home inspections, was honored during NAREE's annual conference at its Robert Bruss Real Estate Book Awards luncheon in Denver. "I believe I have written a breakthrough book that transforms the way people look at houses; it can really help people get prepared for home buying and selling in today's fast paced market," said Chalk. "Having 'The Confident House Hunter' win a top award from the oldest and most reputable real estate journalist group in the nation – while being surrounded by the who's' who of real estate journalists – that is an affirmation of this work that is truly priceless," he added.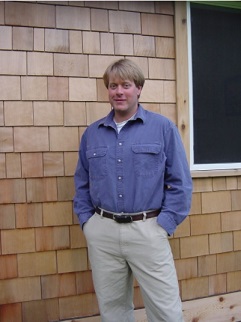 The awards luncheon was packed with real estate journalists, including writers for the New York Times, Washington Post, Los Angeles Times, Wall Street Journal, Bloomberg, MarketWatch, Dallas Morning News, Newsday, Boston Globe, Houston Chronicle, Denver Post, Philadelphia Inquirer, Orlando Sentinel, Atlanta Journal Constitution, US News & World Report, and many more.
In awarding Chalk and "The Confident House Hunter," the team of professional judges said, "Chalk used an innovative approach to evaluate and organize home systems. The judges also noted that the book offers clear and helpful advice for anyone examining a home," said NAREE President, Michelle Jarobe of the Plain Dealer in Cleveland, when presenting Chalk with the Silver Award at the lunch. It is the second highest honor NAREE awards real estate authors annually.
Chalk describes "The Confident House Hunter" as "an essential guide, especially for today's buyers searching for a home in today's intense real estate market. With high prices and short time frames to make critical decisions, this book provides detailed information on the way to look at a house and evaluate if this is the right house for you – and help you do that very quickly."
Published by Cedar Fort, Inc., "The Confident House Hunter" is available on Amazon and available in local bookstores everywhere.
# # #