Rochester, N.Y. – June 17, 2016 – (RealEstateRama) — Conifer Realty, LLC is proud to announce the recipients of the Annual Property Management Excellence Awards. These dedicated winners were announced during Conifer's annual leadership conference. 300 employees were in attendance to celebrate, connect, collaborate and communicate.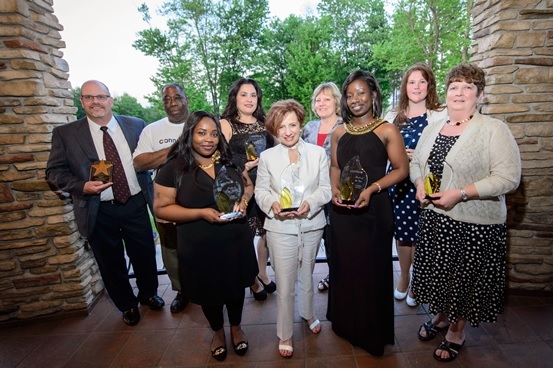 From left to right: Al Baxter (Maintenance Person of the Year); Wayne Chapman (Property of the Year); Karen Coleman (Rookie of the Year); Dorisa Otero (Manager of the Year); Patti Painton (Conifer Value Award); Karen Koskinen (Most Improved Property NOI); Laurie Thomas (Rookie of the Year); Brandi Pecor (Most Improved Property NOI); Sue Terwilliger (Most Improved Property NOI); not pictured: Jacqueline Majors-Myles (Outstanding Customer Service) & Robert Figueroa (Maintenance Supervisor of the Year)
Please join us in congratulating our exception employees on a great 2015 and even better 2016!
Conifer is a nationally ranked, full-service real estate company specializing in the development, construction, management and ownership of high-quality, affordable housing communities. Since its inception in 1975, Conifer has grown considerably – currently owning and managing over 14,600 multifamily units representing 220+ apartment communities in New York, New Jersey, Pennsylvania, Maryland and Ohio. In addition, the Company consistently maintains a pipeline of over 30 unique projects in various stages of the development process.