Ward 4 Residents Used Tenant Opportunity to Purchase Act to Buy 21-unit Building
(WASHINGTON, DC) – (RealEstateRama) — The DC Department of Housing and Community Development (DHCD) closed a loan agreement totaling more than $3.1 million that will help preserve 21 affordable housing units in Ward 4 for a tenant association invoking its purchase rights through the Tenant Opportunity to Purchase Act (TOPA). The funding was made available through the Housing Production Trust Fund (HPTF).
"Thanks to TOPA and funding from the Housing Production Trust Fund, residents were able to buy their building to preserve affordability and remain in a neighborhood that's undergoing revitalization," said DHCD Director Polly Donaldson. "They will have safe and affordable homes in the 7th and Georgia Avenue Great Streets corridor, near mass transportation, local businesses and community amenities like public libraries."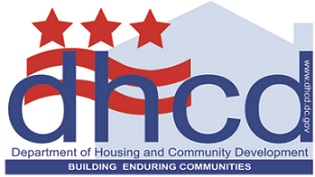 DHCD provided $3.1 million in HPTF financing to Diversity Cooperative Inc. for the acquisition and preservation of their 21-unit apartment building at 7440 Georgia Avenue NW. Ten affordable units will be available for households at or below $55,150 (50 percent of the Area Median Income [AMI]) and remain affordable for no less than 40 years; eight units will be available for households at or below $66,180 (60 percent AMI); and three units will be available for households at or below $88,240 (80 percent AMI).
Mi Casa, a nonprofit affordable housing developer, provided training and technical assistance that helped the tenant association exercise its TOPA rights.
"Mi Casa is honored to have partnered with the residents of 7440 Georgia to preserve housing in Shepherd Park," said Mi Casa Executive Director Fernando Lemos. "With the support of DHCD and the city's requirement of 40-year affordability, the city has gained 21 units of community-owned affordable housing. Only through the commitment and dedication of the Cooperative could this have been possible."
Since taking office, Mayor Muriel Bowser has made affordable housing a major focus of her administration. In October 2016, the mayor celebrated a record HPTF investment for Fiscal Year 2016: $106.3 million supporting 19 projects that will produce or preserve more than 1,200 affordable housing units across the city.
Since October 1, 2016, DHCD has closed 23 affordable housing production and preservation projects, yielding over 1,100 units for District families. In addition, the 23 projects have used over $86 million in DHCD funds—including $79 million in HPTF and $12.4 million in 4% and 9% Low Income Housing Tax Credit (LIHTC) allocations.
DC's annual $100 million HPTF is more than any city per capita in the country. Additionally, as part of her inclusive prosperity platform, the mayor has launched a new initiative of $10 million dedicated solely to a new public-private housing preservation fund. A search is now on for a preservation officer to spearhead this fund.
Since January 2015, the Bowser Administration has produced and preserved over 3,900 units of affordable housing in the District with more to come. More than 5,200 affordable housing units—capable of housing more than 13,150 District residents—are in the development pipeline.