Local homeowners can now buy-before-they-sell or receive instant all-cash offers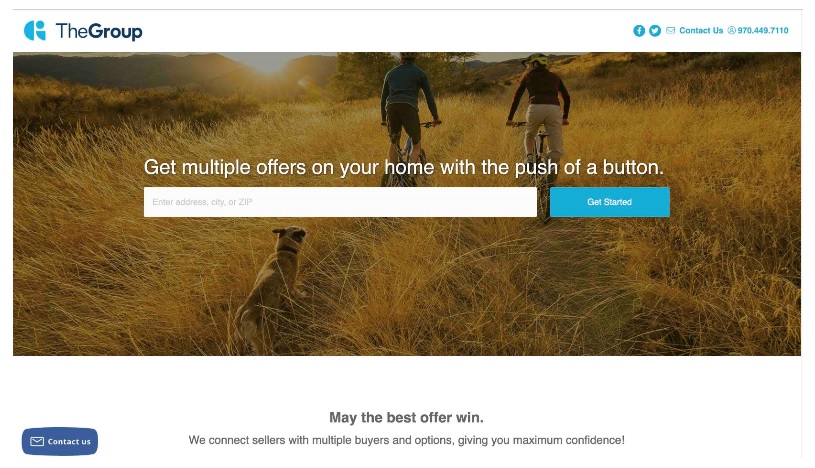 FORT COLLINS, Colo. – March 10, 2021 – RealEstateRama – The Group, Northern Colorado's premiere real estate company, is launching The Group Guaranteed Offer program, giving local homeowners more ways to sell their homes than ever before.
The Group Guaranteed Offer helps brokers provide local homeowners with all the newest selling options, including instant offers from iBuyers, and one of the hottest new options: buy-before-you-sell from Bridge providers. 
"Homeowners would love an all-cash offer when they are ready to sell, and with The Group Guaranteed Offer, they can see what an instant all-cash offer looks as soon as they are ready to make their move," said Brandon Wells, President of The Group.
"Today, sellers have more ways they can sell their home and that's why they want the help of an agent when making the biggest financial decision of their lives," he added. "Homeowners no longer have to wait until they sell their current home before they buy their next one. With the newest option for sellers, they can buy a new home now and move later."
Powered by zavvie and its Offer Optimizer seller technology, The Group Guaranteed Offer provides three primary seller options. Instant sales offers helps homeowners with properties in good condition within a targeted price range receive an all-cash offer from an iBuyer. Homeowners can also select a modern "Bridge" program to facilitate a homeowner to buy their next home before selling and moving out of their current house when they are ready. The Group helps homeowners sell on the open market, the most popular choice, often resulting in the seller's highest sales price and net proceeds.
"The Group Guaranteed Offer program is a one-stop-shop for Northern Colorado home sellers," said Lane Hornung, zavvie co-founder and CEO. "By offering iBuyer and Bridge options, they are leading the marketplace in serving sellers, providing all of the newest options available to sell a home, with the guidance and expertise of a trusted, knowledgeable, local agent."
More details about The Group Guaranteed Offer are here or at thegroupinc.com.

About The Group
The Group is a Northern Colorado real estate company founded on a strong history of leadership, values and a philosophy of empowering both people and organizations to build lasting relationships, prosperous lives and create a meaningful impact in our community and beyond. To learn more, visit www.thegroupinc.com.

About zavvie
zavvie is a technology company that empowers the modern agent by making it easy to provide all selling options: iBuyer, bridge, and open market through our proprietary Offer Optimizer™ Suite. zavvie is the first end-to-end real estate brokerage platform offering a full spectrum of selling solutions, partnering with leading brokerages in 40 different states. zavvie gives top brokerages and agents all they need to thrive in today's evolving real estate landscape: easy to use tools, technology, training, marketing, and strategy. Discover more at zavvie.com.
# # #
Media Contact:
Kevin Hawkins | zavvie
206-866-1220 |