Renovating your basement can be an exciting time; however, one thing that many homeowners struggle with is choosing their basement ceiling.  After all, most basements tend to be lower than traditional rooms, so it can be tempting to opt for a bare-bones look so that you don't lose any clearance.  But is this always the best option?  Could you be losing out on a great style opportunity?  Let's take a look at some great ceiling ideas to consider implementing during your remodel.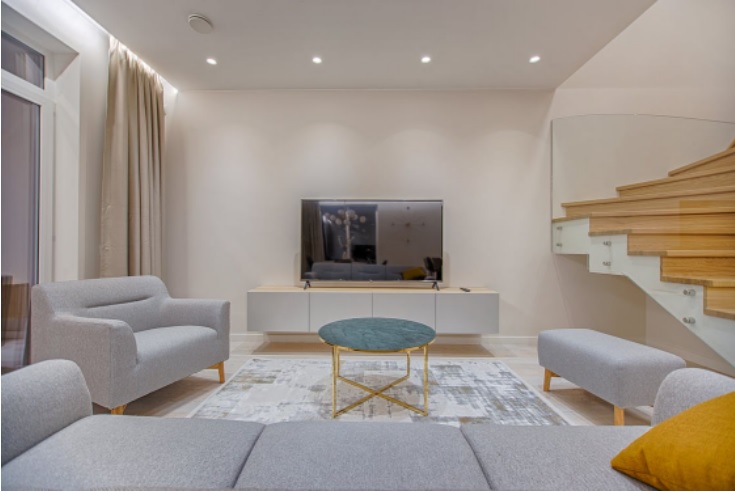 Painted Rafters
Painted rafters may not be the first thing you think of when planning a basement ceiling, but when given some thought, they can actually be an ideal choice.  Think about painting your rafters in a nice charcoal color and pairing this with white walls, deep gray floors, and light gray furnishings.  The end result will be a modern looking basement that is suited to many different purposes.
Natural Wooden Planks
For the ultimate man cave, opt for natural wooden planks for your basement ceiling.  Pair this look with a plush cozy carpet, some dark brown leather chairs, and a large television.  You can also add lighting strips inside the support beams for a fully relaxing atmosphere.  Your friends will love visiting to watch the big match or shoot a round of pool with these esthetics surrounding them.
Suspended SnapClip System
For an affordable and easy to DIY ceiling, take a look at the Snap Clip suspended ceiling systems.  Utilizing a unique design, these are the ideal choice for light basements that have an air of luxury surrounding them.  The simple design can easily complement pretty much any décor choice you make, although we find that these pair especially well with wooden floors and light whitewashed walls.
Tin
If you're of the age that you remember tin ceilings in pubs, you'll love the nostalgic effect a tin ceiling will give to your basement.  Charming and decorative, tin ceilings reflect sound and light and can make a basement of any size appear fun and entertaining.  To really get the most from your tin ceiling, use wooden planks for the floor and add a dark wood bar, a pool table and a juke box.  With esthetics like this, your guests will never want to leave.
Corrugated Metal
If your basement is particularly low, one good option to consider is corrugated metal.  This doesn't drop down like many of the other ceiling styles on this list, and it also reflects light, making the room feel taller than it actually is.  A corrugated metal ceiling can actually be viewed as a focal point, rather than a necessary room addition, and when paired with light wood and plants, it can create a really modern space that doesn't feel cramped at all.
There are tons more ceiling ideas that you could consider for your basement, including decorative tiles, contrasting paint colors, exposed wooden beams and a traditional box design.  Take some time to think about what you want to ensure the end result looks fantastic.