The U.S. Green Building Council, with the support of Bank of America Charitable Foundation grant program, awards funding and provides educational resources to developers of affordable housing
Washington, D.C.—(Oct. 6, 2016)—Today, the U.S. Green Building Council (USGBC) and Bank of America Charitable Foundation announced the five projects selected for the 2016 Affordable Green Neighborhoods (AGN) grant program. The AGN grant program provides funding and educational resources to developers of affordable housing who are pursuing LEED for Neighborhood Development certification. The projects selected are committed to creating affordable and sustainable communities.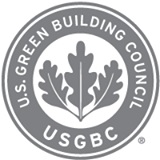 "Our homes, and the neighborhoods in which they reside, are the anchors for our families and communities—making them a critical component of the green building movement," said Rick Fedrizzi, CEO and founding chair, USGBC. "We are excited to partner with Bank of America to foster relationships with developers who are committed to creating homes that will help families save energy, water and money as well as enjoy the health and well-being benefits that go with living in green homes. We applaud this year's grant recipients for ensuring that the most important places in which we spend our time are sustainable."
The 2016 AGN grant recipients are:
Beecher Terrace Choice Neighborhood—Louisville, Kentucky
Edison-Eastlake Choice Neighborhoods Community—Phoenix, Arizona
Indigo Block—Dorchester, Massachusetts
Lathrop Homes—Chicago, Illinois
Sun Valley EcoDistrict—Denver, Colorado
Launched in 2010, the AGN grant program has helped create affordable, sustainable neighborhoods across the country. This year's recipients will receive an award package valued at nearly $45,000, including three one-year subscriptions to the Education @USGBC platform; access to the LEED Dynamic Plaque platform for three years; and a two-day, in-person technical assistance session with USGBC staff.
"Affordable Green Neighborhood projects demonstrate that well-built, energy-efficient housing is cost-effective while also helping to accelerate the transition to a lower-carbon future," said Alex Liftman, Global Environment executive at Bank of America. "Partnering with the U.S. Green Building Council is one way we work to address community development needs in support of thriving economies."
LEED for Neighborhood Development (LEED ND) integrates the principles of smart growth, new urbanism and green building, while benefiting communities by reducing urban sprawl, increasing transportation choices and decreasing automobile dependence, encouraging healthy living and protecting threatened species.
The six members of the AGN review committee, who were selected for their industry leadership, represent the perspectives of architecture and design, New Urbanism, smart growth, affordable housing, community development and tax credit financing. In their deliberations, the review committee members evaluated potential projects on several criteria relating to the strength of the project, the financial needs of the project team and the potential value to the community.
Of the 31 projects previously awarded grants, 11 have achieved LEED ND certification to date. These seven projects represent more than 400 acres, 539 dwelling units and 1.17 million gross square feet of planned or built space, all designed to the highest standards of sustainability and inclusion. The remaining AGN grant recipients are LEED-registered projects working toward completion.
LEED (Leadership in Energy and Environmental Design) has become the world's most widely used green building rating system. LEED projects undergo a technically rigorous process to become certified, including multiple onsite inspections and diagnostic tests. Quality control and quality assurance are built into the process so that builders, architects and homeowners can rest assured they get what they paid for and specified.
Learn more about LEED for Neighborhood Development.
About Bank of America
At Bank of America, our focus on Environmental, Social and Governance (ESG) factors is critical to fulfilling our purpose of helping make people's financial lives better. Our commitment to growing our business responsibly is embedded in every aspect of our company. It is demonstrated in the inclusive and supportive workplace we create for our employees, the responsible products and services we offer our customers, and the impact we make around the world in helping local economies thrive. An important part of this work is forming strong partnerships with nonprofits and advocate groups, such as community and environmental organizations, in order to bring together our collective networks and expertise to achieve greater impact. Learn more at bankofamerica.com/about, and connect with us on Twitter at @BofA_News.
2015 Bank of America Business Standards Report
Contact:
Leticia McCadden