FRESNO, Calif. – RealEstateRama – Hanley Investment Group Real Estate Advisors, a nationally recognized real estate brokerage and advisory firm specializing in retail property sales, announced today that the firm has completed the sale of a brand-new, single-tenant Starbucks with a drive-thru located in Fresno, California. The sale price of $2,825,000 represented a cap rate of 4.35% and a price per square foot of $1,345.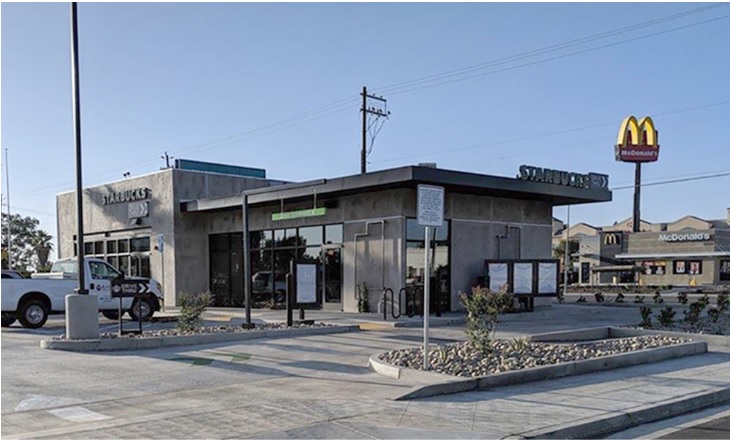 Hanley Investment Group Executive Vice Presidents Jeff Lefko and Bill Asher represented the seller, a Fresno-based real estate investment and development firm. The buyer, a private investor from San Jose, California, was self-represented.
Built in 2019 on 0.45 acres, the 2,100-square-foot, freeway-visible property is located at 5211 West Shaw Avenue, at the intersection of West Shaw Avenue and North Dale Avenue, near the Golden State (99) Highway in Fresno. The property benefits from the 33,000 cars per day along Shaw Avenue, the main east/west thoroughfare in Fresno, and the adjacent Highway 99 with 80,000 cars per day, a major arterial for California's Central Valley.
According to Lefko, at the time of the sale the property is the only Starbucks drive-thru east of Highway 99 in a three-mile radius. In-N-Out, McDonald's, Carl's Jr. and Taco Bell, all drive-thru quick-serve restaurants, are located in the immediate area.
The property is located within five miles of California State University, Fresno, with 24,000 students and 13 miles from Fresno Pacific University with 3,000 students. There are more than 187,000 people within a five-mile radius.
With a census-estimated 2018 population of 530,093, the city of Fresno is the fifth-most populous city in California, the most populous inland city in California, and the 34th-most populous city in the nation.
Fresno is near the geographical center of California. It lies approximately 220 miles north of Los Angeles, 170 miles south of the state capital, Sacramento, and 185 miles southeast of San Francisco.
"We generated multiple qualified offers while marketing the property and closed escrow at 99% of the listed sale price just after Starbucks opened for business," noted Lefko.
"Starbucks has become one of the most prominent and innovative retailers in today's market," said Asher. "As a net-lease passive investment, Starbucks provides investors with a secure and stable investment that requires little to no maintenance. Further, the stores are situated in high-traffic locations with strong demographics."
Starbucks Corporation reported that in the fourth quarter of 2019, U.S. comparable-store sales were up 6%, both driven by a 3% increase in average ticket and a 3% increase in comparable transactions. The company opened 630 net new stores in the fourth quarter, yielding 31,256 stores at the end of the quarter, a 7% increase over the prior year.
Lefko and Asher are one of the most active brokerage teams in the sale of single-tenant and multi-tenant coffee investments in California, arranging the sale of 25 properties valued at over $86 million in the last two years, many at record cap rates.
Earlier last month, Hanley Investment Group arranged the sale of a trophy, flagship resort location Starbucks in Mammoth Lakes, California, a 4,435-square-foot Starbucks, the largest Starbucks building in the state of California.
"Our recent sales with Starbucks assets demonstrate how aggressive investors are willing to be in order to acquire well-located, pride-of-ownership real estate," Lefko noted.
Asher adds, "Coffeehouses continue to be a significant place of consumption outside of the home, with sales reaching $26.3 billion; Starbucks made up almost half of the total coffeehouse sales."
Lefko and Asher are currently marketing for sale new-construction, single-tenant Starbucks with a drive-thru in both Twentynine Palms and Imperial Valley, California as well as a new-construction The Coffee Bean & Tea Leaf with a drive-thru in Long Beach, California.

About Hanley Investment Group  
Hanley Investment Group Real Estate Advisors is a retail investment advisory firm with a $6+ billion transaction track record nationwide, who works closely with individual investors, lending institutions, developers, and institutional property owners in every facet of the transaction to ensure that the highest value is achieved. For more information, visit www.hanleyinvestment.com.
#   #   #