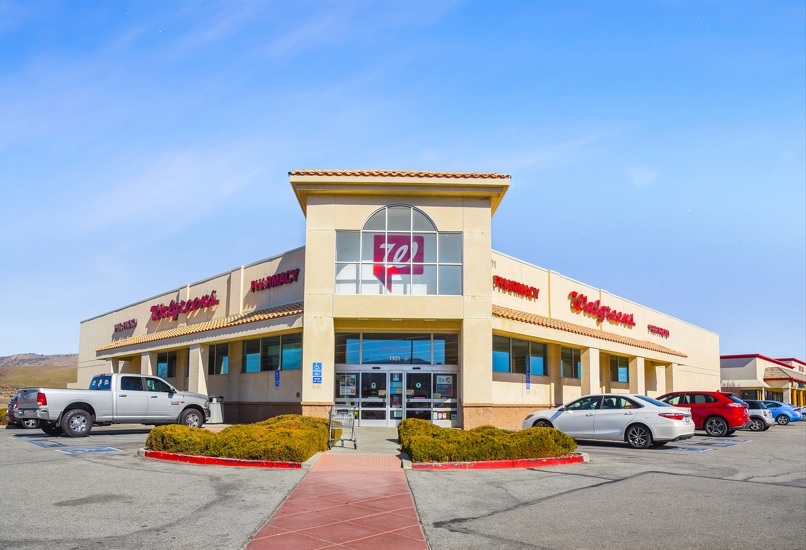 TEHACHAPI, Calif. – RealEstateRama – Hanley Investment Group Real Estate Advisors, a nationally recognized real estate brokerage and advisory firm specializing in retail property sales, announced today that the firm has arranged the sale of a single-tenant net-leased investment occupied by Walgreens in Tehachapi in Kern County, California. Located in the southern end of Central Valley, the city of Tehachapi is located 35 miles southeast of Bakersfield and 34 miles northwest of Lancaster (Los Angeles County), California. The sale price was $6.4 million, representing a cap rate of 5.25%.
Hanley Investment Group's Executive Vice Presidents Bill Asher and Jeff Lefko represented the seller, a private investor based in Los Angeles, California. The buyer was a Los Angeles-based private investor and was represented by Chris Spirito of Stafford Commercial Real Estate in Los Angeles.
"We procured an all-cash, 1031 exchange buyer in the final weeks of their identification period and negotiated a short due-diligence period and closing to meet the buyer and seller's objectives," said Asher. "The sale represented a record-low cap rate for a Walgreens sale in the Central Valley with a shorter-term lease. Walgreens had approximately 6.5 years remaining on the initial absolute triple-net lease term and an 18-year operating history at the location."
Built in 2003, the 14,560-square-foot Walgreens building with a drive-thru is located on 1.66 acres at 1091 W. Tehachapi Blvd., at the signalized intersection of Tehachapi Boulevard and Tucker Road/State Route 202 with over 23,000 cars per day. Walgreens' building and monument sign offer excellent visibility from Tehachapi Boulevard, one of the city's most heavily trafficked corridors.
Walgreens is situated at the apex between Historic Downtown Tehachapi and the Tucker Road retail corridor, just 1.5 miles from State Route 58, a major highway that connects Tehachapi to the cities of Bakersfield (west) and Mojave (east). Nearby tenants include Walmart Supercenter, Albertsons, Save Mart, Big 5 Sporting Goods, Del Taco, Dollar Tree, Family Dollar, Jack in the Box, O'Reilly Auto Parts, Panda Express, Sonic, Starbucks, Subway and Taco Bell.
The area has experienced a 7.8% increase in population and nearly an 11% increase in the number of households since 2020, according to Asher.
The city of Tehachapi is a key supporter of expanding job opportunities in the region, including renewable energy, space exploration, aerospace and mining in East Kern County, and professional, legal and business services in the southern San Joaquin Valley.
A center for renewable wind energy, Tehachapi has 4,531 turbines that produce 3,200 megawatts of electricity as of 2019; Amazon announced in 2019 that it would begin sourcing wind energy from Tehachapi as part of its goal to become carbon-neutral by 2040.
Walgreens (www.walgreens.com) is included in the United States segment of Walgreens Boots Alliance, Inc. (Nasdaq: WBA), an integrated healthcare, pharmacy and retail leader serving millions of customers and patients every day, with a 170-year heritage of caring for communities. Walgreens has nearly 9,000 retail locations across America, Puerto Rico and the U.S. Virgin Islands and was ranked second in Fortune's list of the World's Most Admired Companies.
"Single-tenant retail investments with an established successful operating history and an initial lease term remaining between five to eight years are challenging to find in a supply-constrained environment," said Asher. "When investors can locate them, they are willing to take on the risk of a shorter-term lease to achieve a better than average market return compared to the compressed cap rates for newer longer-term leased assets."
Asher adds, "Even with the recent spike in interest rates this year, single-tenant absolute triple-net investments leased to national credit tenants will continue to trade with the most velocity due to the security and stability of income they provide, compared to other retail product types in the marketplace."
About Hanley Investment Group
Hanley Investment Group Real Estate Advisors is a real estate brokerage and advisory services company with over a $9.2 billion transaction track record that specializes in the sale of retail properties nationwide. Our expertise, proven track record, and unwavering dedication to putting clients' needs first set us apart in the industry. Hanley Investment Group creates value by delivering exceptional results through the use of property-specific marketing strategies, cutting-edge technology, and local market knowledge. Our nationwide relationships with investors, developers, institutions, franchisees, brokers, and 1031 exchange buyers are unparalleled in the industry, translating into maximum exposure and pricing for each property. With unmatched service, Hanley Investment Group has redefined the experience of selling retail investment properties. For more information, visit www.hanleyinvestment.com.
# # #