Spins off technology into hot startup zavvie
Denver, CO – (RealEstateRama) — Colorado's 8z Real Estate, known for its collaborative work environment and home to top producing teams that support one another, is on fire just as the spring home selling season heats up on the state's Front Range.
Recently featured in The Denver Post, which selected Boulder-based 8z Real Estate as the "Top Workplace" of 2017 for midsize companies in Colorado, 8z and founder Lane Hornung were also recently profiled in a Colorado Business Magazine story "8z Real Estate: Purpose, alignment and trust".

Its sister company, the hot Colorado start-up zavvie, which was created based on the technology developed for 8z Real Estate agents, was also feature in both the Denver Business Journal – "Boulder entrepreneur launches social media site for real estate agents" – and Boulder's Daily Camera story "'Real estate 2.0′: Boulder's 8z spins off technology into new company zavvie."
Together, these firms share the same DNA, as both of its principals – Hornung and Stefan Peterson – are the chief architects of the business strategies for both firms, fusing decades of both real estate and technology experience into building these next generation real estate businesses.
The combined results are impressive.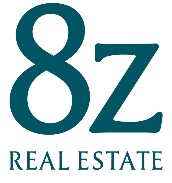 The Denver Post "Top Workplaces" Honor
In a survey that reflects the responses of more than 48,000 Colorado workers, 8z Real Estate landed at the top of The Denver Post 2017 list of Midsize Workplaces for companies based in Colorado. 8z topped established national brand names such as Safelite Autoglass, New York Life, and First American Title, as well as every real estate brokerage firm in Colorado. Midsize workplaces surveyed included companies with 150 to 499 people.
The Post list of all Top Workplaces also includes household names such as USAA, Edward Jones, T-Mobile, Charles Schwab, and many others. "Being named as the best of the best by the most independent and respected media institution in Colorado is the highest honor," said 8z Real Estate founder and co-founder of zavvie Hornung. "But more importantly, knowing this list is created based on the ratings provided by our own agents, that's what makes this award priceless."
According to The Post, the firms "Co-workers, or '8zers,' as they're known, reported that they appreciate their company's flexibility, commitment to training, and 'kind, sharp, brilliant, trusting upper management.'" The newspaper also noted 8z's "commitment to what it calls the Real Estate Good Life. The company handles lead generation, marketing and transaction processing, leaving agents to do what they do best: sell houses."
"They're not worried about updating their Instagram account," 8z Real Estate COO and zavvie co-founder Stefan Peterson was quoted as saying. "They can just focus on their clients."
8z Real Estate's mission statement attracts top producing agents. In fact, 8z focuses on hiring experienced, full-time agents who generate at least 20 transactions a year and at least $7 million in total sales volume. The 8z mission statement: "Real estate is broken, and we're fixing it."
More than just technology
Technology has given consumers plenty of information about real estate: which homes are for sale, details about the property, how much it potentially would cost to finance, some online listings even feature immersive virtual tours to let consumers "walk" through a home without ever physically stepping a foot inside.
But even technology has its limits. "A computer isn't going to be able to smell the house, but a local expert can," Hornung recently told the Daily Camera. Hornung explained that the Internet, despite being able to provide so much data, doesn't give a home buyer everything a home buyer needs.
As the Daily Camera reports, "What's missing, according to 8z real estate agent Lane Hornung, is the story behind that data. What does it all mean? What impact is Google going to have on home prices in your neighborhood? Is that new bike path going to add to your quality of life or detract from it?"
"Only a local agent can provide answers to those questions," Hornung said. "But they need a better way to reach people."
That better way, the Daily Camera writes, is zavvie, the new startup that both Hornung and Peterson have built from the technology they developed for their own agents at 8z Real Estate.
As Hornung explained to the Denver Business Journal in their feature, "Traditional farming, when done right, is the best kind of local marketing a real estate agent can do – until zavvie," Hornung said. He described zavvie as "the nation's first digital power farming platform: a place where savvy, trusted, local real estate agents gain an exclusive territory – their neighborhood – and lock it down as the local expert."
DBJ added, "Once a broker has been approved as an expert in their chosen farm territory, zavvie creates a super-local website featuring that broker and a customized Facebook page that reaches people in the neighborhood."
Already, the popularity of zavvie is forcing Hornung and Peterson to consider accelerating their plans to take zavvie national. According to the report in the Daily Camera, "Adoption has been quick, at least among Realtors: Half of the defined Front Range territories have sold out," Hornung said.
The appeal, Hornung believes, is that zavvie is the next generation of real estate. As he explained to the Boulder newspaper, "The first digital revolution was moving some of the process online: Real estate 1.0," Hornung calls it. zavvie goes one step further into the digital sphere, connecting real life with the power of the web.
"This is real estate 2.0," Hornung said. For more information about zavvie, the firm's website features a contact form online at www.zavvie.com.
# # #