Southern New Jersey Development Council hosted its annual Distinguished Achievement Awards Reception honoring outstanding individuals, organizations and companies in the public and private sectors for leadership in economic development.
Haddonfield, NJ (October 26, 2017) – (RealEstateRama) — Conifer Realty, LLC is happy to announce that Camp Salute, an affordable housing, veteran preference, development in Clayton, NJ, has been awarded the 2017 Community Housing Award at Southern New Jersey Development Council's (SNJDC) Annual Awards Reception on Tuesday, October 24, 2017.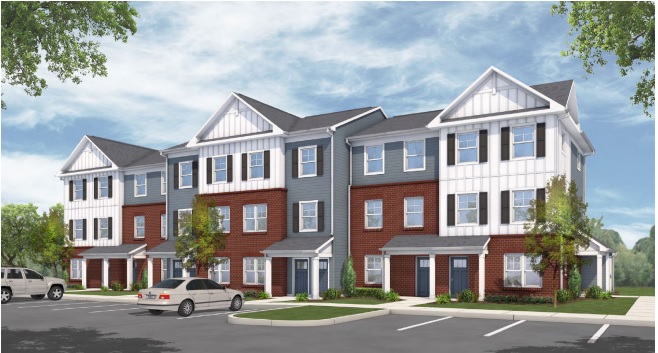 "We at Conifer are honored to receive the Community Housing Award for our efforts and our impact on the community with the Camp Salute development and others," said Sam Leone, Regional Vice President who accepted the award on behalf of Conifer. "Camp Salute is an outstanding example of what can be created through public-private partnerships. Conifer and People for People Foundation are able to develop this community and provide the services and housing our veterans need, thanks in great part to the support we have received from the Borough of Clayton, the county, and the state."
"Conifer Realty has made a remarkable impact with the Camp Salute Affordable Housing Project honoring those who have served our country by providing them with permanent housing and services to our veterans through a partnership with People for People," said Marlene Z. Asselta, President of SNJDC. "As a result of Conifer's mission to provide high quality affordable housing through partnerships with local government, state housing agencies and nonprofit partners, together with the Camp Salute project, you have been selected by the SNJDC to be the recipient of the Community Housing Award," she added. "We are celebrating your success in enhancing the housing opportunities in our region."
This new development is a result of a seven-year effort by The People for People Foundation and Conifer. Thanks to financing by the state of New Jersey and our partners, we are able to provide 76 state-of-the-art apartments to veterans and families in Clayton.
Camp Salute represents the highest quality affordable housing available in the market. The ENERGY STAR certified building features 14 one-bedroom units, 40 two-bedroom units and 22 three-bedroom units that were constructed using the best practices in energy saving technology, along with a spacious community room, laundry center, a fully-equipped fitness center and 24-hour emergency maintenance. 19 apartments will be set aside for veterans with disabilities.
Conifer is a nationally ranked, full-service real estate company specializing in the development, construction, management and ownership of high-quality, affordable housing communities. Since its inception in 1975, Conifer has grown considerably – currently owning and managing over 14,500 multifamily units representing 225+ apartment communities in New York, New Jersey, Pennsylvania, Maryland and Ohio. In addition, the Company consistently maintains a pipeline of over 30 unique projects in various stages of the development process. For more information, please visit www.coniferllc.com, like us on Facebook at www.facebook.com/coniferrealty and follow us on Twitter @ConiferRealty.
###
CONTACT: Danielle Crary, Marketing & Communications Coordinator
(585) 324-0588 /