KTGY-Designed LEED Platinum Camphora Apartments Provides 44 Energy-Efficient Apartment Homes
MONTEREY COUNTY, CA – July 1, 2016 – (RealEstateRama) — On Wednesday, June 29, 2016, the County of Monterey celebrated the grand opening of Camphora Apartments, a development by Eden Housing and South County Housing, in partnership with the County and the City of Soledad. Camphora Apartments is located at 32101 McCoy Road, Soledad, CA 93960.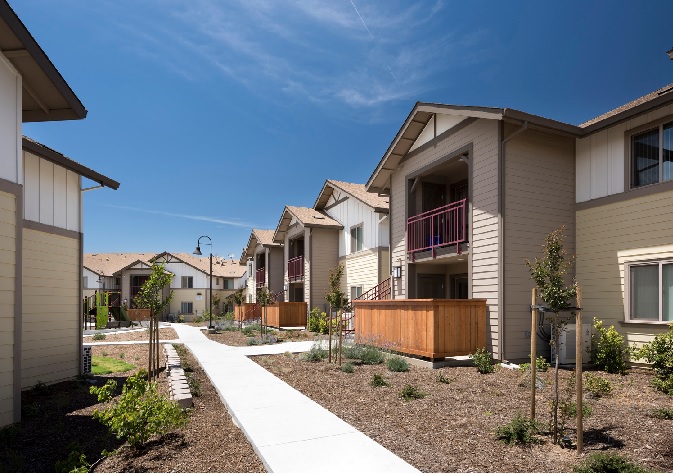 "This is a remarkable project that will directly help people and uplift the entire community," said Congressman Sam Farr (D-Calif.). "This used to be a run-down area, but it's now LEED-H Platinum certified affordable housing with superb community spaces. I want to thank Eden Housing, South County Housing, the City of Soledad, Monterey County, and all of those who assisted with this valuable development."
Camphora provides 44 two- and three-bedroom apartments that are affordable to residents with annual incomes between 30% and 60% of the Monterey County Area Median Income, about $21,500 to $43,000 per year for a family of four. Transforming what used to be a run-down labor camp with concrete block structures, Camphora is a welcoming home for its farmworker residents, providing an environmentally-responsible and amenity-rich community with quality onsite management and supportive services provided by Eden Housing.
"We are proud to celebrate today thecompletion of Camphora Apartments in Monterey County," said Supervisor Simon Salinas. "In partnering with Eden, we have taken another big step toward our goal to improve the diversity and affordability
of housing in our community, especially for our farmworkers and their families."
Monterey County has been working for over 20 years to find a way to rehabilitate this run-down facility that was built in 1960 as part of the Bracero program. As part of the grand opening celebration, Ignacio Ornelas Rodriguez of Stanford University's Bracero Legacy Project shared with attendees the pride and heritage of farmworkers in the Salinas Valley.
The new Camphora includes two large grass soccer fields (replacing the hard-packed dirt lot on which youth and adults played previously) and a half-court basketball. It also includes a 3,000-square-foot community center, a computer lab, and great patio areas for families to congregate and for community events.
This exciting $21 million development was constructed using sustainable building methods and incorporates a number of green features designed to ensure its long-term energy-efficiency and sustainability. Camphora received USGBC's LEED-H Platinum certification, which is generally accepted as the toughest industry standard for sustainable building design.
Camphora was designed by award-winning KTGY Architecture + Planning to exceed California energy efficiency thresholds (Title-24 standards) by 38% by incorporating features that optimize the building's energy performance including: a large solar photovoltaic system supplying the majority of Camphora's electrical needs, super high efficiency heating and hot water systems, Energy Star rated appliances, 2×6 wall construction for added insulation and extra thick attic insulation, super-efficient water fixtures and landscaping irrigation, use of renewable materials including environmentally-friendly paint, high efficiency lighting, and continuous ventilation for healthy indoor air.
In partnership with the City of Soledad and Monterey County, the 4.6-acre development includes a new connection to the municipal sewage system, replacing the aged onsite septic system. This required boring under a Union Pacific railway line and Highway 101.
Camphora was a development project that South County Housing, an active longtime developer of affordable housing in the South Bay and South County region, started and Eden Housing completed.
"Camphora provides new homes for people who would otherwise not be able to afford to work and live in in this community," said Linda Mandolini, President of Eden Housing. "We are pleased to partner with South County Housing and with the County of Monterey in providing beautiful new homes for farmworkers in the Salinas Valley."
Camphora Apartments was funded with financial support from the U.S. Bank, U.S. Bancorp Community
Development Corporation, California Department of Housing and Community Development, U.S. Department of Labor, County of Monterey, Eden Housing, South County Housing, Federal Home Loan Bank, NeighborWorks America, Century Housing, Rural LISC, and Monterey County Housing Authority.
Camphora was a joint development partnership between Eden Housing and South County Housing. The investor and lender was U.S. Bank. KTGY served as the architect. The general contractor was Midstate Construction.
Guest speakers included: Hon. Sam Farr, U.S. Congressman (CA District 20); Hon. Simon Salinas, Monterey County District 3 Supervisor; Hon. Fred J. Ledesma, Mayor, City of Soledad; Hon. Maria Orozco, Mayor, City of Gonzales; Jen Ray, Field Representative for State Senator Anthony Cannella (CA Senate District 12); Shane McKeithen, Field Representative for Assembly Member Luis Alejo (CA Assembly District 30 and Juan Uranga, Executive Director, Center for Community Advocacy.
About Eden Housing
In its 48 years of service in California, non-profit Eden Housing has provided a home for more than 65,000 people. Hayward-based Eden Housing is the long-term owner-operator of its developments, and is committed to preserving and maintaining its buildings as community assets and supporting residents with a range of services. Since its founding in 1968, Eden Housing has developed, acquired, and/or managed more than 10,400 affordable homes in more than 165 properties. Eden provides professional property management and supportive resident services to families and individuals living in its portfolio of more than 8,200 apartment homes in nearly 130 properties throughout California. For more information about Eden Housing, visit www.edenhousing.org
About KTGY Architecture + Planning
Celebrating 25 years in 2016, KTGY Architecture + Planning is an international award-winning full-service architecture and planning firm delivering innovation, artistry and attention to detail across multiple offices and studios, ensuring that clients and communities get the best the firm has to offer no matter the building type or location. KTGY's architects and planners combine big picture opportunities, leading-edge sustainable practices and impeccable design standards to help create developments of enduring value. KTGY serves clients worldwide from offices located in Chicago, Denver, Irvine, Los Angeles, Oakland, Pune and Tysons. Call 888.456.KTGY or visit www.ktgy.com, Facebook, Twitter, LinkedIn,Instagram, Vimeo, YouTube