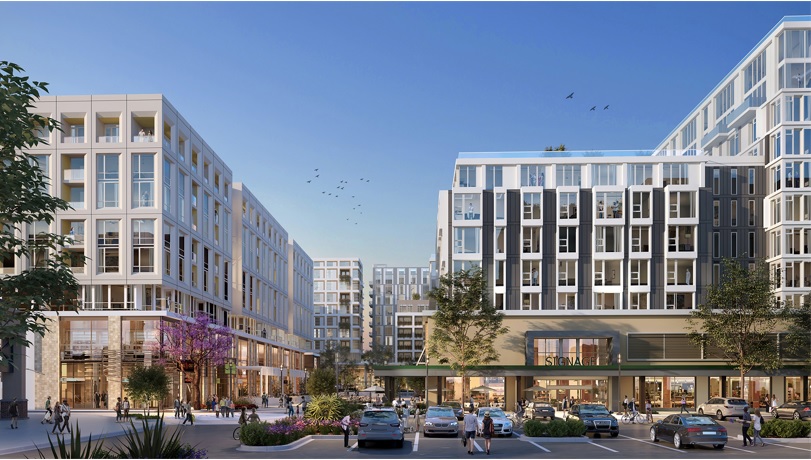 Once thought to have been replaced by suburban malls and shopping centers,
the "Main Street" hub has endured beyond economic waves and online shopping impacts.
OAKLAND, Calif. – RealEstateRama – KTGY, a leading full-service architecture, branding, interior and planning firm focused on residential, retail, hospitality and mixed-use developments, today announced that El Paseo in San Jose, California, has won an MHN 2021 Excellence Award in the category of the "Best Unbuilt." Sponsored by Multi-Housing News, the publication's 15th annual awards program honors the industry's outstanding deals, projects and professionals. The winners were revealed at MHN's virtual event on Thursday, December 2nd.
KTGY, along with developer Sand Hill Property Company, created a bold vision to revitalize a local, big-box shopping center and make for a space to call home, connect and entertain. Walkable, adaptive and vibrant, the design synergistically brings together these elements and defines the community as an anchor that draws people in for practical and social reasons. At the heart of this signature development is a reimagining of "Main Street," according to KTGY's Jessica Musick, principal and a member of the firm's board of directors.
KTGY also had the opportunity to collaborate with KRP Architects on the shaping of the master plan, with KTGY's efforts primarily focused on the design of the four residential towers while KRP concentrated on the commercial space. The result is a collection of complementary buildings with implied connection on the site of the existing El Paseo de Saratoga shopping center at the intersection of Saratoga Avenue, Quito Road and Lawrence Expressway in San Jose.
"The design is heavily focused on driving connection and walkability, with specific attention to the placement of the buildings," Musick said. "The towers are grouped to create a circulation path accessible to a community park and revolving around a pedestrian-centric main drive easily zoned for farmers' markets or food trucks."
Musick adds, "Another unique characteristic is that all four towers sit above the retail with the parking garages hidden below. The active ground floor with overall project retail at various sizes, from REI and AMC Theatres to a grocer and space to accommodate smaller boutiques, makes the residences more attractive. In turn, the residents help to keep the businesses alive. The convenience factor for new residents is that the development creates a neighborhood where the was none."
Over 3.5 acres of open, green and park space, including approximately 2.8 acres of publicly accessible open space and a 0.7-acre open-space buffer between the existing-single family neighbors, are being incorporated into this urban environment.
Neighbored by existing involved single-family homes, the planned development straddles the city lines of Saratoga and San Jose. Numerous community outreach meetings were held to engage neighbors and ensure that the signature development would integrate well. One of the most substantial requests from neighbors was to maintain privacy. Previously, a berm of trees shielded neighbors from truck loading behind the shopping center. An arborist was consulted to maintain the trees, and the truck loading was shifted to green space. Also, the residential towers were terraced down to provide further privacy. A pedestrian link was created on Quito Road for community members to walk between buildings of different zones to access retail space. The result is that the neighboring community's privacy is maintained while also establishing pedestrian-friendly access to their new "Main Street."
About KTGY
Founded in 1991 and celebrating its 30th anniversary, KTGY is a leading full-service architecture, branding, interior and planning firm focused on residential, hospitality and mixed-use developments and neighborhood revitalization. We envision a future where residential and hospitality design inform one another to deliver spaces that merge design and desire. ?KTGY's architects, designers and planners combine big picture opportunities, leading-edge sustainable practices and impeccable design standards to create memorable destinations of enduring value. Visit www.ktgy.com. 
#  #  #