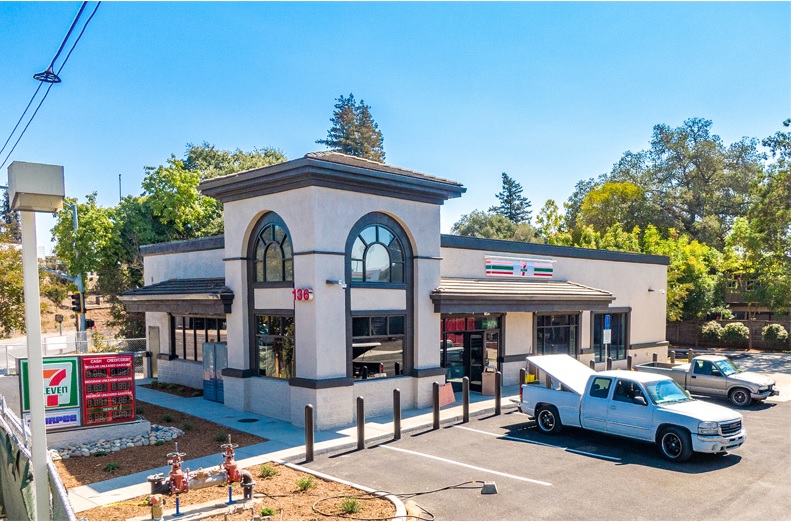 SANTA ROSA, Calif. – RealEstateRama – Hanley Investment Group Real Estate Advisors, a nationally recognized real estate brokerage and advisory firm specializing in retail property sales, announced today that the firm has arranged the pre-sale of a brand-new construction, single-tenant net-leased investment occupied by 7-Eleven with a gas station in Santa Rosa, California. The single-tenant 7-Eleven is ideally located at the College Avenue on/off-ramp of U.S. Highway 101. The sale price was $8 million, which represented a national record-high selling price for a 7-Eleven and a cap rate of 4.37%.
Hanley Investment Group's Executive Vice President Jeremy McChesney represented the seller and developer, California Capital Investment Group in Pleasant Hill, California. The buyer, a private investor based in El Dorado Hills, was represented by Chris Fenolio, a partner with Weller Partners LLP in San Francisco, California.
"We identified the buyer before we began marketing this desirable trophy asset and achieved record-pricing for the sale of a brand-new, corporate 7-Eleven with an absolute triple-net, long-term lease," said McChesney. "Both the seller and the exchange buyer were extremely pleased with the outcome."
The 2,988-square-foot 7-Eleven building and gas station are situated on 0.67 acres at 136 College Avenue in Santa Rosa, at the hard-corner, signalized intersection of College Avenue and the on/off-ramp to Highway 101. The property benefits from over 155,475 vehicles per day on Highway 101 and 32,750 vehicles per day along College Avenue, according to McChesney. Within a five-mile radius, there are more than 200,000 people with a household income exceeding $103,000 per year and over 20,300 people work within one mile of the property.
"What started in an icehouse in Dallas, Texas, back in 1927, has evolved into the world's largest retailer," said McChesney. "Today, Irving, Texas-based 7–Eleven operates, franchises and/or licenses more than 77,000 stores in 19 countries and regions, including nearly 16,000 in North America. 7–Eleven, Inc. operates Speedway, Stripes, Laredo Taco Company and Raise he Roost Chicken and Biscuits locations."
7-Eleven was the first convenience store to offer ATM services and to sell gas. It was also the first convenience store to remain open 24 hours a day, seven days a week, according to 7-Eleven.
"7-Eleven is one of the largest, most successful retailers in the U.S., and the company's operating success as an essential business during the pandemic further accentuated the attractiveness of this investment grade tenant," said McChesney. "As investors look to the future and have concerns about economic instability and any future pandemic-related lockdowns, buyers are looking to essential businesses with a high credit rating like 7-Eleven that can do well during challenging times and provide a reliable cash flow."
McChesney continues, "We expect that sales volume for single-tenant 7-Eleven net-leased retail investments will stay strong in 2022." McChesney has sold nearly 60 7-Eleven properties including 25 in the last 36 months valued at $81.3 million.
About Hanley Investment Group 
Hanley Investment Group Real Estate Advisors is a real estate brokerage and advisory services company with an $8.8 billion transaction track record that specializes in the sale of retail properties nationwide. Our expertise, proven track record, and unwavering dedication to putting clients' needs first set us apart in the industry. Hanley Investment Group creates value by delivering exceptional results through the use of property-specific marketing strategies, cutting-edge technology, and local market knowledge. Our nationwide relationships with investors, developers, institutions, franchisees, brokers, and 1031 exchange buyers are unparalleled in the industry, translating into maximum exposure and pricing for each property. With unmatched service, Hanley Investment Group has redefined the experience of selling retail investment properties. For more information, visit www.hanleyinvestment.com.
#  #  #