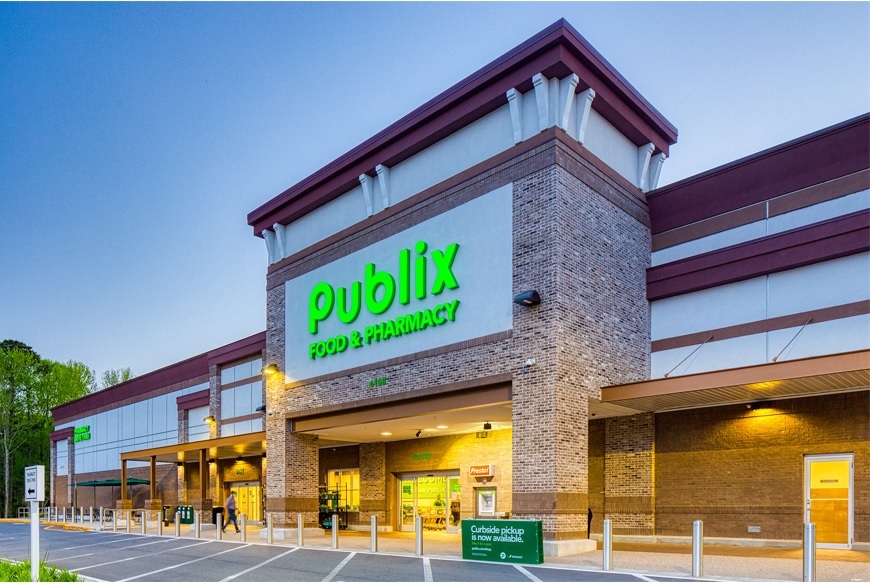 BUFORD, Ga. – RealEstateRama – Hanley Investment Group Real Estate Advisors, a nationally recognized real estate brokerage and advisory firm specializing in retail property sales, announced today that the firm has arranged the purchase of Holland Point, a newly constructed and 100% leased, 68,187-square-foot Publix-anchored neighborhood center located in Gwinnett County, one of the fastest-growing submarkets of the Atlanta metro area. The sale price was $20.05 million.
Hanley Investment Group's President Ed Hanley and Executive Vice President Kevin Fryman, along with ParaSell, Inc., represented the 1031 exchange buyer, a private investor based in Southern California. The seller was Watkins Real Estate Group of Atlanta and was represented by CBRE Executive Vice President Chris Decouflé, Senior Vice President Kevin Hurley and Senior Associate Matt Karempelis.
Hanley Investment Group recently worked with the Southern California-based buyer to acquire two other grocery-anchored shopping centers in the Atlanta metro area, Alpharetta Commons, a 94,500-square-foot Publix-anchored shopping center in Alpharetta, Georgia, and Cofer Crossing, a 136,139-square-foot shopping center anchored by Kroger and HomeGoods in Tucker, Georgia. The combined value of the three acquisitions is nearly $65 million.
"This is the third and final grocery-anchored shopping center that Hanley Investment Group procured to fulfill the buyer's exchange from the sale of a dairy farm in Ontario, California," said Fryman. "We sourced an off-market grocery-anchored shopping center using local broker relationships and partnered with a mortgage broker to procure an attractive 10-year interest-only CMBS financing. During escrow, we engaged a dominant local property management and leasing team to provide the buyer with confidence in owning a shopping center in the southeast and closed escrow in 54 days."
Holland Point is located at 4108 Hamilton Mill Road in the city of Buford. Built in 2020 on 16.025 acres, the shopping center is situated at the intersection of Hamilton Mill Road and Bogan Road with visibility and accessibility from both roads, and near Interstate 985.
"The Holland Point's Publix Super Markets is the chain's latest 48,387-square-foot prototype that includes a drive-thru pharmacy and mezzanine seating and robust first-year sales," said Fryman. "Publix accounts for 71% of the gross leasable area and 54% of the effective gross revenue."
Fryman adds, "The remainder of the property includes nine shop suites that are fully leased to a complementary mixture of e-commerce- and pandemic-resistant businesses. An additional one-acre undeveloped outparcel was purchased by the buyer."
Buford is one of the largest and oldest cities in Gwinnett County. The average household income is $120,000 within a one-mile radius of the shopping center.
With a population approaching one million, Gwinnett County is metro Atlanta's second-largest county and has led the metropolitan statistical area in population growth each year since 2010 (nearly 12,000 new residents annually), according to Fryman. The county offers the state's largest and best public-school system, a strong employment base and a quality of life that continues to drive this population growth.
Fryman noted that 159 retail transactions (valued at $6.09 billion) with a sale price of $15 million or more were completed in the U.S. in the first half of 2021 compared to 96 transactions in 2020 (valued at $4.59 billion) during the same period, according to CoStar. This represents a 66% increase in transaction volume over the previous year. In the first half of 2019, 142 retail transactions were completed (valued at $5.62 billion), which demonstrates that the industry has surpassed 2019's volume by an increase of 12% in transaction volume and an increase of more than 8% in sales volume in 2021 in this same price range.
"With little to no new product coming on the market, we expect that cap rates will continue to compress below pre-COVID levels for high-quality, grocery-anchored retail assets with long-term leases in major MSAs," said Fryman.
About Hanley Investment Group
Hanley Investment Group Real Estate Advisors is a real estate brokerage and advisory services company with an $8.2 billion transaction track record that specializes in the sale of retail properties nationwide. Our expertise, proven track record, and unwavering dedication to putting clients' needs first, sets us apart in the industry. Hanley Investment Group creates value by delivering exceptional results through the use of property-specific marketing strategies, cutting-edge technology, and local market knowledge. Our nationwide relationships with investors, developers, institutions, franchisees, brokers, and 1031 exchange buyers are unparalleled in the industry, translating into maximum exposure and pricing for each property. With unmatched service, Hanley Investment Group has redefined the experience of selling retail investment properties. For more information, visit www.hanleyinvestment.com.
# # #