RENO, Nev. – (RealEstateRama) — Hanley Investment Group, a nationally-recognized real estate brokerage and advisory firm specializing in retail property sales, announced today that the firm arranged the purchase of a new construction two-tenant net-lease retail investment in Reno, Nev. The 7,624-square-foot building is located at 6350 S. Virginia Street and is occupied by Jos. A. Bank and Sleep Number. The purchase price was $4.9 million, which represented a cap rate of 6.48 percent.
Hanley Investment Group represented the buyer, a private investor based in Los Angeles. The seller was a real estate investment and development firm based in Indianapolis, Indiana, and was advised by Pegasus Investments.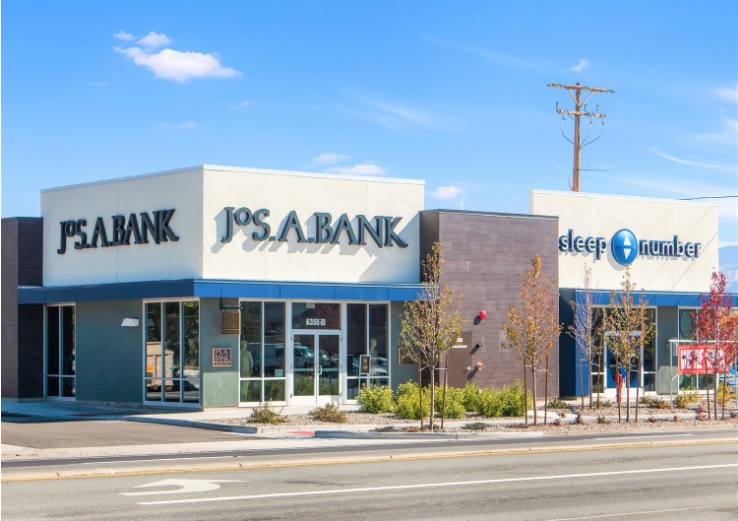 The property, which was built in 2015, is located on 0.64 acres at the signalized intersection of South Virginia Street and Neil Road and benefits from immediate access to Interstate 580 freeway. The property sits at the corner of one of the most highly-trafficked retail corners in Reno, adjacent to the Meadowood Mall (where both Jos. A. Bank and Sleep Number relocated), across from the only Whole Foods Market in Reno and close proximity to the on/off-ramp access to I-580.
Other benefits to this location include that the property features access from S. Virginia Street, which is the number one retail corridor in Reno, as well as from Neil Road, which feeds into the Microsoft, Intuit and Nevada Energy Campuses from I-580. Traffic exiting I-580 toward S. Virginia Street has a direct line of site to the property. More than 96,500 cars per day travel on I-580 at this location.
Both tenants, Jos. A. Bank and Sleep Number, have corporate leases with ten and eight years respectively remaining on their initial lease term and multiple five-year lease extension options and 10 percent rental increase every five years. Both units are end-caps offering each tenant the most desired unit type in retail.
According to Hanley Investment Group, the firm worked with the requirements of its southern Californian investor client and was able to obtain a higher yield by going out of state and acquire a property with corporate-backed credit tenants situated in the most desirable intersection in all of Reno. Hanley Investment Group also overcame 21 months of tenant rent credit by negotiating a rental offset lease amendment during escrow.
About Hanley Investment Group
Hanley Investment Group is a retail investment advisory firm with a $5 billion transaction track record nationwide, who works closely with individual investors, lending institutions, developers, and institutional property owners in every facet of the transaction to ensure that the highest value is achieved. For more information, visit www.hanleyinvestment.com.