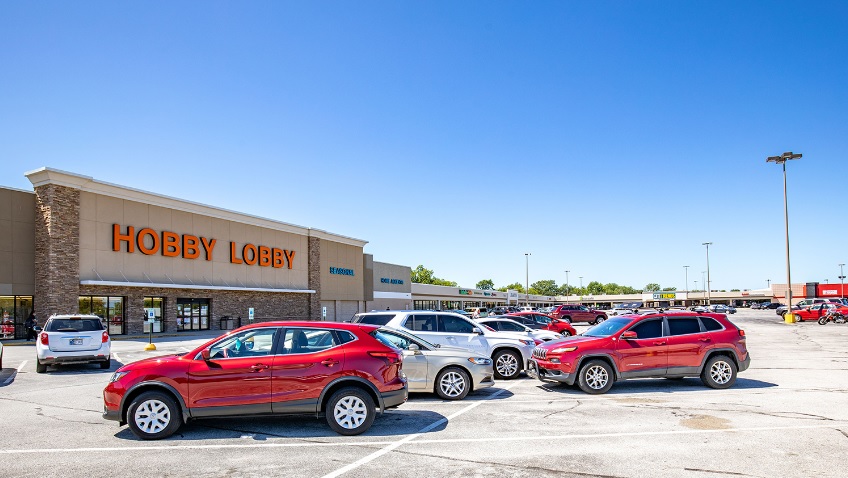 MICHIGAN CITY, Ind. – RealEstateRama – Hanley Investment Group Real Estate Advisors, a nationally recognized real estate brokerage and advisory firm specializing in retail property sales, announced today that the firm has arranged the sale of Lake Park Plaza, a 114,867-square-foot shopping center anchored by Hobby Lobby in Michigan City, Indiana. The sale price could not be disclosed but it was listed for $6,341,000. Hanley Investment Group has sold $380 million in retail properties in the Midwest in the last 24 months.
Hanley Investment Group's Executive Vice President Eric Wohl and Associate CJ Kiehler, in association with Scott Reid & ParaSell, Inc., represented the seller, RCG Ventures of Atlanta, Georgia, a privately funded real estate investment group that acquires and develops commercial real estate throughout the U.S. The buyer was a private investment company based near Miami, Florida.
"We have seen an increase in demand for big-box anchored retail centers with strong fundamentals and credit tenants as they provide investors with above-market risk-adjusted returns," Wohl reports. "And, this closing further highlights the resurgence of value-oriented, big-box retail across the country. Last year during the height of the pandemic, properties like this weren't trading due to fear of the unknown and, now that the dust has settled, investors and consumers alike have realized that brick and mortar retail is here to stay."
Wohl adds, "The Hobby Lobby recently extended its lease for 10 years and has experienced a strong uptick in sales volumes chainwide."
Lake Park Plaza is located less than 60 miles from Chicago and is situated on 20.83 acres at 4303-4361 Franklin Street in Indiana's LaPorte County. In addition to anchor tenant Hobby Lobby, Lake Park Plaza tenants include JOANN, Citi Trends and a variety of internet-resistant tenants. The property is also shadow anchored by Stock+Field (which was recently acquired by R.P. Acquisition Corporation, a wholly-owned subsidiary of R.P. Lumber Co.). Lake Park Plaza was built in 1992 and was 91%-occupied at the time of the sale.
"Approximately 75% of the occupied square footage has operated at this center for more than 10 years," noted Kiehler. "The shopping center is also situated on the main retail corridor of Michigan City and has increased visibility due to its large pylon sign."
Lake Park Plaza is 1.2 miles from Interstate 94 freeway (55,500 cars per day), a major east/west thoroughfare connecting the Great Lakes to the Great Plains. Nearby national credit tenants include Walmart Supercenter, Lowe's Home Improvement, Menards, Meijer, Ross, T.J. Maxx, Kohl's, ALDI and others.
A new hospital with 130 beds was recently constructed at the intersection of Franklin Street and Interstate 94, Franciscan Health Michigan City. Michigan City is a growing bedroom community along the border of Lake Michigan with over 43,000 residents in the five-mile trade area with an average household income of more than $65,000. Residents benefit from the state's low cost of living while remaining close enough to commute to Chicago for work. The South Shore Line double-track train project is expected to begin in 2021 and will allow commuters to travel from Michigan City, Indiana to Chicago in 67 minutes.
Lake Park Plaza is also four miles from the Indiana Dunes National Park, which brings more than 2.13 million visitors each year.
"We expect to see demand strengthen for anchored- and shadow-anchored shopping centers similar to Lake Park Plaza in secondary markets located in states that have opened pandemic restrictions," added Wohl.
About Hanley Investment Group
Hanley Investment Group Real Estate Advisors is a real estate brokerage and advisory services company with an $8.1 billion transaction track record that specializes in the sale of retail properties nationwide. Our expertise, proven track record, and unwavering dedication to putting clients' needs first, sets us apart in the industry. Hanley Investment Group creates value by delivering exceptional results through the use of property-specific marketing strategies, cutting-edge technology, and local market knowledge. Our nationwide relationships with investors, developers, institutions, franchisees, brokers, and 1031 exchange buyers are unparalleled in the industry, translating into maximum exposure and pricing for each property. With unmatched service, Hanley Investment Group has redefined the experience of selling retail investment properties. For more information, visit www.hanleyinvestment.com.
# # #