MARYSVILLE, Wash. – RealEstateRama – Hanley Investment Group Real Estate Advisors, a nationally recognized real estate brokerage and advisory firm specializing in retail property sales, announced today that the firm arranged the sale of a brand-new construction, 11,142-square-foot multi-tenant retail property located in the Seattle metro area, adjacent to the Interstate 5 Freeway on/off ramp at 88th Street Northeast in Marysville, Washington for $7,690,000.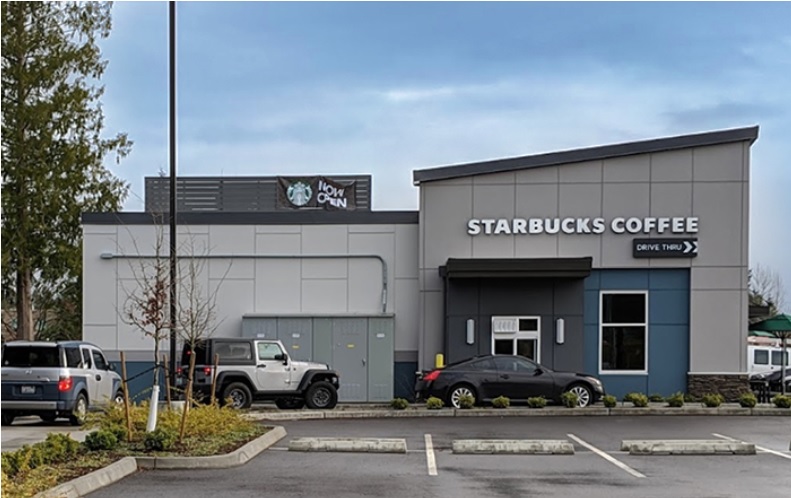 Hanley Investment Group's Executive Vice Presidents Jeff Lefko and Bill Asher represented the buyer, a private investor from the Seattle metro area, and the developer and seller based in Henderson, Nevada.
Located at 8820 and 8830 36th Avenue Northeast in Marysville, the new, six-tenant property consists of two retail shop buildings, 5,542 square feet and 5,600 square feet, 100% leased to Starbucks with a drive-thru, Pacific Dental Services, Jersey Mike's Subs, Dickeys, AT&T and OneMain Financial.
"There remains an extremely strong demand for this product type in the Pacific Northwest," said Lefko. "We procured a 1031 exchange buyer based out of the Seattle area that opened escrow with a large non-refundable deposit to secure the deal."
According to Lefko, "Starbucks relocated from the adjacent center because it wanted a drive-thru. Starbucks had been looking in this market for a long time and jumped at the opportunity to relocate to this freeway adjacent location."
Retailers and entertainment in the area include Tulalip Resort Casino, stores at the Seattle Premium Outlets, Cabela's, The Home Depot, Walmart Supercenter, Bob's Burgers, Haggen and Safeway grocery store, Applebee's Grill + Bar, Panera Bread and many others.
Marysville is a city in Snohomish County, Washington, and is located 35 miles north of Seattle, adjacent to Everett on the north side of the Snohomish River delta. It is the second-largest city in Snohomish County after Everett, with a population of 69,779 (2018). Within a five-mile radius of the property, the population count is 84,374 with an average household income exceeding $79,500.
"Now, more than ever, investors are more focused on market and retailer fundamentals, corporate long-term leases, and 'essential services' types of retailers, specifically those with drive-thrus," said Lefko.
Hanley Investment Group has sold 86 multi-tenant retail assets across the country valued at $573 million in the last 24 months including three retail properties in the Seattle metro area at record pricing. Along with the Marysville transaction, in the last 10 months, Hanley Investment Group has arranged the sale of a two-tenant Pacific Dental and CHI Franciscan Health property in Puyallup, Washington and a new construction, two-tenant Starbucks with a drive-thru and Pacific Dental at a WinCo Foods-anchored shopping center in Federal Way, Washington.
Hanley Investment Group has also sold 25 Starbucks assets, most at record pricing in the last two years located throughout the U.S. and currently has three properties listed for sale that include Starbucks.
About Hanley Investment Group
Hanley Investment Group Real Estate Advisors is a retail investment advisory firm with a $6+ billion transaction track record nationwide, who works closely with individual investors, lending institutions, developers, and institutional property owners in every facet of the transaction to ensure that the highest value is achieved. For more information, visit www.hanleyinvestment.com.
# # #
Anne Monaghan
MONAGHAN COMMUNICATIONS, INC.


830.997.0963