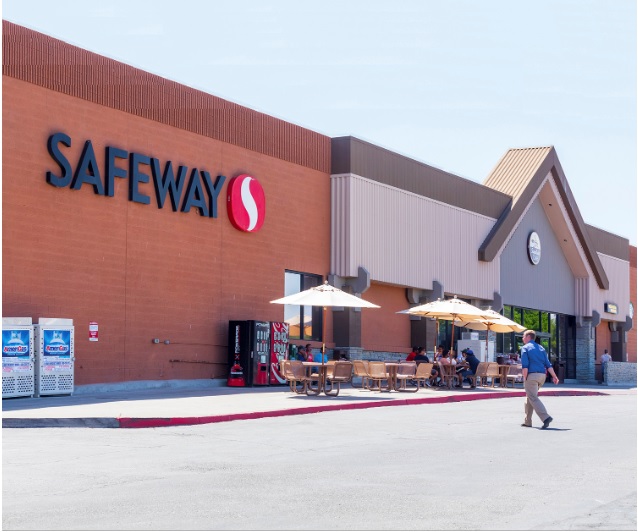 PAGE, Ariz. – RealEstateRama – Hanley Investment Real Estate Advisors, a nationally recognized real estate brokerage and advisory firm specializing in retail property sales, announced today that the firm has arranged the sale of Safeway Center at Lake Powell, a 100,486-square-foot Safeway-anchored shopping center in Coconino County, Arizona.
Hanley represented the seller, Phillips Edison & Company, Inc., based in Cincinnati, Ohio. The buyer, a private investor from Beverly Hills, California, was represented by Kalen Rickard of Western Retail Advisors of Phoenix, Arizona.
The 8.56-acre shopping center is situated off U.S. Highway 89, the major Utah/Arizona thoroughfare, and Lake Powell Blvd., at 608 Elm Street in the city of Page, Arizona. Safeway Center is anchored by Safeway grocery store and includes Stage Stores, Dollar Tree, Hibbett Sports, Verizon Wireless, Domino's, Subway, Allied Cash Advance, H&R Block and Wells Fargo ATM. The property was 93% occupied at the time of the sale.  
Hanley procured a California-based 1031 exchange buyer with a portfolio of properties in Arizona and was able to negotiate a price that achieved the seller's objectives despite the growing concern of how COVID-19 would impact retail. Additionally, Hanley negotiated a longer due diligence period in order to allow the buyer to conduct tenant interviews after the tenants were allowed to reopen. The buyer was pleased with the overall positive economic indicators and understood the intrinsic value of the real estate as the rents were low so they would be able to retenant should any vacate, according to Hanley.
Over 3,000,000 people visit nearby Lake Powell and the Glen Canyon National Recreation area every year. Lake Powell is the second-largest man-made lake in the United States and has over 2,000 miles of shoreline. It is a popular vacation destination for houseboating, jetskiing, camping and hiking. The Page Municipal Airport is one mile away from the shopping center. There are direct flights to Page from Phoenix (PHX) and Denver (DEN) airports.
The shopping center, which was built in 1986 and renovated in 1990, is the only grocery-anchored shopping center within 75 miles. The only other grocer in Page is Walmart Supercenter, which has been open since 2006 and doesn't have any shop space, according to Hanley.
Safeway has successfully operated at the shopping center since 1978 (over 42 years). Safeway operates as a banner of Boise, Idaho-based Albertsons Companies, Inc. (NYSE: ACI), a leading food and drug retailer in the United States, which has both a strong local presence and national scale. As of June 20, 2020, the company operated 2,252 retail food and drug stores with 1,726 pharmacies, 402 associated fuel centers, 23 dedicated distribution centers and 20 manufacturing facilities. The company operates stores across 34 states and the District of Columbia under 20 well-known banners including Albertsons, Safeway, Vons, Jewel-Osco, Shaw's, Acme, Tom Thumb, Randalls, United Supermarkets, Pavilions, Star Market, Haggen and Carrs. 
With the coronavirus pandemic, grocery stores like Albertsons Companies saw a substantial sales increase. According to company reports, Albertsons reported that sales and other revenue increased 21.4% to $22.8 billion during the first quarter of fiscal 2020 compared to $18.7 billion during the first quarter of fiscal 2019. Identical sales benefited from the company's 276% growth in digital sales and an increase in-store sales, both largely driven by the COVID-19 pandemic.
Hanley reports that it seems that the issues relating to COVID-19 are not going away any time soon so both consumers and businesses are doing what they can to adjust to this 'new normal.' according to Hanley. Hanley has already seen a considerable uptick in the number of deals that it is closing and anticipates an increase in investor demand and an escalation in the supply of both stabilized and value-add retail investment opportunities.
About Phillips Edison & Company 
Phillips Edison & Company, Inc. ("PECO"), an internally-managed REIT, is one of the nation's largest owners and operators of grocery-anchored shopping centers. PECO's diversified portfolio of well-occupied neighborhood shopping centers features a mix of national and regional retailers selling necessity-based goods and services in fundamentally strong markets throughout the United States. Through its vertically-integrated operating platform, the Company manages a portfolio of 311 properties, including 284 wholly-owned properties comprising approximately 31.8 million square feet across 31 states (as of June 30, 2020). PECO has generated strong operating results over its 29+ year history and has partnered with leading institutional commercial real estate investors including TPG Real Estate and The Northwestern Mutual Life Insurance Company. The Company remains exclusively focused on creating great grocery-anchored shopping experiences and improving the communities it serves one center at a time. For more information, please visit www.phillipsedison.com.
About Hanley Investment Real Estate Advisors, Inc.
Hanley Investment Real Estate Advisors, Inc. is a boutique real estate brokerage and advisory services company with a $6+ billion transaction track record that specializes in the sale of retail properties nationwide. Our expertise, proven track record, and unwavering dedication to putting clients' needs first, sets us apart in the industry. Hanley Investment Group creates value by delivering exceptional results through the use of property-specific marketing strategies, cutting-edge technology, and local market knowledge. Our nationwide relationships with investors, developers, institutions, franchisees, brokers, and 1031 exchange buyers are unparalleled in the industry, translating into maximum exposure and pricing for each property. With unmatched service, Hanley Investment has redefined the experience of selling retail investment properties. For more information, visit www.hanleyinvestment.com.
#  #  #