RICHMOND, Texas – RealEstateRama – Hanley Investment Group Real Estate Advisors, a nationally recognized real estate brokerage and advisory firm specializing in retail property sales, announced today that the firm arranged the pre-sale of a new-construction, single-tenant Quick Quack Car Wash in the Houston metro area. The sale represents a cap rate of 5.39%, which is a record-low cap rate for an express car wash net-lease transaction outside of California. In the last 18 months, Hanley Investment Group has sold more than $92.4 million of single-tenant car wash properties across the country bringing Hanley Investment's total value of car wash properties sold, in escrow and listed for sale to over $180 million, making Hanley Investment Group the most active brokerage company in the net-lease car wash sector.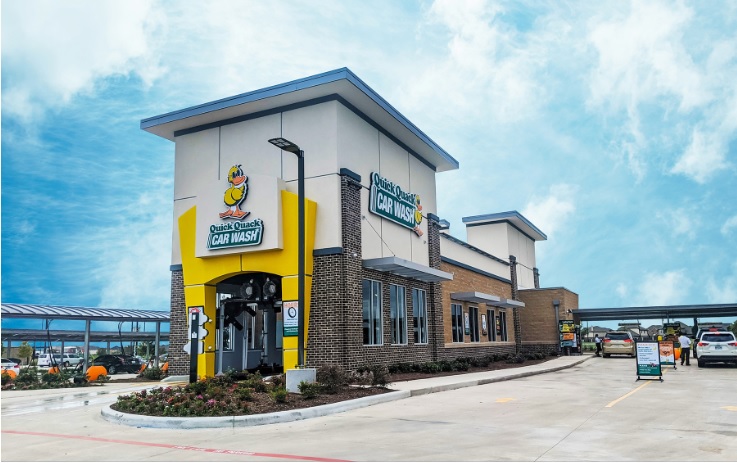 Hanley Investment Group's Vice President Austin Blodgett, in association with ParaSell, Inc., represented the seller, Read King Commercial, based in Houston, in this transaction. The buyer, a private investor based in California, was represented by Jason Hernandez of Marcus & Millichap in San Francisco. This is Blodgett's eighth express car wash sale in the last eight months.
Expected to open in November, Quick Quack Car Wash is located within the brand-new Waterview Town Center at 19311 West Bellfort Blvd. in Richmond. Waterview Town Center is a new 134-acre retail development with anchors including At Home, Academy Sports + Outdoors, Studio Movie Grill and LA Fitness. This newly established, regional, retail intersection will ultimately be comprised of more than one million square feet of retail space when completed.
Blodgett states, "All of the buyers that inquired on this property were immediately drawn in by the location of this shopping center, and the affluence of the surrounding neighborhoods. Within a one-mile radius of the subject property, there are numerous brand-new single-family and multi-family home developments; Richmond is an extremely high-growth trade area. All of this, coupled with the strength of the tenant, resulted in multiple offers within just days of bringing this deal to market."
Quick Quack Car Wash is an extremely fast-growing chain of self-serve, exterior-only, express car wash locations that first opened its doors in 2004 in Sacramento, California. Alongside their equity partner, Seidler Equity, Quick Quack has expanded to more than 100 sites across the U.S. with locations in California, Arizona, Utah, Colorado and Texas. They are now the fourth largest express car wash brand in the country.
"This transaction demonstrates the strong demand for new-construction net-lease retail assets in Texas, along with the strength of the growing express car wash buyer pool," Blodgett said. "The fact that the tenant continued to pay rent, despite a global pandemic speaks to the strength of the car wash industry as a whole, and how express car washes will be poised for long-term success despite economic uncertainty."
Blodgett continues, "We will continue to push for aggressive cap rates nationwide on net-lease car wash offerings as buyers become more familiar with this asset type. We expect that the supply of net-leased car washes will continue to increase over the next 12 months as developers and operators continue to take advantage of this low-cap rate environment."
About Hanley Investment Group
Hanley Investment Group Real Estate Advisors is a boutique real estate brokerage and advisory services company with a $6+ billion transaction track record that specializes in the sale of retail properties nationwide. Our expertise, proven track record, and unwavering dedication to putting clients' needs first, sets us apart in the industry. Hanley Investment Group creates value by delivering exceptional results through the use of property-specific marketing strategies, cutting-edge technology, and local market knowledge. Our nationwide relationships with investors, developers, institutions, franchisees, brokers, and 1031 exchange buyers are unparalleled in the industry, translating into maximum exposure and pricing for each property. With unmatched service, Hanley Investment Group has redefined the experience of selling retail investment properties. For more information, visit www.hanleyinvestment.com.
# # #
Anne Monaghan
MONAGHAN COMMUNICATIONS, INC.


830.997.0963