TWENTYNINE PALMS, Calif. – RealEstateRama – Hanley Investment Group Real Estate Advisors, a nationally recognized real estate brokerage and advisory firm specializing in retail property sales, announced today that the firm has completed the sale of a brand-new, single-tenant Starbucks with a drive-thru located at 73690 Twentynine Palms Highway in Twentynine Palms, California. The sale price of $3.1 million represented a price per square foot of $1,722.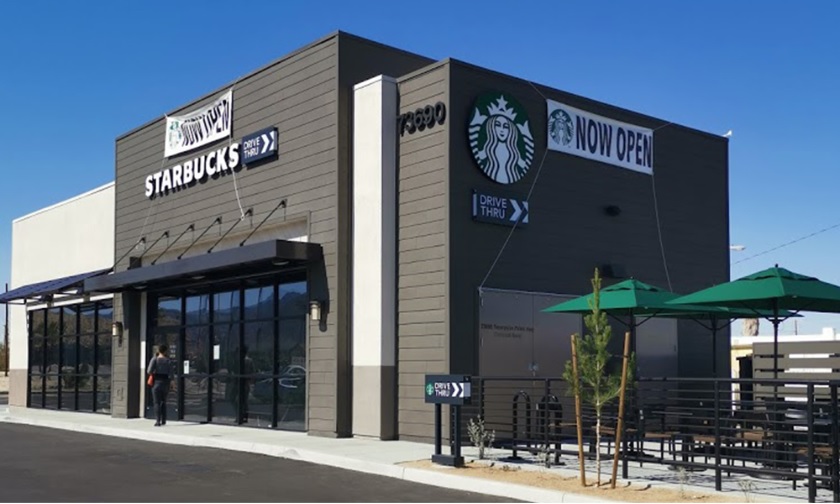 Hanley Investment Group Executive Vice Presidents Bill Asher and Jeff Lefko represented the seller and developer, Fountainhead Development of Newport Beach, California. The buyer, a private investor from Los Angeles, was represented by Taesoo Eo and Shirley Kim of RE/MAX Commercial in Los Angeles.
Built in 2020 on 0.54 acres, the 1,800-square-foot drive-thru property is located in the heart of downtown Twentynine Palms at the signalized intersection of Highway 62 (Twentynine Palms Highway) and Adobe Road with 24,000 cars per day. Highway 62/Twentynine Palms Highway is the primary thoroughfare in the region and runs through the Mojave Desert from the Coachella Valley to the Arizona border.
"This is the only Starbucks drive-thru within a 20-mile radius and benefits from its close proximity to the U.S. Marine Corps Base, home to the Air Ground Combat Center, the world's largest Marine Corps training base," said Asher. "The city also serves as the gateway to the Mojave Desert, Joshua Tree National Park (with nearly 3 million visitors annually), the Mojave National Preserve, and the great California Outback."
Located near the seat of government with City Hall and administrative buildings, the Starbucks property is only 6.5 miles from the Marine Corps Base, which has a $1.1 billion annual economic impact on the region. Approximately 13,500 service members and civilians live at the base along with 7,430 of their family members. More than 50,000 active-duty and Reserve Marines and sailors, and other U.S. and allied forces train at the combat center each year.
Located in San Bernardino County, the city of Twentynine Palms is located less than a one-hour drive to Palm Springs, 1.5 hours to Big Bear, 2.5 hours to Lake Havasu, and three hours to Las Vegas. The Tortoise Rock Casino, a 30,000-square-foot casino with 490 slot machines, as well as several table games and poker tables, is located one mile from the Starbucks property.
"We secured the buyer in the first week of marketing prior to completion of construction of the building, and closed escrow shortly after Starbucks opened for business," said Asher. "Starbucks has become one of the most prominent and innovative retailers in today's market. The revenue Starbucks generates through the drive-thru and its mobile app has continued to make Starbucks one of the most sought-after retail investments in today's market."
Lefko adds, "As a net-lease passive investment, Starbucks provides investors with a secure and stable investment that requires little to no maintenance. Further, the stores are situated in high-traffic locations with strong demographics."
Starbucks Corporation reported that in the fourth quarter of 2019, U.S. comparable-store sales were up 6%, both driven by a 3% increase in average ticket and a 3% increase in comparable transactions. The company opened 630 net new stores in the fourth quarter, yielding 31,256 stores at the end of the quarter, a 7% increase over the prior year.
Lefko and Asher are one of the most active brokerage teams in the sale of single-tenant and multi-tenant coffee investments in California, arranging the sale of 25 properties valued at over $86 million in the last two years, many at record cap rates.
About Hanley Investment Group
Hanley Investment Group Real Estate Advisors is a retail investment advisory firm with a $6+ billion transaction track record nationwide, who works closely with individual investors, lending institutions, developers, and institutional property owners in every facet of the transaction to ensure that the highest value is achieved. For more information, visit www.hanleyinvestment.com.
# # #