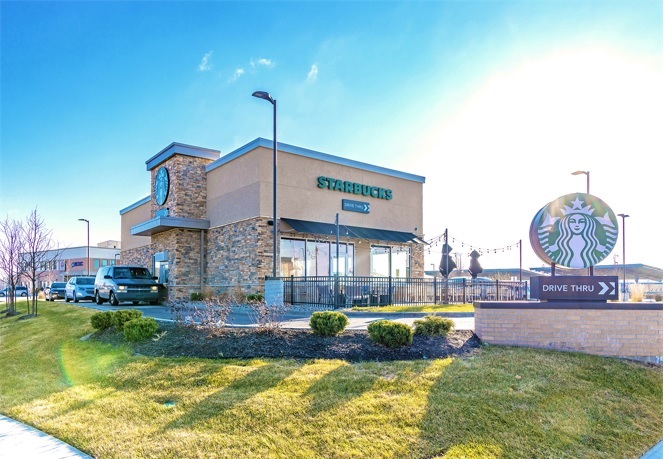 NORTH KANSAS CITY, Mo. – RealEstateRama – Hanley Investment Group Real Estate Advisors, a nationally recognized real estate brokerage and advisory firm specializing in retail property sales, announced today that the firm has arranged the sale of a new construction, single-tenant Starbucks Drive-Thru at One North in North Kansas City, Missouri, for $2,334,000. The property is located adjacent to Interstate 35 on/off ramps, the most trafficked north/south interstate through Kansas City.
Hanley Investment Group's Executive Vice Presidents Jeff Lefko and Bill Asher, in association with ParaSell, Inc., represented the seller and developer, Woodsonia Real Estate, Inc., based in Omaha, Nebraska. The buyer was a private investor based in Warrensburg, Missouri.
"We procured multiple all-cash offers within the first two weeks of marketing the property for sale and closed escrow at 100% of the list price," said Lefko.
Lefko adds, "Built in 2020, the new Starbucks-occupied investment is situated within One North, a new, high-density, mixed-use development and, with a new 10-year triple-net lease, the asset offers the buyer all the fundamentals for a secure and stable investment."
The Starbucks-occupied property is located on 1.13 acres at the hard corner, signalized intersection of Armour Road and Taney Street at 1930 Diamond Parkway, and has excellent accessibility and visibility along Armour Road, a major retail corridor through North Kansas City (34,157 cars per day). Its strategic location adjacent to the Interstate 35/Interstate 29 on/off ramps (67,961 cars per day) brings additional visibility.
Starbucks has more than 34,000 stores worldwide and is the premier roaster and retailer of specialty coffee in the world. In March, the company confirmed its plans to expand to approximately 55,000 company-operated and licensed stores across 100 markets by 2030.
U.S. same-store sales for Starbucks were up 18% for the first quarter of 2022, primarily driven by a 12% increase in comparable transactions and a 6% increase in average ticket.
"Starbucks cap rates have certainly compressed over the last 12 months, even for locations with leases less than 10 years," said Lefko. "We see this momentum continuing in the months ahead as buyers evaluate real estate fundamentals and current economic conditions."
Hanley Investment Group has sold $705 million in retail properties in the Midwest in the last 48 months and recently completed the sales of three single-tenant net-leased retail properties occupied by a Wendy's drive-thru in separate transactions in the Kansas City metro area. The combined value of these three sales was $7.4 million, representing an average cap rate of 4.75% and included three different buyers.
About Hanley Investment Group
Hanley Investment Group Real Estate Advisors is a real estate brokerage and advisory services company with over a $9.1 billion transaction track record that specializes in the sale of retail properties nationwide. Our expertise, proven track record, and unwavering dedication to putting clients' needs first set us apart in the industry. Hanley Investment Group creates value by delivering exceptional results through the use of property-specific marketing strategies, cutting-edge technology, and local market knowledge. Our nationwide relationships with investors, developers, institutions, franchisees, brokers, and 1031 exchange buyers are unparalleled in the industry, translating into maximum exposure and pricing for each property. With unmatched service, Hanley Investment Group has redefined the experience of selling retail investment properties. For more information, visit www.hanleyinvestment.com.
# # #