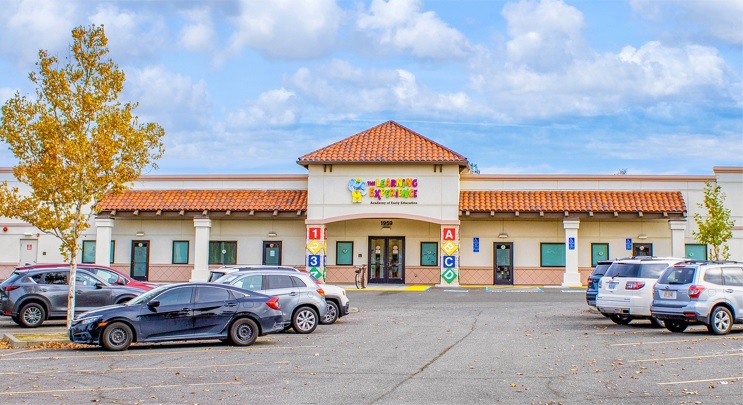 VACAVILLE, Calif. – RealEstateRama – Hanley Investment Group Real Estate Advisors, a nationally recognized real estate brokerage and advisory firm specializing in retail property sales, announced today that the firm has completed the sale of a new construction, single-tenant net-leased retail property occupied by The Learning Experience at the Lucky supermarket-anchored shopping center located in Solano County in Northern California. The sale price was $5,250,000.
Hanley Investment Group's Executive Vice Presidents Jeff Lefko and Bill Asher represented the developer and seller, Armstrong Development Properties, Inc. of Butler, Pennsylvania. The buyer was a private investor from Honolulu, Hawaii and was represented by Donald Yang of Advocate Realty Group of Irvine, California.
"Hanley Investment Group was retained to market the property for sale after it had been on the market for nine months with limited activity," said Lefko. "Within the first three days of marketing the property to our extensive investor database, we generated multiple, strong offers and secured a California-based private investor that closed at 99.5% of the asking price."
The 9,990-square-foot building occupied by The Learning Experience was built in 2020 at 1959 Peabody Road in Vacaville and is situated on 1.83 acres at the intersection of Peabody Road and Alamo Drive with traffic counts exceeding 44,000 cars per day.
"The Learning Experience is the fastest-growing childcare franchise in the nation with over 450 centers open or under development. Due to the high demand for childcare in the U.S., the company is currently on a trajectory to open 75 to 100 centers per year," said Lefko.
The Learning Experience, an educational childcare company, was named one of the "Best of the Best" in Franchise Business Review's 2021's Top 200 Franchises. The Learning Experience was also ranked among the top franchises in Entrepreneur Magazine's Franchise 500 for 2022, including No. 4 in the Child Services category. Entrepreneur's Franchise 500 is the world's first, best and most comprehensive franchise ranking.
According to Lefko, "Single-tenant net-leased properties occupied by a childcare or learning center like The Learning Experience have seen a cap rate compression between 25 to 100 basis points over the last 18 months. But, they still offer a relatively attractive return for investors that need to get positive leverage. Investors can typically achieve around a 6% cap rate depending on the location and length of the lease term."
Over the last 18 months, Lefko and Asher have been one of the most active groups in the country in the sale of net-leased childcare and learning center tenants, including The Learning Experience, Kiddie Academy and O2B Kids.
"The childcare industry is a $57 billion industry and is forecasted to reach $62.1 billion in the next five years," said Lefko. "One in three families spends 20% or more of their annual household income on childcare."
In addition to The Learning Experience's location adjacent to the Lucky supermarket, other major national tenants in the area include Burger King, Chevron, Little Caesar's Pizza, O'Reilly Auto Parts, Subway, Taco Bell, Walgreens and Wells Fargo. The property is conveniently located 1.5 miles from Interstate 80, which connects suburban Vacaville to Downtown Sacramento and San Fransisco, and allows nearby residents to easily drop kids off at The Learning Experience on their way to work.
"The area also offers dense, affluent demographics ideal for a child learning center," noted Lefko. "There are 127,890 people with an average household income in excess of $110,000 within a five-mile radius of the property."
Vacaville is located halfway between Sacramento and San Francisco and is within minutes of Napa and Sonoma Wine Country. It is only a 40-minute drive to downtown Sacramento and Sacramento International Airport (SMF), and a one-hour drive to San Francisco.
The sale of The Learning Experience in Vacaville marks Lefko and Asher's third single-tenant net-leased The Learning Experience sold in the Bay Area.
About Hanley Investment Group 
Hanley Investment Group Real Estate Advisors is a real estate brokerage and advisory services company with a $9 billion transaction track record that specializes in the sale of retail properties nationwide. Our expertise, proven track record, and unwavering dedication to putting clients' needs first set us apart in the industry. Hanley Investment Group creates value by delivering exceptional results through the use of property-specific marketing strategies, cutting-edge technology, and local market knowledge. Our nationwide relationships with investors, developers, institutions, franchisees, brokers, and 1031 exchange buyers are unparalleled in the industry, translating into maximum exposure and pricing for each property. With unmatched service, Hanley Investment Group has redefined the experience of selling retail investment properties. For more information, visit www.hanleyinvestment.com.
#  #  #