This is the 2nd Walgreens to trade in San Diego County in the last 12 months
OCEANSIDE, Calif. –- (RealEstateRama) — Hanley Investment Group Real Estate Advisors, a nationally-recognized real estate brokerage and advisory firm specializing in retail property sales, arranged the sale of a single-tenant absolute net-lease Walgreens property located in north San Diego County at 3507 Cannon Road in Oceanside, Calif. The purchase price was $7.4 million, which represented a cap rate of 5.0 percent.
Hanley Investment Group Executive Vice President Kevin Fryman, along with Ed Hanley, president of Hanley Investment Group, represented the seller, a private investor based in Beverly Hills, Calif. The buyer, a private investor from Northridge, Calif., was represented by Jason Flashman/Flashman Investment Group of Peak Commercial of Los Angeles.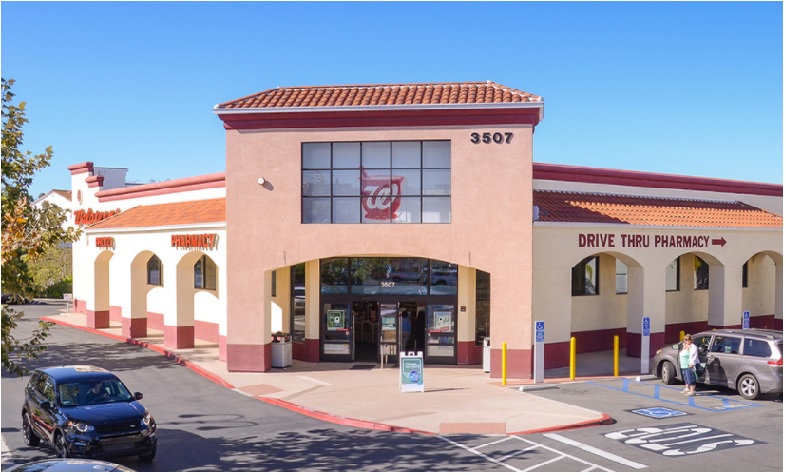 "Investor interest in single-tenant retail buildings is still very strong, especially 'daily needs' driven type of retailers like drug stores," said Fryman. "Daily needs and service-oriented retailers are thought to be more internet-resistant and can drive foot traffic to other shops in the shopping center."
"The market for Walgreens properties remains active as investors are attracted to investment grade rated companies with long-term leases," added Hanley. Walgreens has a Standard & Poor's rating of BBB.
Built in 2007, the 14,380-square-foot freestanding building with a drive-thru is located on a 1.64-acre pad within a former Ralphs-anchored shopping center that includes national tenants such as McDonald's, AutoZone and Pizza Hut. There are more than 15 years remaining on the Walgreens primary lease with ten five-year renewal option periods.
Walgreens has a 10-year history at this location and benefits from the strong demographics in the area and close proximity to two regional hospitals, a large retirement community and convenient freeway access, Fryman notes. "Over 42,000 cars per day travel through the signalized intersection of Cannon Road and Melrose Drive. Melrose Drive is a major north/south thoroughfare in the city of Oceanside."
Fryman adds, "More than 280,000 people live within a five-mile radius of the property and have an average household income of over $79,000 within a one-mile radius."
Two regional hospitals are located less than five miles from Walgreens, Tri-City Medical Center and Scripps Coastal Medical Center. Walgreens is also near Ocean Hills Country Club, an active senior retirement community with over 1,600 homes.
"This transaction is another great example of the high demand for well-located single-tenant investments, specifically for credit retailers like Walgreens with a corporate guaranteed lease with investment grade credit," said Fryman. "The absolute triple-net (NNN) lease offers zero landlord responsibilities since the tenant is responsible for the costs of real estate taxes, property insurance, and maintenance in addition to rent."
"There has only been one other Walgreens that has traded hands in San Diego County in the last 12 months," said Hanley. "According to CoStar, only eight Walgreens with more than 10 years remaining on their initial lease have sold in California in the last 12 months for an average cap rate of 5.35 percent compared to 13 transactions in the 12 months prior to that for an average cap rate of 5.03 percent."
"With continued volatility in investments such as stock and bonds, investors are looking to high-quality single-tenant retail assets that require little to no maintenance," said Hanley. "A single-tenant investment such as Walgreens provides long-term cash flow, with relatively low risk. As investors continue to look for security, we expect that the demand for these high-quality single-tenant investments will remain strong through 2017."
About Hanley Investment Group
Hanley Investment Group Real Estate Advisors is a retail investment advisory firm with a $5 billion transaction track record nationwide, who works closely with individual investors, lending institutions, developers, and institutional property owners in every facet of the transaction to ensure that the highest value is achieved. For more information, visit www.hanleyinvestment.com.