MAMMOTH LAKES, Calif. – RealEstateRama – Hanley Investment Group Real Estate Advisors, a nationally recognized real estate brokerage and advisory firm specializing in retail property sales, announced today that the firm has completed the sale of a trophy, flagship resort location Starbucks with a drive-thru located in Mammoth Lakes, California. The sale price of $4,725,000 represented a price per square foot of $1,065. It is the second largest single-tenant Starbucks sale in Northern California in the last 12 months.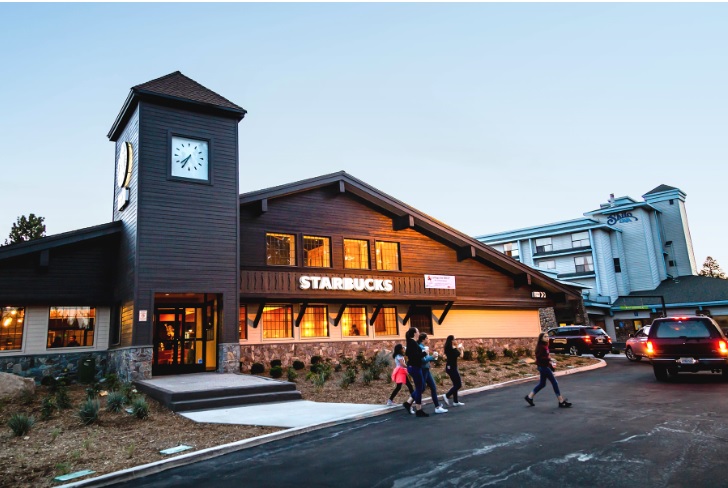 Hanley Investment Group Executive Vice Presidents Bill Asher and Kevin Fryman, along with Vice President Jeff Lefko, represented the seller, a private partnership based in Los Angeles. Blake Tagmyer of Cushman & Wakefield in San Diego represented the buyer, a private investor from San Diego.
Built in 1984 and recently renovated in 2018, the 4,435-square-foot single-tenant building occupied by Starbucks is situated on a 1.22-acre parcel at the southwest corner of Main Street (California State Route 203) and Sierra Parks Road at 2935 Main Street in Mammoth Lakes. The corporate Starbucks has a new long-term lease with rental increases every five years.
"This is the only Starbucks drive-thru within a 36-mile radius and one of only two stand-alone drive-thru buildings in Mammoth Lakes," said Asher. "This Starbucks location in Mammoth is a rare 'flagship' store format and the largest Starbucks building in the state of California."
"The Starbucks building in Mammoth features numerous unique amenities including a private conference room and an indoor/outdoor fireplace," said Fryman. "A substantial amount of money in tenant improvements was spent on the remodel of this location. It was the first major redevelopment in Mammoth in over 10 years."
Asher notes that Starbucks sits at the gateway to the Mammoth Lakes resort area, which receives more than 2.5 million visitors annually (70% are visiting from Southern California). Mammoth was ranked #1 on "The Five Best California Ski Resorts" by Snowpak in 2019 and Outside Magazine ranked Mammoth #2 on "The Insider Guide to North America's Best Ski Towns" in 2018.
Mammoth is the closest major ski resort to Southern California and features 3,500 acres with amenities that include 28 ski lifts, 150 hiking trails, 80+ miles of mountain biking trails, two golf courses and year-round fishing with 17 lakes within 20 minutes.
The Starbucks property is immediately adjacent to Mammoth Hospital, police department, welcome center, Grocery Outlet, Shell gas station and Shilo Inn. It is also strategically positioned at one of the free annual town wide shuttle stops and benefits from three points of ingress/egress off Main Street and Sierra Park Road.
"We generated  multiple qualified offers while marketing the property, as there was no lack of interest based on the tenant and iconic resort location," said Asher. "Buyers were attracted to the 'A+' real estate, oversized lot with ample parking, and the future redevelopment potential for a hotel use."
Asher adds, "Starbucks has become one of the most prominent and innovative retailers in today's market. As a net-lease passive investment, Starbucks provides investors with a secure and stable investment that requires little to no maintenance. Further, the stores are situated in high-traffic locations with strong demographics."
Starbucks Corporation reported it opened 630 net new stores in the fourth quarter 2019, yielding 31,256 stores at the end of the quarter, a 7% increase over the prior year. Starbucks® Rewards loyalty program grew to 17.6 million active members in the U.S., up 15% year-over-year.
Hanley Investment Group has been one of the most active brokerage companies in the sale of single-tenant and multi-tenant coffee investments in California, arranging the sale of 25 properties valued at over $86 million in the last 24 months.
About Hanley Investment Group
Hanley Investment Group Real Estate Advisors is a retail investment advisory firm with a $6+ billion transaction track record nationwide, who works closely with individual investors, lending institutions, developers, and institutional property owners in every facet of the transaction to ensure that the highest value is achieved. For more information, visit www.hanleyinvestment.com.
#   #   #