31,980 SF Westlake Village Sells in Sacramento, Calif.
SACRAMENTO, Calif. – Hanley Investment Group Real Estate Advisors, a nationally-recognized real estate brokerage and advisory firm specializing in retail property sales, announced today that the firm has completed the sale of Westlake Village, a 31,980-square-foot neighborhood shopping center anchored by Walgreens and Chase Bank in Sacramento, California's North Natomas community. The sale also included 4.36 acres of developable land. The price was not disclosed.
Hanley Investment Group Executive Vice President Bill Asher and President Ed Hanley, in conjunction with Ten-X based in Irvine, California, represented the seller, Donahue Schriber Realty Group (DSRG), a privately-held Real Estate Investment Trust (REIT) with 62 shopping centers representing over 11 million square feet of retail space throughout California, Nevada, Oregon and Washington. The buyer, a family trust from San Francisco's East Bay, was represented by Hanley Investment Group Associate Eric Vu.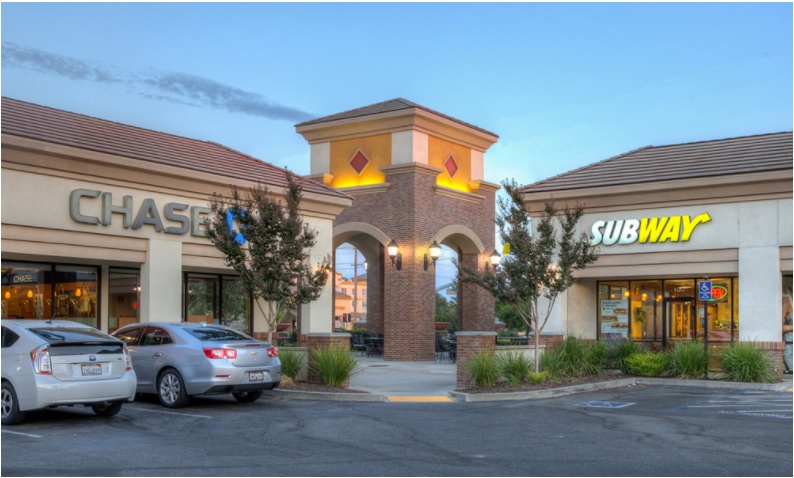 Built in 2007, the 92-percent occupied Walgreens-anchored property is located at 3501-3511 Del Paso Road, at the signalized intersection of Del Paso and El Centro roads and also includes Allstate Insurance, AIM Mail Center, Chase Bank, Creative Nails Spa, Donahue Schriber, Subway and Westlake Hair Studio.
According to Hanley, investors were attracted to the property because a majority of the tenants were daily needs-based and internet resistant. The complementary mix of retail tenant categories included drugstore, food, services and banking. Hanley also noted that 100-percent of the tenants have operated at the center since 2011, providing the buyer with a reliable income stream and long-term stability.
"Westlake Village offered a unique opportunity to acquire a shopping center featuring a historical stable income stream with a value-add component to lease-up the remaining available space of the existing center and future development potential of 4.36 acres within the project," said Asher.
Vu noted that the buyer had traded out of a northern California-based retail property to purchase Westlake Village to fulfill a 1031 exchange.
"Walgreens serving as the anchor tenant at the center generated a tremendous amount of activity," commented Asher. "The market's appetite for drug store investments on long-term leases remains very active. Whether offered as a single-tenant investment or as part of a larger shopping center, investors continue to flock to the security of a national drug store's corporate guaranteed lease, and long-term daily needs products they provide to consumers in today's market."
Hanley added, "Investor demand for multi-tenant retail assets similar to Westlake Village leased to national credit tenants in primary locations with an opportunity to improve cash flow long-term through the upside of additional lease-up and future development will continue to be the most attractive opportunities for investors in 2018."
Donahue Schriber Realty Group
Donahue Schriber Realty Group is a privately-held Real Estate Investment Trust (REIT) with 62 shopping centers representing over 11 million square feet of retail space throughout California, Nevada, Oregon, and Washington. See www.donahueschriber.com.
About Hanley Investment Group
Hanley Investment Group Real Estate Advisors is a retail investment advisory firm with a $6 billion transaction track record nationwide, who works closely with individual investors, lending institutions, developers, and institutional property owners in every facet of the transaction to ensure that the highest value is achieved. For more information, visit www.hanleyinvestment.com.
#  #  #