LITCHFIELD, Ill. – (RealEstateRama) – Hanley Investment Group Real Estate Advisors, a nationally recognized real estate brokerage and advisory firm specializing in retail property sales, announced today that the firm arranged the pre-sale of a new-construction, single-tenant ALDI at Litchfield Plaza shopping center in Litchfield, Illinois. The sale price was $1,675,000 for the triple-net absolute ground lease. This is Hanley Investment Group's 7th ALDI investment sold or on the market in the last 12 months. Last year, Lefko and Asher sold the 2018's lowest cap rate for a single-tenant net-leased ALDI nationwide. The property, located in San Jacinto, California, sold for a 4.26% cap rate.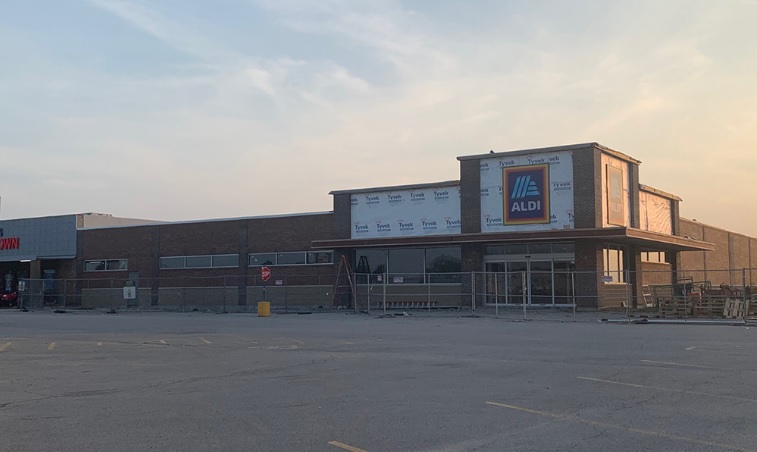 Hanley Investment Group's Vice President Jeff Lefko and Executive Vice President Bill Asher, along with Alex Apter of LOCATION Commercial Real Estate of St. Louis, Missouri, in cooperation with St. Louis-based L3 Corporation, represented the seller, Greater Missouri Builders of St. Charles, Missouri. The buyer was a private investor based in Illinois.
The 22,245-square-foot ALDI store, which opened on July 18, 2019, is located at 20 Litchfield Plaza and sits on 3.35 acres. Other tenants within the ALDI-anchored shopping center include Dollar General, Glik's, Hibbett Sports, Maurices, National Rent-to-Own, Pizza Hut, Salvation Army, Shoe Sensation, Taco Bell and Wendy's. National credit tenants in the immediate area include Walmart Supercenter, Burger King, Jack in the Box, McDonald's, Ruby Tuesday, Steak n' Shake and Walgreens.
According to Lefko, Litchfield is known as "the hub" of Central Illinois and there are 1.5 million people who live within a 50-mile radius of the city. Litchfield is served by Interstate 55 and Illinois State Route 16. I-55 is a major interstate in the Midwest that goes through Litchfield on the route from St. Louis to Springfield. State Highway 16 is the major retail thoroughfare traveling through Litchfield.
Litchfield Plaza is located minutes from Lake Lou Yaeger, a popular tourist destination attracting thousands of visitors each week from Chicago, St. Louis and Springfield, and is the closest retail to Lake Lou Yaeger. Litchfield is also a natural stopping point for travelers between St. Louis and Chicago.
"We successfully executed a pre-construction sales strategy and secured an all-cash, 1031 exchange buyer through a broker relationship and closed escrow before the tenant opened for business," said Asher.
Lefko noted that this new ALDI store was a rare relocation store. "Due to strong sales, ALDI relocated from across the street to this site to grow and expand their space," Lefko continues. "ALDI owns the property that they are relocating from and has invested significant capital in this new, ground-up construction, which is further evidence of the company's commitment to this location."
Asher adds, "Buyers had so much interest in this site because you rarely see a tenant relocate from a building that they own."
Built in 2019, ALDI has a 15-year, absolute triple-net ground lease in place that has rental increases every five years and renewal options.
A leader in the grocery retailing industry since 1976, ALDI operates more than 1,800 U.S. stores in 35 states. ALDI sells frequently purchased grocery and household items, primarily under its exclusive brands. For the eighth year in a row, ALDI was recognized as the value leader among U.S. grocery stores by a Market Force Information® survey of U.S. consumers.
According to company news, ALDI is in the midst of an accelerated growth plan, investing more than $5 billion to remodel and expand its store count to 2,500 by the end of 2022.
"This transaction further demonstrates Hanley Investment Group's ability to use its national database to procure local Midwest buyers," noted Lefko.
About Hanley Investment Group
Hanley Investment Group Real Estate Advisors is a retail investment advisory firm with a $6+ billion transaction track record nationwide, who works closely with individual investors, lending institutions, developers, and institutional property owners in every facet of the transaction to ensure that the highest value is achieved. For more information, visit www.hanleyinvestment.com.
# # #