58,035 SF shopping center anchored by Big Lots (NAP) and True Value in Riverside County
CORONA DEL MAR, CALIF. – Hanley Investment Group Real Estate Advisors, a nationally-recognized real estate brokerage and advisory firm specializing in retail property sales, announced today that Senior Vice President Pat Kent completed the sale of Hemet Plaza, a 58,035-square-foot shopping center anchored by Big Lots (not part of the sale) and True Value hardware store in Riverside County, California. The purchase price was $5,575,000, representing a cap rate of 6.3%.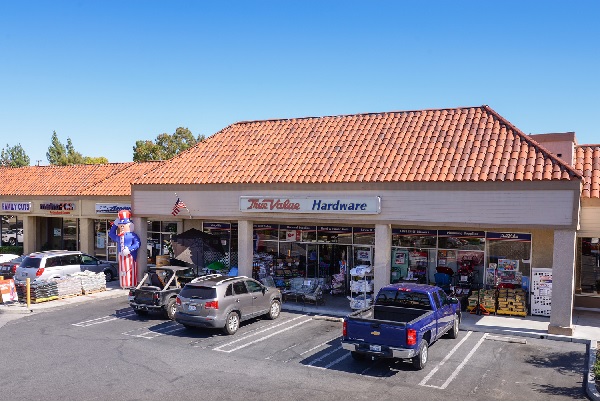 Kent represented both the buyer and the seller in the sale transaction. The seller was a private investor based in Tucson, Arizona. The buyer was a private investor based in Santa Ana, Calif.
Hemet Plaza is centrally located on 4.55 acres at 1911-2095 Florida Avenue in Hemet, at the hard-corner signalized intersection of Florida Avenue (Highway 74, the main east-west thoroughfare in Hemet) and Yale Street (34,000 cars per day). In addition to anchors Big Lots (NAP) and True Value, Hemet Plaza includes other national tenants such as Farmers Insurance, Jackson Hewitt Tax Services, Rent-A-Center, Metro PCS, and US Postal Service. The six-building retail center, which was built in 1985, was 71% occupied at the time of the sale.
"The property was offered at below replacement cost and will provide the buyer the possibility to increase the center's all-cash yield with additional lease up. Part of the available space includes a separately parceled 3,755-square-foot freestanding pad building with a double-car drive thru," said Kent.
"Our aggressive marketing campaign generated multiple qualified offers within the first thirty days of marketing and we procured a highly-qualified private investor that owned property in the immediate trade area," Kent added. "This is a great value-add opportunity for this buyer."
The population of Hemet has grown 50% since 2000 and currently has more than 169,000 residents within a 5-mile radius of the property, according to Kent. "The city of Hemet recently announced a new 500,000-square-foot retail, entertainment and mixed-use office development on Florida Avenue, which substantiates the Hemet demand for additional product," Kent said.
About Hanley Investment Group
Hanley Investment Group Real Estate Advisors is a retail investment advisory firm with a $5 billion transaction track record nationwide, who works closely with individual investors, lending institutions, developers, and institutional property owners in every facet of the transaction to ensure that the highest value is achieved. For more information, visit www.hanleyinvestment.com.