Extremely rare opportunity for an investor to purchase 39,290 SF of prime retail along South Lake Avenue in the heart of Pasadena
PASADENA, Calif. – (RealEstateRama) — Hanley Investment Group Real Estate Advisors, a nationally-recognized real estate brokerage and advisory firm specializing in retail property sales, announced today the sale of the landmark building occupied by Walgreens at 310 South Lake Avenue in Pasadena, California. The sale price for the fee-simple property was $23 million, representing a cap rate of 4.9 percent.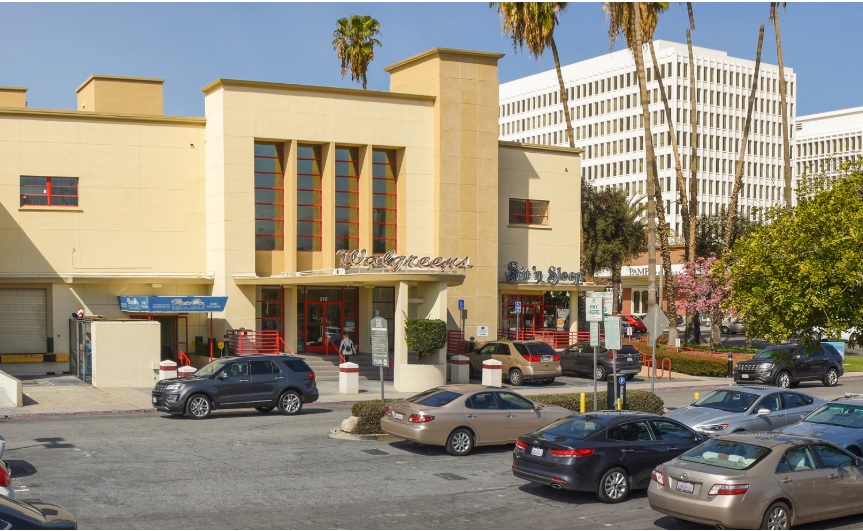 Hanley Investment Group Executive Vice President Carlos Lopez and Vice President Lee Csenar represented the seller, AEGON USA Realty Advisors, LLC of Cedar Rapids, Iowa. The buyer, a private investor based in Beverly Hills, California, was represented by John D. Repstad of Realty Advisory Group, Inc. of Los Angeles.
Built in 1949, the iconic freestanding 39,290-square-foot building is located on 0.79 acres at the signalized intersection of South Lake Avenue and Del Mar Boulevard. The first and second floor of the building (totaling 27,025 square feet) is leased to Walgreens until 2027. Walgreens subleased the second floor to Sit 'n Sleep for a 14,057-square-foot store. The building's 12,265-square-foot basement space is leased to Premier Dental Care Group. The sale also included a portion of the parking lot behind the property and the use of the adjacent reciprocal parking managed by the City of Pasadena.
"The sale represented an extremely rare opportunity for an investor to purchase 39,290 square feet of prime retail along South Lake Avenue in the heart of Pasadena," said Lopez. "This is a secure and stable generational asset with a long-term triple-net lease with Walgreens representing 85 percent of the annual income. There is an additional triple-net lease with Premier Dental Care Group, which has been successfully operating at the property since 2013."
According to Csenar, "Investors were attracted to the high identity, very desirable South Lake Avenue location and co-tenancy. The property is situated at the hard corner of South Lake Avenue and Del Mar Street directly across the street from the Shops on Lake Avenue Mall, anchored by Macy's, Trader Joe's and T.J.Maxx. Additional retailers along South Lake Avenue are Ann Taylor, LA Fitness, Pacific Sales, Pavilions, Pet Food Express, Pier 1 Imports, Pottery Barn Kids, Ross Dress for Less, Talbots and Williams Sonoma."
The revered South Lake Avenue corridor consists of 12 blocks of shopping and dining that includes over 600 businesses that draw from the region, including nearby cities of Arcadia, Eagle Rock, La Ca?ada Flintridge, South Pasadena and San Marino. Within three miles of the site, the average household income is $117,600 with 38 percent of the households averaging $100,000 or more. More than 560,000 people live within a five-mile radius of the property. The population is also highly educated with 64 percent of the residents with a bachelor's degree or higher within one mile and 7.7 million square feet of Class A office that continues to draw employers to Pasadena, creating office demand.
According to Lopez, South Lake Avenue has an incredible 94 out of 100 Walk Score, calling it a "Walker's Paradise" due to the proximity in all ranking categories including dining, groceries, shopping, errands, parks, schools, culture, and entertainment.
The property is also located less than one mile from the Metro Gold Line stations at Lake Station and Del Mar Station, connecting Pasadena to Downtown Los Angeles, San Fernando Valley, San Gabriel Valley, Santa Monica/West Side, the South Bay, Downtown Long Beach, and East Los Angeles. The Metro Gold Line boasts over 50,000 daily riders per weekday and 34,000 daily riders on the weekends.
Pasadena is home to top employers including Kaiser, Parsons, and Nasa Jet Propulsion Laboratory (JPL). Nearby colleges include Caltech, Pasadena City College, Occidental College, and ArtCenter College of Design.
"This transaction is another great example of the high demand for well-located retail assets, specifically in Pasadena on South Lake Avenue and Colorado Boulevard," said Csenar.
Lopez has sold more retail on South Lake Avenue than any other agent in the last five years, with a total of 220,000 square feet of retail worth $59 million. According to CoStar Group, there have only been 13 retail transactions along South Lake Avenue in the last five years.
"High-quality urban locations in great cities and the urban core of Southern California in districts such as Pasadena, Hollywood, Downtown Los Angeles and Santa Monica continue to attract investors from the region, as well as from across the nation and the global investment community," said Lopez.
About Hanley Investment Group
Hanley Investment Group Real Estate Advisors is a retail investment advisory firm with a $6 billion transaction track record nationwide, who works closely with individual investors, lending institutions, developers, and institutional property owners in every facet of the transaction to ensure that the highest value is achieved. For more information, visitwww.hanleyinvestment.com.
# # #
Anne Monaghan
MONAGHAN COMMUNICATIONS, INC.


830.997.0963