GREENVILLE, NC – (RealEstateRama) — Hanley Investment Group Real Estate Advisors, a nationally-recognized real estate brokerage and advisory firm specializing in retail property sales, has completed the sale of a freestanding, 2,574-square-foot, single-tenant retail property that is occupied by Popeyes Louisiana Kitchen at 649 S. Memorial Drive (Highway 13) in Greenville, North Carolina. The property's absolute, triple net-lease is with the largest Popeyes' franchisee in the nation and has 13 years remaining on its 20-year initial term. The sale price was $2 million, representing $777 per square foot.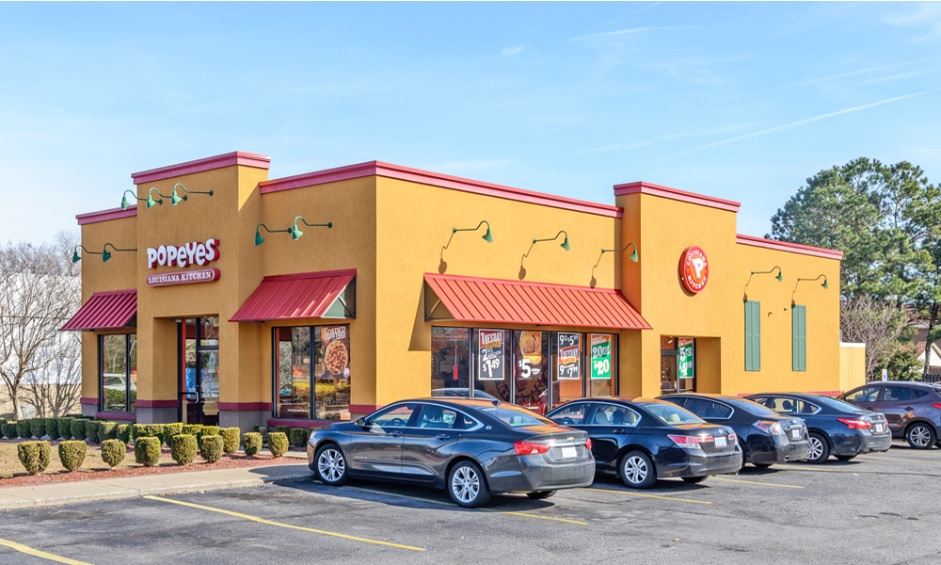 Hanley Investment Group Associate Austin Blodgett, along with Executive Vice President Eric Wohl, represented the seller, a private investor based in Washington, D.C. The buyer, a private investor based in San Diego, was represented by NNNet Advisors of San Diego.
"This property offered the 1031 exchange buyer an attractive long-term lease with rental increases in the option periods," said Blodgett. "Additionally, the property is located near East Carolina University with more than 30,000 students and across the street from Vidant Medical Center, which is reported to have two million visitors annually. Due to our marketing reach and the quality of the location, our marketing efforts resulted in multiple offers within 25 basis points of the list price."
Blodgett adds, "This is an ideal 1031 exchange property with long-term absolute, triple-net lease with zero landlord obligations, which is what many of today's investors are looking for. The property had previously been listed by another brokerage firm, which was unsuccessful at securing a buyer at the seller's desired price. Using Hanley Investment Group's proprietary database and marketing techniques, we were able to generate multiple offers to purchase the property and complete the sale."
This Popeyes' location is operated and guaranteed by the Dhanani Group, the largest Popeyes franchisee in the nation with 270+ locations. "The reason that we achieved the cap rate that we did was because of the strength of the franchisee's credit. The number of locations backing the lease is one of the first questions any investor will ask when considering the purchase of a single-tenant quick-service restaurant," said Blodgett.
Blodgett notes that quick-service restaurants (QSR) franchises with good credit have become increasingly more popular among not only exchange buyers but with institutional investors as well. "Over the past year, REITs have opened up to purchasing QSR assets with franchise credit at more aggressive cap rates. Previously, they would only buy QSR assets with corporate credit," Blodgett noted. "This change is likely because QSR properties are relatively e-commerce-proof and the assets benefit from the trend of more people eating out or taking food home versus cooking meals at home. Also, QSR assets are nearly recession-proof because the food is fairly low cost, most Americans can afford to pick-up a meal from a fast-food restaurant."
About Hanley Investment Group
Hanley Investment Group Real Estate Advisors is a retail investment advisory firm with a $6 billion transaction track record nationwide, who works closely with individual investors, lending institutions, developers, and institutional property owners in every facet of the transaction to ensure that the highest value is achieved. For more information, visit www.hanleyinvestment.com.
# # #
Anne Monaghan
MONAGHAN COMMUNICATIONS, INC.


830.997.0963