SULPHUR, La. – (RealEstateRama) – Hanley Investment Group Real Estate Advisors, a nationally recognized real estate brokerage and advisory firm specializing in retail property sales, announced today that the firm completed the sale of a single-tenant Casa Olé restaurant in the Lake Charles metro area of Sulphur, Louisiana. The sale price was $2,325,000.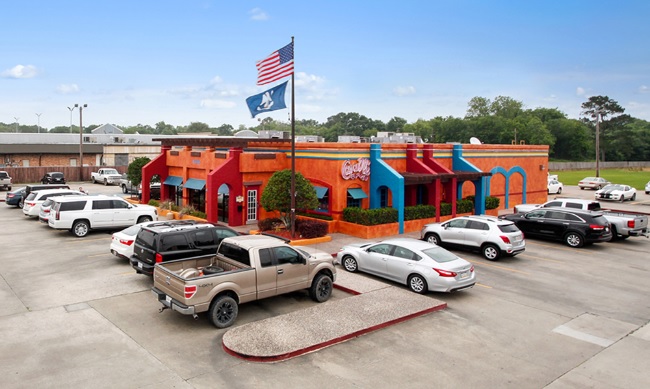 Hanley Investment Group Executive Vice President Jeremy McChesney and Associate Andrew Sprowl represented the seller, Plant City Storage, LLC of Clearwater, Florida. The buyer, a private investor from Sterling, Virginia, was represented by Sridhar Maram of Maram Realty LLC of Herndon, Virginia.
The 4,576-square-foot freestanding Casa Olé restaurant is situated on 2.44 acres at 1700 Ruth Street with 19,250 cars per day in Calcasieu Parish, approximately 20 miles east of the Texas border. Built in 2004, the single-tenant absolute triple-net lease investment has 11 years remaining on the primary lease term and annual rental increases. The absolute triple-net lease offers passive income; no landlord responsibilities, according to McChesney.
"This is a strong performing, proven location with a single-digit rent-to-sales ratio and a 22-year track record of success," said McChesney. "The investment also offered a strong lease guarantee from Williston Holdings Company who has been in business for over 55 years and operates 57 restaurants across five states. The large, 2.44-acre parcel was also attractive to investors."
McChesney continues, "We generated five qualified offers on behalf of the seller and closed at 93% of the asking price. We also closed with seller financing to limit the seller's tax liability and meet his long-term estate planning goals."
McChesney noted that the seller's financing provided the investor with a 10.88% cash-on-cash return over the seven-year loan to the buyer.
The property is located across the street from a newly remodeled McDonald's and Popeyes Chicken and one mile from Sulphur High School (2,000 students), .03 miles from Frasch Elementary School (667 students), and .08 miles from West Calcasieu Cameron Hospital (100 beds).
Casa Olé is a fast-casual Mexican-themed restaurant concept with 46 locations located primarily in the Houston and East Texas areas, along with two storefronts in the state of Louisiana. The restaurant is owned by Mexican Restaurants, Inc., which owns, operates and franchises 57 Mexican restaurants. The current system includes five brands: Casa Olé, Uberrito, Monterey's Little Mexico, Tortuga Mexican Kitchen, and Crazy Jose's. Mexican Restaurants, Inc. was purchased by the Williston Holding Company in 2014 for a sum of $23 million. The company operated a total of 15 restaurants at the time of the transaction and has been in the midst of an aggressive expansion that has seen the company add 42 locations over the last three years. Williston Holding Company is an entity based in North Dakota and is controlled by Marc Jundt, the former Chairman and CEO of Kona Grill and an early investor in Caribou Coffee.
McChesney noted that there are 210,000 people in the Lake Charles metro area, 190,000 total population in Calcasieu Parish, and more than 20,000 people in Sulphur with an average household income of $65,000 and strong income growth. The median income in the city is projected to grow by nearly 10% over the next five years, outpacing the projected growth in both the Lake Charles metropolitan area and the state of Louisiana as a whole. Lake Charles is the 5th largest city in the state of Louisiana.
McNeese State University in Lake Charles has 10,000 students and for eight consecutive years, McNeese has received national recognition as one of the best regional universities and one of the top public universities by U.S. News and World Report. The university is also consistently ranked in Tier One in the Best Regional Universities-South category.
Also located in Lake Charles is L'Auberge Casino Resort, a 242-acre, 26-story hotel with nearly 1,000 guest rooms, casino, golf course, spa and meeting center; and Golden Nugget Lake Charles with 1,100 rooms and suites, casino, golf course, spa and meeting center, retail corridor, private beach and marina.
Lake Charles is the 12th busiest port in the U.S. by tonnage. Calcasieu Ship Channel provides direct access to the Gulf of Mexico. Turner Industries, Axiall, and Citgo each employ over 1,000 engineers in the plants and refineries that line the waterway.
About Hanley Investment Group
Hanley Investment Group Real Estate Advisors is a retail investment advisory firm with a $6+ billion transaction track record nationwide, who works closely with individual investors, lending institutions, developers, and institutional property owners in every facet of the transaction to ensure that the highest value is achieved. For more information, visit www.hanleyinvestment.com.
# # #