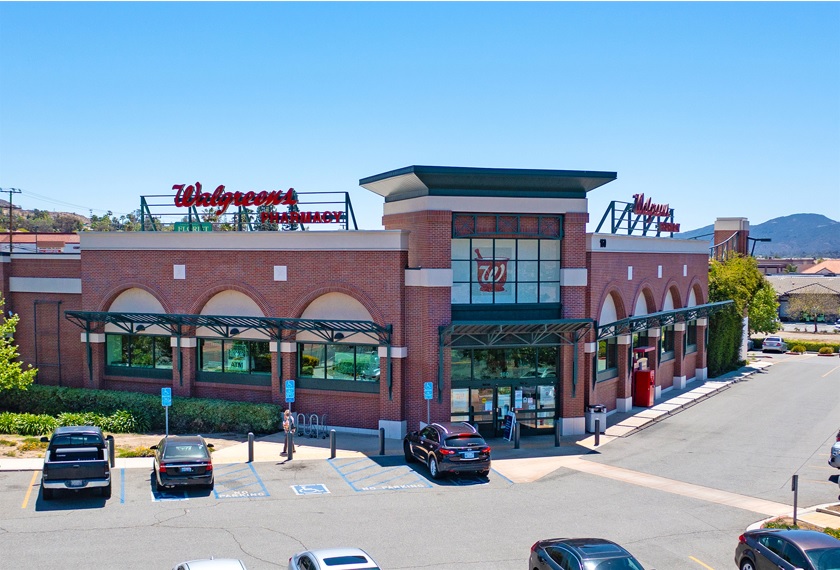 Sale Represents a Record Price for a Walgreens in Riverside County
LAKE ELSINORE, Calif. – RealEstateRama – Hanley Investment Group Real Estate Advisors, a nationally recognized real estate brokerage and advisory firm specializing in retail property sales, announced today that the firm has arranged the sale of a single-tenant net-leased investment occupied by Walgreens in Lake Elsinore, California. The single-tenant Walgreens is ideally located off the Diamond Drive/Railroad Canyon exit off Interstate 15 with traffic volumes exceeding 132,000 cars per day. The sale price was $10.5 million.
Hanley Investment Group's Executive Vice Presidents Jeremy McChesney, Bill Asher and Jeff Lefko represented the seller, Diamond Properties in Foster City, California. The buyer was a private investor based in Irvine, California, and was represented by Oliver Wang of RE/MAX Premier Properties in Arcadia, California.
"We generated eight qualified offers in the first two weeks of marketing this asset," said McChesney. "We sourced an all-cash, Southern California-based 1031 exchange buyer through a cooperating broker and closed at a record price for a single-tenant Walgreens in Riverside County."
Built in 2011, the 13,676-square-foot, single-tenant building is situated on 1.36 acres at 160 Diamond Drive. According to McChesney, Walgreens had a long-term, absolute triple-net lease, representing little to no landlord responsibilities.
"The Walgreens-occupied property is positioned on a large 1.36-acre parcel with a drive-thru at a signalized intersection with 60,000 cars per day and national retailers that include McDonald's, Circle K and Jack in the Box at the other three corners of the intersection," said McChesney. "The property is also adjacent the Lake Elsinore Diamond Stadium, a 6,000-seat minor league baseball stadium occupied by an affiliate of MLB's San Diego Padres."
There are nearly 115,000 people with an average household income of $91,233 within a five-mile radius of the property. Located in Riverside County, Lake Elsinore is one of the fastest-growing cities in California with a 71,000 population that has almost doubled in size over the last 20 years.
As of August 31, 2020, Walgreens operates approximately 9,021 drugstores with a presence in all 50 states, the District of Columbia, Puerto Rico and the U.S. Virgin Islands, along with its omnichannel business, Walgreens.com. Walgreens is included in the Retail Pharmacy USA Division of Walgreens Boots Alliance, Inc., the first pharmacy-led, health and wellbeing enterprise.
About Hanley Investment Group 
Hanley Investment Group Real Estate Advisors is a real estate brokerage and advisory services company with an $8.6 billion transaction track record that specializes in the sale of retail properties nationwide. Our expertise, proven track record, and unwavering dedication to putting clients' needs first set us apart in the industry. Hanley Investment Group creates value by delivering exceptional results through the use of property-specific marketing strategies, cutting-edge technology, and local market knowledge. Our nationwide relationships with investors, developers, institutions, franchisees, brokers, and 1031 exchange buyers are unparalleled in the industry, translating into maximum exposure and pricing for each property. With unmatched service, Hanley Investment Group has redefined the experience of selling retail investment properties. For more information, visit www.hanleyinvestment.com.
#  #  #