Record 4.37% Cap Rate and $808 Price PSF for Multi-Tenant Retail in San Bernardino County
CORONA DEL MAR, CALIF. – (RealEstateRama) — Hanley Investment Group Real Estate Advisors, a nationally-recognized real estate brokerage and advisory firm specializing in retail property sales, announced today that President Ed Hanley and Executive Vice President Bill Asher completed the sale of a Starbucks-anchored multi-tenant pad building located at the Stater Bros. Plaza in Chino, Calif. The sale price of $3,153,000, represented an all-time record low cap rate of 4.37% and record high price per square foot of $808 for a multi-tenant retail building in San Bernardino County since 2006, according to CoStar.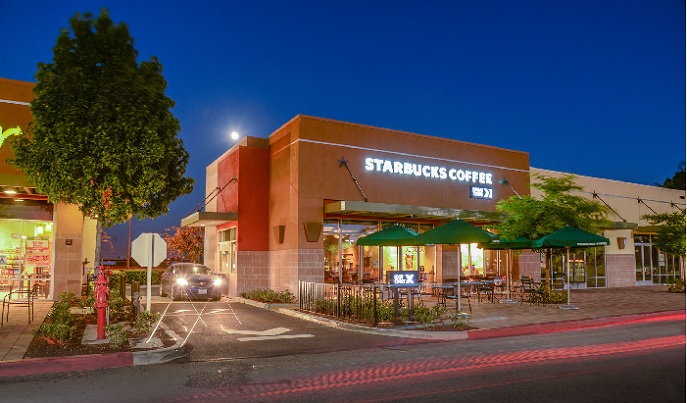 Hanley and Asher represented the seller, Euclid Pad II LLC based in Newport Beach, Calif. Michelle Chen of RE/MAX Premier Properties in Arcadia, Calif. represented the buyer, a private investor based in Southern California.
Built in 2015, the 3,900-square-foot building featured a Starbucks with drive-thru along with one vacant unit at the time of the sale. The multi-tenant building is situated on .46 acres at 7055 Schaefer Avenue in Chino.
According to Asher, the investment was 56% occupied with Starbucks being the only tenant occupying space at the close of escrow. "We procured a buyer that believed in the long-term strength of the location and had confidence the balance of the available space could be leased up in a short period of time," Asher said. "We successfully structured a rent guarantee for the buyer to achieve an acceptable return to acquire the property while obtaining a price that met the seller's expectations."
"Retail investments of this price range, size and type attract a substantially large buyer pool, especially when leased to corporate tenants such as Starbucks," said Asher. "Starbucks' notoriety has become so strong in today's market that it was a significant factor in driving investor demand to the property. The offering was highly sought-after by hundreds of retail investors."
Hanley Investment Group is now offering for sale the 73,641-square-foot Stater Bros. anchored shopping center in four separate offerings: the 44,275-square-foot single-tenant Stater Bros. building; the 8,812-square-foot Sprint, Subway and Teriyaki Madness pad; the 7,477-square-foot two-tenant shop building; and the 13,077-square-foot shop building leased to multiple tenants including UPS and Fantastic Sams.
According to Hanley, the Stater Bros. store, which is located at the intersection of Euclid Avenue and Schaefer Avenue, is a very successful store and one of the top locations in the chain. "There is limited competition within a three-mile radius of the store. The shopping center also offers tremendous future upside potential as approximately 48,000 new homes are projected to be built over the next 20 years," Hanley added.
Stater Bros. Plaza is located at 6939, 6989 & 7011 Schaefer Avenue in Chino, Calif.
About Hanley Investment Group
Hanley Investment Group Real Estate Advisors is a retail investment advisory firm with a $5 billion transaction track record nationwide, who works closely with individual investors, lending institutions, developers, and institutional property owners in every facet of the transaction to ensure that the highest value is achieved. For more information, visit www.hanleyinvestment.com.