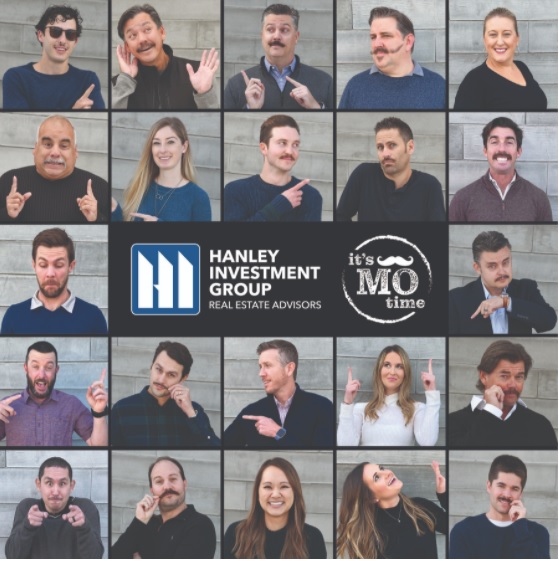 Hanley Investment Group has raised over $268,000 for Movember, the leading global charity dedicated to changing the face of men's health in the U.S. and around the world
CORONA DEL MAR, Calif. – RealEstateRama – Hanley Investment Group Real Estate Advisors, a nationally recognized real estate brokerage and advisory firm specializing in retail property sales, announced today that the firm is kicking off its annual Movember campaign and has dedicated it to "Save a Father, Son, Brother & Loved One." This marks Hanley Investment Group's 11th consecutive year growing a moustache in the month of November to raise awareness and funds for prostate cancer, testicular cancer, mental health and suicide prevention. Hanley Investment Group has raised over $268,000.
"We all have important male relationships in our lives and we want the very best for those we care about," said Ed Hanley, president of Hanley Investment Group. "My father died of prostate cancer in 2009 and it is my hope that we can prevent others from losing a father, son, brother, friend or colleague to cancer or mental health issues."
Hanley continues, "Certainly, COVID-19 has brought mental and physical health to the forefront of the conversation, and we want to do whatever we can to save lives while having 'MO' fun growing a moustache and raising awareness and funds for Movember's critical programs. At Hanley Investment Group, relationships are very important to us and we always look for ways to make a difference and add value to those relationships."
The moustache is a powerful upper-lip accessory, notes Hanley. "A well-groomed moustache commands attention and can initiate lifesaving conversations."
One in eight American men will be diagnosed with prostate cancer in their lifetime, according to Movember. Testicular cancer is the most common cancer among young American men. In the U.S., the rate of male suicide is alarmingly high: approximately four in five suicides are men.
"At Hanley Investment Group, we enjoy a culture of camaraderie and competition, so we plan to show off our moustache progress on Facebook and LinkedIn or, in some cases, show the lack of progress (due to being 'follicly challenged')," explains Hanley. "We say, 'Power to the 'MO!'"
Hanley adds, "It feels good to make this kind of difference in our community and across the world and we hope together that we can stop men from dying too young."
The Commercial Real Estate Women (CREW) Orange County recently presented Hanley Investment Group with a SPIRE Award in the category of Philanthropy for the company's contribution to Movember. The award was presented to Ed Hanley during the 10th Annual CREW Orange County SPIRE Awards ceremony held on October 15 in Irvine, California.
To donate to Hanley Investment Group's Movember fundraising, please visit: https://us.movember.com/team/2234814
About Movember
Movember is the leading charity changing the face of men's health on a global scale, focusing on mental health and suicide prevention, prostate cancer and testicular cancer.
The charity raises funds to deliver innovative, breakthrough research and support programs that enable men to live happier, healthier and longer lives. Committed to disrupting the status quo, millions have joined the movement, helping fund over 1,250 projects around the world.
In addition to tackling key health issues faced by men, Movember is working to encourage men to stay healthy in all areas of their life, with a focus on men staying socially connected and becoming more open to discussing their health and significant moments in their lives.
The charity's vision is to have an everlasting impact on the face of men's health. To donate or learn more, please visit movember.com. Movember is a registered 501(c)(3) charity.
About Hanley Investment Group
Hanley Investment Group Real Estate Advisors is a real estate brokerage and advisory services company with an $8.3 billion transaction track record that specializes in the sale of retail properties nationwide. Our expertise, proven track record, and unwavering dedication to putting clients' needs first set us apart in the industry. Hanley Investment Group creates value by delivering exceptional results through the use of property-specific marketing strategies, cutting-edge technology, and local market knowledge. Our nationwide relationships with investors, developers, institutions, franchisees, brokers, and 1031 exchange buyers are unparalleled in the industry, translating into maximum exposure and pricing for each property. With unmatched service, Hanley Investment Group has redefined the experience of selling retail investment properties. For more information, visit www.hanleyinvestment.com.
# # #