Demand for Retail Occupied by Starbucks Remains Robust
CORONA DEL MAR, CALIF. – (RealEstateRama) — Hanley Investment Group Real Estate Advisors, a nationally-recognized real estate brokerage and advisory firm specializing in retail property sales, announced today that Executive Vice President Bill Asher negotiated the sale of Glenwood Square, a 6,808-square-foot multi-tenant strip shopping center anchored by Starbucks in Kern County, Calif., for $3.2 million, representing a cap rate of 5.6% and $470 per square foot.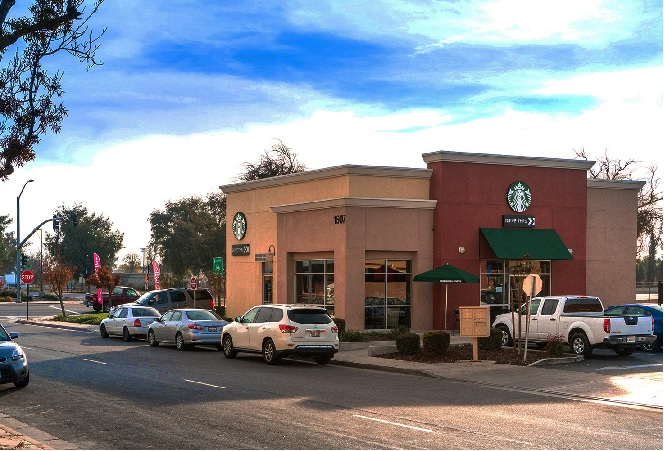 The property, which is located 31 miles north-northwest of Bakersfield at 1607 & 1617 Glenwood Street in the city of Delano, Calif., includes a 1,712-square-foot Starbucks pad with a drive-thru and a 5,096-square-foot multi-tenant retail building. Built in 2008 on .85 acres, the multi-tenant retail center is 100% occupied by national tenants including Starbucks, Subway, T-Mobile, Tutti Frutti and Select Staffing.
Asher represented the seller, Glenwood Cecil, LLC based in Fresno, Calif. The buyer, a family trust based in Los Angeles, was represented by Sean Daryani of RE/MAX in Valencia, Calif.
"A multi-tenant strip center with a Starbucks is one of the most sought after retail investments in today's market," said Asher. "Private investors are flocking to this type of a retail investment as an alternative to the stock market. They provide a long-term passive and stable investment due to the basic fundamentals that Starbucks is typically situated in a great location and has a drive-thru generating a tremendous amount of daily traffic to the property complementary to other tenants at the location."
Asher comments that according to CoStar, approximately 32 multi-tenant retail properties containing a Starbucks, priced less than $10 million, have sold in California since January 2015. The average sales price was approximately $4.8 million at an average cap rate of 5.5%.
"The demand for single-tenant Starbucks properties has compressed even further over the last 18 months," noted Asher. "Sales for stand-alone Starbucks with leases having 10 or more years remaining on the initial term have ranged from the mid 3% cap range to the low 4% cap range in California."
According to Asher the Delano Starbucks is the only Starbucks in the city and is one of the top performing Starbucks in the Central Valley. Asher also said that the buyer has an opportunity to separately parcelize the Starbucks pad for a flexible future disposition strategy.
"There is no doubt the highest demand and activity we receive on a majority of our listings is attributed to those occupied by a Starbucks," said Asher. "The price point (+/- $5 million) appeals to a wider audience of investors compared to centers anchored by a grocery store for example."
About Hanley Investment Group
Hanley Investment Group Real Estate Advisors is a retail investment advisory firm with a $5 billion transaction track record nationwide, who works closely with individual investors, lending institutions, developers, and institutional property owners in every facet of the transaction to ensure that the highest value is achieved. For more information, visit www.hanleyinvestment.com.