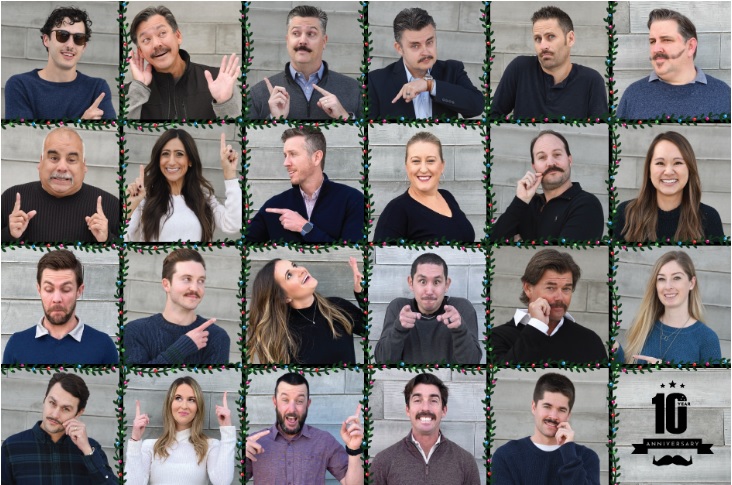 CORONA DEL MAR, Calif.- RealEstateRama – Hanley Investment Group Real Estate Advisors, a nationally recognized real estate brokerage and advisory firm specializing in retail property sales, announced today that the firm has raised $25,360 during its annual Movember campaign. This marks Hanley Investment Group's 10th consecutive year growing a mustache in the month of November to raise awareness and funds for prostate cancer, testicular cancer, mental health and suicide prevention. Hanley Investment Group has raised over $268,000 for the Movember since 2011.
"I am truly humbled and grateful for everyone's generous support of our fundraising efforts, a cause that is very personal to me since I lost my dad to prostate cancer," said Hanley Investment Group's President Ed Hanley. "We know that 2020 has been a particularly challenging year. However, we didn't want to cancel our annual fundraising efforts."
Hanley continues, "I didn't know what to expect in terms of our fundraising success this year, so it has been doubly meaningful to receive the many notes of encouragement and magnanimous contributions from friends, family and business colleagues from around the country. We are grateful to all those who have not only helped us achieve success in business but have helped save lives."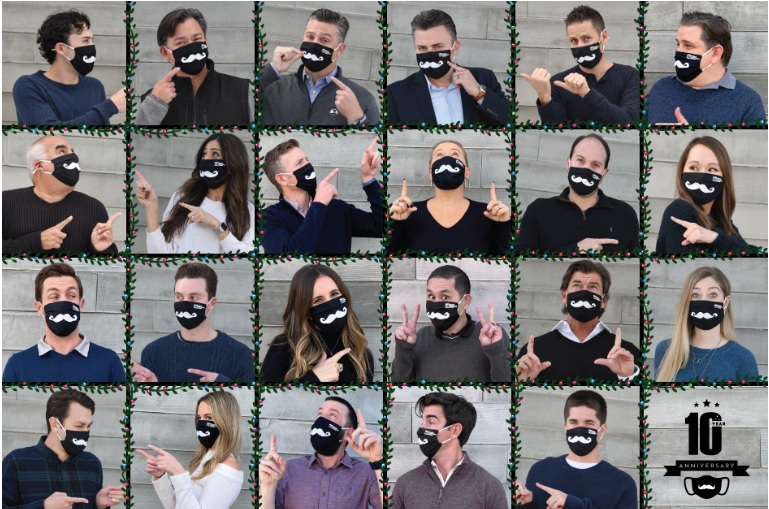 "Movember is grateful to have Hanley Investment Group as a corporate partner and as fundraisers for 10 years now," said Rich Loesing, corporate manager for Movember. "We could not do the work we do without key supporters like them. It's their incredible effort year after year that helps continue our mission in changing the face of men's health and we continue to be humbled by their generosity."
Movember is the leading global charity dedicated to changing the face of men's health in the U.S. and around the world. Best known for its annual Movember fundraising campaign that takes place every November, Movember funds various projects and receives donations year-round. During Movember, men start November 1st clean-shaven and grow a mustache for the month, getting friends, family and colleagues to donate to their effort.
This year, Hanley Investment Group had face masks printed with a mustache so the company's moustache-growing, Movember awareness campaign and fundraiser wouldn't go unnoticed. You can donate to Hanley Investment Group's Movember Team: movember.com/t/hanley-investment-group
About Movember
Movember is the leading charity changing the face of men's health on a global scale, focusing on mental health and suicide prevention, prostate cancer and testicular cancer. The charity raises funds to deliver innovative, breakthrough research and support programs that enable men to live happier, healthier and longer lives. Committed to disrupting the status quo, millions have joined the movement, helping fund over 1,250 projects around the world. In addition to tackling key health issues faced by men, Movember is working to encourage men to stay healthy in all areas of their life, with a focus on men staying socially connected and becoming more open to discussing their health and significant moments in their lives. The charity's vision is to have an everlasting impact on the face of men's health. To donate or learn more, please visit movember.com. Movember is a registered 501(c)(3) charity.
About Hanley Investment Group
Hanley Investment Group Real Estate Advisors is a real estate brokerage and advisory services company with a $7.6+ billion transaction track record that specializes in the sale of retail properties nationwide. Our expertise, proven track record, and unwavering dedication to putting clients' needs first, sets us apart in the industry. Hanley Investment Group creates value by delivering exceptional results through the use of property-specific marketing strategies, cutting-edge technology, and local market knowledge. Our nationwide relationships with investors, developers, institutions, franchisees, brokers, and 1031 exchange buyers are unparalleled in the industry, translating into maximum exposure and pricing for each property. With unmatched service, Hanley Investment Group has redefined the experience of selling retail investment properties. For more information, visit www.hanleyinvestment.com.
# # #
Anne Monaghan
MONAGHAN COMMUNICATIONS, INC.
830.997.0963