Orange County Retail Investment Brokerage Firm Has Raised More than $102,000 Over Last Several Years for Movember Foundation
CORONA DEL MAR, CALIF. – December 11, 2015 – (RealEstateRama) — Hanley Investment Group Real Estate Advisors, a nationally-recognized boutique real estate brokerage and advisory firm specializing in retail property sales, announced today that the group has raised awareness and critical funds for men's health in November, one moustache at a time. Hanley Investment Group raised $35,000 for The Movember Foundation, surpassing what the group raised last year.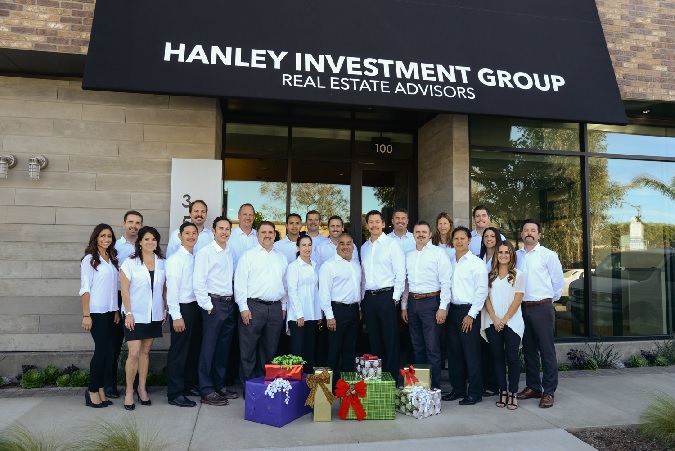 Hanley Investment Group's fundraising efforts landed the group in the top 25 out of 15,000 teams nationwide (the top 1% in the U.S.). Hanley Investment Group has raised more than $102,000 for the Movember Foundation since 2011. Proceeds are directed to programs that are run directly by Movember and their men's health partners.
"I am ecstatic over the amount of money we raised and am grateful to those that have generously donated, which allowed us to not only meet our goal this year, but exceed it," said Hanley Investment Group President Ed Hanley.
The Movember Foundation is one of the largest global men's health charities investing in programs to address prostate cancer, testicular cancer, mental health and physical inactivity. "The moustache continues to be an iconic way for participants to encourage dialogue around men's health issues," said Hanley. "Having lost my father to prostate cancer in 2009, this annual tradition of participating in Movember is near and dear to me. I am honored to help bring awareness to this cause and humbled by everyone' financial support."
Hanley Investment Group joined the global movement to help raise awareness for men's cancer, specifically prostate cancer, by growing moustaches as a team. November 1st the men started clean shaven and for the rest of the month, these men, known as "Mo Bros," groomed and trimmed their moustaches to effectively become walking, talking billboards for the 30 days of November. Supported by the women in their lives, "Mo Sistas," Movember Mo Bros raised funds by seeking out sponsorships for their moustache growing efforts.
About the Movember Foundation
The Movember Foundation is a global charity raising funds and awareness for men's health. These funds deliver breakthrough research and support services to allow men to live longer, healthier, happier lives. Since 2003, millions have joined the men's health movement, raising more than $650 million and funding over 1,000 programs through impact investments, focusing on prostate cancer, testicular cancer, poor mental health and physical inactivity. The Foundation runs awareness and fundraising activities year-round, with the annual Movember campaign in November being globally recognized for its fun and innovative approach to raising money and getting men to take action for their health. During Movember, we challenge men to grow a moustache or to make a commitment to get active and MOVE, both of which are about real action for health and are done to spark conversation and raise vital funds and awareness. The Foundation's vision is to have an everlasting impact on men's health. See www.movember.com.
About Hanley Investment Group
Hanley Investment Group Real Estate Advisors is a retail investment advisory firm with a $5 billion transaction track record nationwide, who works closely with individual investors, lending institutions, developers, and institutional property owners in every facet of the transaction to ensure that the highest value is achieved. For more information, visit www.hanleyinvestment.com.