Group has raised $157,000 over the last several years for Movember Foundation
CORONA DEL MAR, Calif. – (RealEstateRama) — Hanley Investment Group Real Estate Advisors, a nationally-recognized boutique real estate brokerage and advisory firm specializing in the sale of retail properties, announced today that the group raised over $35,000 in its annual Movember campaign. This marks Hanley Investment Group's sixth year in a row joining the global movement to raise awareness and critical funds for men's health and cancer, by growing a mustache in November. Hanley Investment Group has raised nearly $157,000 for the Movember Foundation since 2011.
The men of Hanley Investment Group started clean shaven on November 1st and for the rest of the month, these men, known as "Mo' Bros," groomed and trimmed their mustaches to effectively become walking, talking billboards for the 30 days of November. Mo' Bros, along with Mo' Sistas at Hanley Investment Group, raised funds by seeking out sponsorships for the Mo' Bros' mustache-growing efforts.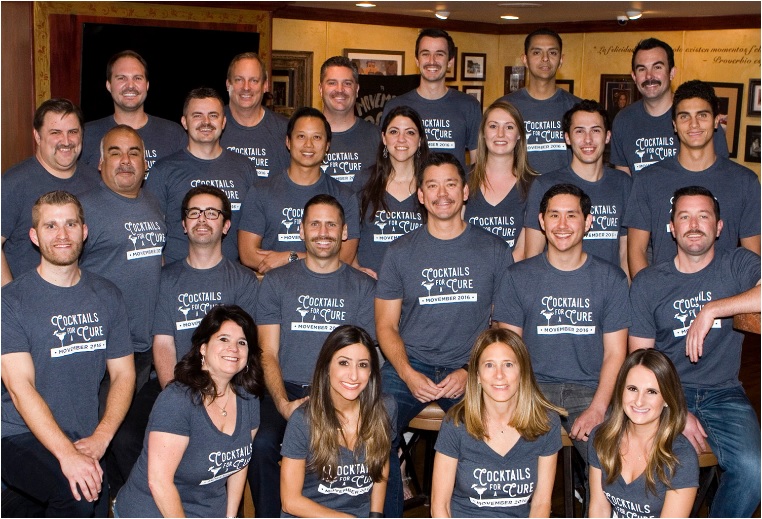 Hanley Investment Group also sponsored its first annual Cocktails For A Cure fundraising event at the El Cholo restaurant in Corona del Mar. On November 9, attendees watched the Hanley team create the perfect pour while they served as the evening's "Master Mixologist" (supervised by El Cholo bartenders, of course!). A portion of the proceeds was donated to Movember.
This year, like previous years, Hanley Investment Group's fundraising efforts landed the firm in the top 1%, a ranking of #17 among 11,068 teams nationwide. Hanley Investment Group's President Ed Hanley received the most donations in the company and was ranked #43 out of 74,179 Mo Bros nationwide. Company COO Dawn Eisenberg was the second top donation producer at the firm and was ranked #11 out of 9,422 Mo Sistas nationwide. Proceeds are directed to programs that are run by Movember and their men's health partners.
"We are a close group that enjoys a culture of camaraderie and competition, so it was great to come to work and show off our mustache progress or, in some cases, the lack thereof due to being 'follicly challenged,'" said Hanley. "But all kidding aside, we couldn't do this without the very generous support of our friends, family and business colleagues."
According to the Movember Foundation, prostate cancer is the second most common cancer in men in the U.S. One in seven men will be diagnosed with prostate cancer in their lifetime.
"This global fundraising effort hits very close to home as my father died of prostate cancer in 2009 and I want to do what I can to prevent this from happening to other men and families," said Hanley. "Grow a 'mo,' save a 'bro.' It really does feel good to make this kind of difference in our community and help save lives."
Hanley adds, "I am truly humbled and grateful for all the loving support of everyone who works at Hanley Investment Group. I couldn't ask for a better group of people that are committed 100 percent in all that they do!"
The Movember community has raised over $710 million and has funded more than 1,200 men's health projects in 21 countries to date. This work is helping men live happier, healthier, and longer lives through investing in these key areas: prostate cancer, testicular cancer, mental health, and suicide prevention.
"We are grateful for another successful year," said Hanley. "We are ever mindful of our blessings both on a professional level as well as a personal level and raising money and awareness for the Movember Foundation is just one of the many ways we at Hanley Investment Group like to give back to those in our community."
To donate to Hanley Investment Group's Movember Team, click here.
About Hanley Investment Group
Hanley Investment Group Real Estate Advisors is a retail investment advisory firm with a $5 billion transaction track record nationwide, who works closely with individual investors, lending institutions, developers, and institutional property owners in every facet of the transaction to ensure that the highest value is achieved. For more information, visit www.hanleyinvestment.com.