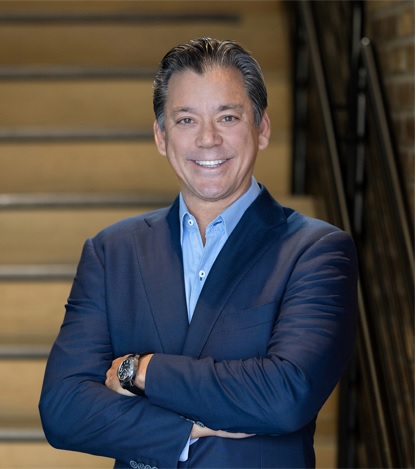 Essential businesses, single-tenant triple-net leased investments and multi-tenant retail pads with internet-resistant credit tenants will continue to experience the highest demand in 2022. 
CORONA DEL MAR, Calif. – RealEstateRama – Hanley Investment Group Real Estate Advisors, a nationally recognized real estate brokerage and advisory firm specializing in retail property sales, announced today that the company closed out 2021 with a record number of both sales volume and number of transactions. Many of the transactions closed at record pricing and record-low cap rates.
"From a single office in Orange County, we completed 221 deals totaling nearly $1.06 billion in 27 different states in 2021, with more than 60% of the deals transacting in the second half of the year as buyers looked to complete their 1031 exchanges before any possible tax law changes could be implemented. Buyers also had concerns about inflation and the Fed raising interest rates in 2022," said Ed Hanley, president of Hanley Investment Group.
"Our total sales volume and number of deals sold for the year surpassed both 2019 and 2020's previous record numbers by 40% or more. The 'belle of the ball' continued to be single-tenant net-leased investments, particularly those deemed 'essential businesses' including locations with a drive-thru," said Hanley. Hanley Investment Group also arranged the sales of two large portfolios of single-tenant net-leased "essential" retail properties, with a third portfolio that closed at the end of January.
Hanley Investment Group also completed the sale of large grocery- and/or drug-anchored shopping centers and multi-tenant retail pad buildings located around the country as buyers searched for higher yields and diversification, notes Hanley. The company also sold a historic, mixed-use building in Los Angeles County's Old Pasadena and closed escrow on another one in January.
"Investor demand for well-located, multi-tenant retail properties leased to nationally and regionally recognized internet-resistant tenants was at unprecedented levels in the second half of 2021, and we expect this demand to continue in 2022, especially as an alternative investment and opportunity to acquire retail at a higher return compared to the highly compressed cap rates found in the single-tenant market," continues Hanley.
"To help satisfy investor demand, Hanley Investment Group facilitated a higher volume of off-market transactions between buyers and sellers than in previous years as well as structured more 'pre-sales' or 'development flips' prior to the completion of construction and the tenants being open for business and formally paying rent," Hanley explained.
Hanley Investment Group worked with a variety of buyers and sellers across the U.S. including publicly traded real estate investment trusts, developers, family trusts, partnerships and private investors. The largest buyer pool was (and still is) private investors seeking to diversify their portfolio and, in some cases, reduce their holdings in the stock market, while others sold real estate asset types like industrial, land, multifamily and/or traded out of certain multi-tenant retail properties to acquire multiple single-tenant retail properties to facilitate a 1031 exchange, Hanley noted.
Similar to previous years, Hanley Investment Group continued to bring California-based private capital to markets like the Midwest, Pacific Northwest, Mountain West and the Southeast as well as work with local buyers in these markets. "California buyers were looking for a better return on comparable retail investments and preferred income-tax-free states like Texas, Florida, Tennessee and Washington," explained Hanley.
What does Hanley see for 2022? "In 2022, we anticipate seeing more shopping center owners wanting to implement a break-up sale strategy to capitalize on the high demand for single-tenant and multi-tenant retail pad properties," noted Hanley. "Owners are realizing the cumulative value of selling the individual parcels rather than selling the shopping center as a whole. Implementing this strategy can result in up to a 200-basis point spread in cap rates when selling the net-leased-occupied out-parcels or pads separately. 'The sum of the parts is greater than the whole' continues to be true in these cases as the demand for retail net-leased investments priced under $10 million, whether stabilized or value-add, is experiencing the greatest demand and we expect this demand to persist well into 2022."
Last year, Hanley Investment Group sold more than 200,000 square feet of retail space in nine major shopping center break-up plays, many of which were single-tenant properties, and the firm anticipates bringing at least 40 to 50 or more single-tenant and multi-tenant pad properties to the market in 2022 as a result of implementing break-up sale strategies at multiple large shopping centers.
Hanley cites that for the first time since 2017, retailers were expected to open more stores in 2021 than they closed, according to an analysis of more than 900 chains by IHL Group. Most of the growth is coming from mass merchants, food, drugs and convenience chains. IHL Group cited that US Retail growth in 2021 through November was $831 billion. The growth for November alone was $91 billion. Total retail growth year to year is 18.2% and that is a $5.5 trillion market growing at 18.2% for the year. Even taking out convenience stores and gas stations, the growth was 16.5%, evidence that retail growth is accelerating, not slowing down.
In December, U.S. small retailers had their best month yet in terms of paying rent in the pandemic era, the strongest sign that the local economy finished the year on a better note, according to Bloomberg.
Clearly, the retail industry's resilience and resourcefulness have been on full display for the last two years, says Hanley. Retailers developed or fast-tracked technologies that took contactless shopping and payment from their infancy to mainstream. Physical retail, frequently predicted to falter in the face of the e-commerce boom, is still flexing its muscle as we enter 2022 and will continue to attract shoppers for the foreseeable future: 72% of U.S. retail sales will still occur in brick-and-mortar stores in 2024, according to new research from Forrester.
"We anticipate that 2022 could bring some challenges but retail has always been about innovation, creativity, and problem solving," said Hanley. "That is what makes retail such an exciting sector and what drives Hanley Investment Group."
Hanley Investment Group is a single-office, boutique-sized real estate brokerage and advisory services company that is ranked number one nationwide based upon its size and sales volume. "2022 is the 'year of the Tiger,' which represents courage, confidence and ambition. It also represents being generous with a drive to help others. I think that these characteristics could sum up our dedicated team of retail experts as we look forward to another great year helping our clients successfully navigate the retail investment market," said Hanley.
In 2021, GlobeSt. Real Estate Forum named Hanley Investment Group a Net Lease Influencer and the firm's Executive Vice Presidents Bill Asher and Jeff Lefko were named Retail Influencers.
Additionally, in October, the Commercial Real Estate Women (CREW) Orange County presented Hanley Investment Group with a SPIRE Award in the category of Philanthropy for the company's contribution to Movember. Hanley Investment Group's 2021 Movember campaign, which was dedicated to "Save a Father, Son, Brother & Loved One," marked Hanley Investment Group's 11th consecutive year growing a moustache in the month of November to raise awareness and funds for prostate cancer, testicular cancer, mental health and suicide prevention. The firm has raised over $300,000 since 2011.
About Hanley Investment Group 
Hanley Investment Group Real Estate Advisors is a real estate brokerage and advisory services company with an $8.9 billion transaction track record that specializes in the sale of retail properties nationwide. Our expertise, proven track record, and unwavering dedication to putting clients' needs first set us apart in the industry. Hanley Investment Group creates value by delivering exceptional results through the use of property-specific marketing strategies, cutting-edge technology, and local market knowledge. Our nationwide relationships with investors, developers, institutions, franchisees, brokers, and 1031 exchange buyers are unparalleled in the industry, translating into maximum exposure and pricing for each property. With unmatched service, Hanley Investment Group has redefined the experience of selling retail investment properties. For more information, visit www.hanleyinvestment.com.
#  #  #