LAKEWOOD, Colo. – (RealEstateRama) — Hanley Investment Group Real Estate Advisors, a nationally-recognized real estate brokerage and advisory firm specializing in retail property sales, announced today that Executive Vice Presidents Eric Wohl and Kevin Fryman, along with President Ed Hanley, represented Phillips Edison & Company, Inc., the seller, in the sale of a Safeway-anchored 87,697-square-foot shopping center in the Denver metro area. Hanley Investment Group also represented the buyer, Midtown National Group, LP of San Diego, California, in the transaction. The shopping center was 99 percent occupied at the time of the sale. The purchase price could not be disclosed.
Built in 1977, the grocery-anchored shopping center is located on 8.33 acres at 13019 W. Alameda Parkway in Lakewood, Colorado, and includes 87 percent national and regional tenants. Tenants include a 60,028-square-foot Safeway store, Safeway Fuel (ground lease), The Garlic Knot Restaurant, H&R Block, Perfect Teeth, and Play It Again Sports. Safeway has successfully operated at the center since 1984.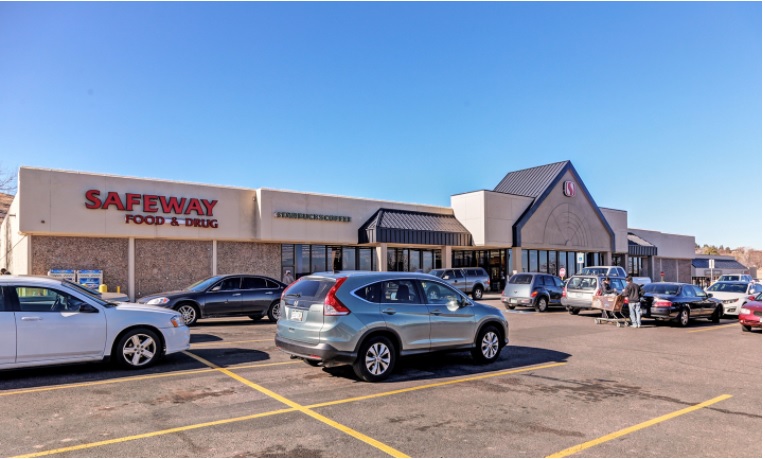 According to Wohl, "The shopping center is located in the western suburb of Denver at a signalized intersection along Alameda Parkway, a major east/west thoroughfare connecting Interstate 25 and State Route 470 with 27,600 cars per day passing by."
Lakewood is the 5th most populous city in the state of Colorado with a population in excess of 150,000. There are 197,000 people within a five-mile radius of the property with an average household income of approximately $92,000 within a three-mile radius.
"Denver continues to be a highly sought-after investment market for investors," said Fryman. "Denver was ranked #1 on Forbes' list of the 'Best Places for Business and Careers.' The median household income in the metro Denver area is 15.6 percent higher than the national median income."
Denver-area rents are rising at more than twice the national average – 6.9 percent for Denver vs 2.3 percent nationwide, noted Wohl. "With a population of 2.7 million, Denver's growth rate has consistently outpaced the national growth rate every decade since the 1930s."
Hanley adds, "The market for core grocery-anchored centers in infill markets remains strong with interest from both the institutional buyers and private 1031 exchange. In 2017, we saw an increase in supply as sellers recognize that today represents an ideal time to sell. There still remains limited properties available similar to the Safeway-anchored shopping center in both size and quality."
About Phillips Edison & Company, Inc.
Phillips Edison & Company, Inc. (formerly known as Phillips Edison Grocery Center REIT I, Inc.), an internally-managed real estate investment trust, is one of the nation's largest owners and operators of market-leading, grocery-anchored shopping centers. The company manages a diversified portfolio of over 345 shopping centers – 236 of which it owns directly – comprising approximately 26.3 million square feet located in 32 states. The company's proven, vertically-integrated operating platform allows it to effectively and efficiently acquire, lease and manage its properties, resulting in a history of strong operating results and great shopping experiences. For more information, please visit www.phillipsedison.com.
About Hanley Investment Group
Hanley Investment Group Real Estate Advisors is a retail investment advisory firm with a $6 billion transaction track record nationwide, who works closely with individual investors, lending institutions, developers, and institutional property owners in every facet of the transaction to ensure that the highest value is achieved. For more information, visit www.hanleyinvestment.com.
# # #
Anne Monaghan
MONAGHAN COMMUNICATIONS, INC.


830.997.0963