BROOKLYN CENTER, Minn. – RealEstateRama – Hanley Investment Group Real Estate Advisors, a nationally recognized real estate brokerage and advisory firm specializing in retail property sales, announced today that the firm has completed the sale of a newly constructed, single-tenant Bank of America in Minneapolis metro area. The purchase price was $2,740,000 for the absolute triple-net ground lease.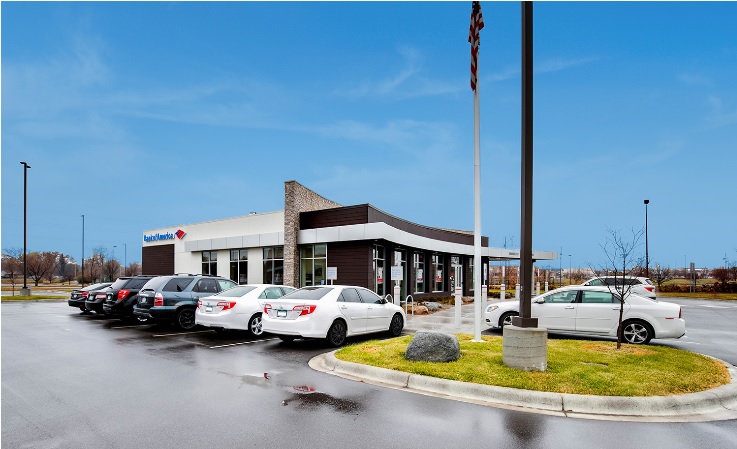 Hanley Investment Group Executive Vice Presidents Jeff Lefko and Bill Asher represented the seller and developer, Told Development of Minneapolis, Minnesota. The buyer, a private investor from Princeton, New Jersey, was represented by Carlos Aguilar of Axia Real Estate Group based in San Diego, California.
The new 4,370-square-foot bank building, which opened in late 2019, is situated on 1.06 acres at 2545 County Road 10 in Brooklyn Center, at the signalized intersection at Bass Lake Road and Shingle Creek Parkway with 27,000 cars per day. The property is located adjacent to Shingle Creek Crossing, a new 800,000-square-foot shopping center anchored by Walmart Supercenter, T.J.Maxx, LA Fitness, Michaels and Five Below, and Highway 100 on/off-ramp, which leads to neighboring suburbs and freeways that connect with downtown Minneapolis and St. Paul.
"We generated multiple qualified offers at or near list price in the first couple weeks of marketing the property, and ultimately secured an all-cash buyer at the list price and closed the sale at an aggressive cap rate," said Lefko. "The property benefits from an outstanding location with direct freeway visibility and access and is adjacent to Shingle Creek Crossing, which features an excellent mix of national credit tenants that bring in a regional draw of customers."
According to Asher, "This transaction is another example of Hanley Investment Group's ability to use its proprietary national database to procure qualified out-of-state buyers for properties located throughout the U.S."
Brooklyn Center has benefited from the relocation of the FBI Minneapolis Field Office from Minneapolis to Brooklyn Center in 2011, more than doubling the size of its space and is the only FBI office in Minnesota. Top Golf opened in 2018, less than three miles from the Bank of America property and is the only Top Golf in Minnesota.
Brooklyn Center is a part of the Twin Cities MSA, one of the strongest Midwest economies. It is only a 15-minute drive to Downtown Minneapolis and a 30-minute drive to Minneapolis-Saint Paul International Airport (38 million passengers in 2018). The Twin Cities metro area has the second-largest gross domestic product in the Midwest behind only Chicago and the 15th largest economy in the nation. It is home to 19 Fortune 500 companies including Target, General Mills, Best Buy, UnitedHealth Group and 3M.
Hanley Investment Group has been one of the most active retail investment brokerage companies in Midwest transaction volume with over $400 million in sales the last three years. In the Minneapolis MSA, Lefko and Asher have sold $60 million in single-tenant and multi-tenant retail properties in the last 24 months, many at record cap rates.
"High quality, net-lease assets with drive-thrus and new, long-term leases continue to be a sought-after investment, even during these uncertain economic times," Asher noted. "A single-tenant, absolute triple-net ground lease investment with minimal landlord responsibilities, remains in high demand for passive investors in today's market."
About Hanley Investment Group
Hanley Investment Group Real Estate Advisors is a retail investment advisory firm with a $6+ billion transaction track record nationwide, who works closely with individual investors, lending institutions, developers, and institutional property owners in every facet of the transaction to ensure that the highest value is achieved. For more information, visit www.hanleyinvestment.com.
#   #   #