EAST PEORIA, IL – RealEstateRama – Hanley Investment Group Real Estate Advisors, a nationally recognized real estate brokerage and advisory firm specializing in retail property sales, announced today that the firm arranged the sale of a brand-new construction, single-tenant drive-thru location occupied by a relocated Panera Bread at The Levee District and shadow-anchored by Target near downtown East Peoria, Illinois. The Levee District is located just off of Interstate 74, the primary east/west arterial in Central Illinois with over 68,000 cars per day. The sale price was $3.5 million, representing a record price for a single-tenant Panera Bread in the Midwest.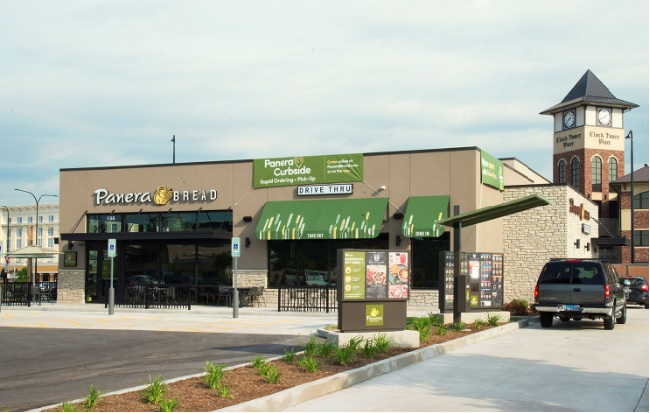 Hanley Investment Group Executive Vice Presidents Jeff Lefko and Bill Asher represented the seller, Cullinan Properties, LTD., based in East Peoria, Illinois. David Rush of CBRE in Oxnard, California, represented the buyer, a private investor from Santa Barbara, California.
Panera occupies a new 4,380-square-foot drive-thru prototype building with a new, long-term triple-net lease with increases every five years. Built in 2020, the building is situated on 0.80 acres at 460 West Washington Street at the corner of West Washington Street and Clock Tower Drive in The Levee District, a 650,000-square-foot, mixed-use center and major shopping destination home to anchor retailers Target, Costco, ULTA Beauty, Ross Dress for Less and ALDI. There are a variety of dining options at The Levee District besides Panera Bread including Red Robin, Potbelly Sandwich Shop, Chipotle Mexican Grill, Jersey Mike's and Panda Express, amongst others. The development is also comprised of a 137-room Holiday Inn & Suites with a full-service Johnny's Italian Steakhouse. Bass Pro Shops, located approximately a half-mile from The Levee District, draws over three million visitors annually. Retailers in the immediate area include Walmart Supercenter, Lowe's, Kohl's, Kroger, Ashley Home Store, PetSmart, Chick-Fil-A, CVS/pharmacy, Dollar Tree, GameStop, Harbor Freight Tools, OfficeMax, Planet Fitness, Starbucks and Walgreens.
According to Asher, Panera Bread has been a tenant in the area for 14 years and strategically relocated from a successful inline space to the new outparcel pad location in order to have a freestanding footprint with better accessibility and a drive-thru.
"Store sales for Panera Bread are substantially higher in locations with a drive-thru, which was a significant characteristic of the property that made the investment very attractive given the current market conditions due to COVID-19," Asher said. "According to industry reports, 65%-70% of business for quick-serve restaurants is now generated via the drive-thru and has continued to increase in the last five months during the pandemic."
"We procured multiple qualified offers and ultimately secured a California-based 1031 exchange buyer that paid a premium price and opened escrow prior to Panera Bread formally opening for business," Lefko reported.
Lefko also notes that the next closest Panera Bread is seven miles away, which creates a large trade area customer base.
As of June 30, 2020, Panera Bread had 2,128 bakery-cafes in 48 states and Ontario, Canada, operating under the Panera Bread® or Saint Louis Bread Co.® names. Panera Bread's 2019 sales were $5.9 billion and Panera was ranked #1 "Sandwich Shop Brand of the Year" by Harris Poll EquiTrend (2018, 2019). Panera was ranked #10 among the top 20 chains dominating the fast-food industry by Business Insider (May 2020).
The St. Louis-based privately held fast-casual chain restaurant, which is owned by Krispy Kreme's parent JAB Holding, announced in early April that it would sell groceries to help housebound consumers who were eating fewer meals from restaurants due to COVID-19. Customers could order breads, bagels, milk, yogurt, cream cheese and fresh produce.
Despite its launch at the very outset of the coronavirus crisis, Panera Bread's coffee subscription offering has also been a hit. Some 750,000 people have now signed up for the $8.99-per-month unlimited coffee subscription, driving growth in digital engagement and, most importantly, providing a much-needed revenue boost during the pandemic, according to a recent article in Restaurant Business. Early tests of the program showed the coffee subscriptions boosted guest frequency by more than 200%, the company said. Food attachment to coffee orders grew by 70%. The chain said the coffee subscription is helping grow its digital loyalty program, MyPanera, which now has more than 40 million members.
Peoria is the largest city along the Illinois River and has a regional draw market that is perfectly positioned between Chicago, St. Louis, Indianapolis and Iowa City. Peoria is the medical hub of Illinois; the healthcare industry is the largest employer in Peoria with three regional hospitals, a St. Jude's Research Hospital, a medical school, countless clinics, outpatient centers, and specialty providers that ultimately employ over 32,000 people. The property is located within minutes of Saint Francis Hospital (6,000 employees) and Methodist Medical Center (3,283 employees).
Hanley Investment Group has been one of the most active retail investment brokerage companies in Midwest transaction volume with over $400 million in sales the last three years. In Illinois, Lefko and Asher have sold nearly $80 million in single-tenant and multi-tenant retail properties in the last 20 months, many at record cap rates.
"High quality, net-lease assets with drive-thrus with new, long-term leases continue to be one of the most sought-after investments, even during these uncertain economic times," Asher noted. "A single-tenant, triple-net leased investment with minimal landlord responsibilities, remains in high demand for passive investors in today's market, especially those that are shadow-anchored by high performing chain retailers."
About Hanley Investment Group
Hanley Investment Group Real Estate Advisors is a boutique real estate brokerage and advisory services company with a $6+ billion transaction track record that specializes in the sale of retail properties nationwide. Our expertise, proven track record, and unwavering dedication to putting clients' needs first, sets us apart in the industry. Hanley Investment Group creates value by delivering exceptional results through the use of property-specific marketing strategies, cutting-edge technology, and local market knowledge. Our nationwide relationships with investors, developers, institutions, franchisees, brokers, and 1031 exchange buyers are unparalleled in the industry, translating into maximum exposure and pricing for each property. With unmatched service, Hanley Investment Group has redefined the experience of selling retail investment properties. For more information, visit www.hanleyinvestment.com.
# # #