DENVER – RealEstateRama – Hanley Investment Group Real Estate Advisors, a nationally recognized real estate brokerage and advisory firm specializing in retail property sales, announced today that the firm has arranged the sale of a new construction, 100%-leased, five-tenant retail pad with a drive-thru at Denver Airport Hotel Row in Denver. The sale price was $5,577,000, representing record pricing for a multi-tenant retail pad in the Mountain States region of the U.S. in 2020.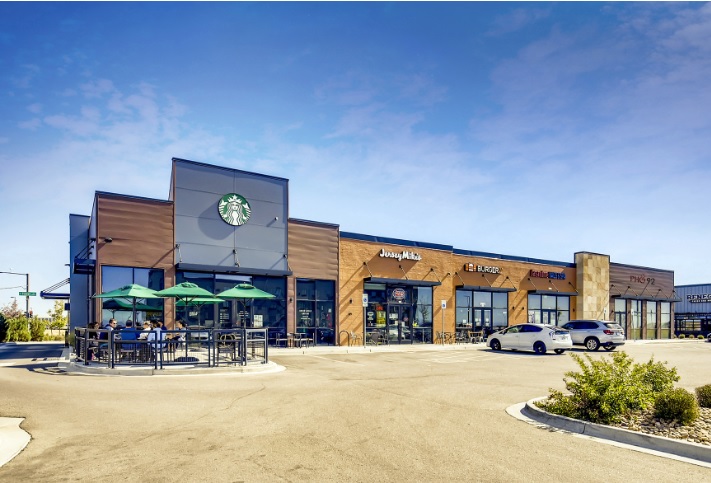 Hanley Investment Group's Executive Vice Presidents Jeff Lefko and Bill Asher, along with ParaSell, Inc., represented the seller, Wadsworth Development Group of Draper, Utah. The buyer, Kamby Real Estate, LLC of Scottsdale, Arizona, was represented by David, Hicks & Lampert Brokerage, LLC of Greenwood Village, Colorado.
"Investor demand for new construction, multi-tenant retail pads with a drive-thru, surged back to pre-COVID levels in the 4th quarter 2020," said Lefko. "We had a tremendous amount of interest because of the strength of location and the tenant mix headlined by an endcap Starbucks drive-thru."
Lefko adds, "We generated multiple offers and procured a 1031 exchange buyer that closed escrow in 30 days. We achieved record pricing for a multi-tenant pad in Colorado in 2020, despite one tenant not open for business due to COVID-19 restrictions at the close of escrow."
Built in 2018, the 10,300-square-foot building is situated on 1.59 acres at 6991 N. Tower Road in Denver and is leased to Starbucks with a drive-thru, Jersey Mike's Subs, BurgerIM, Pho 92 Vietnamese restaurant and Jasmine Nails & Spa. The property is located at the signalized southwest hard corner intersection of Tower Road and 67th Avenue, adjacent to the Denver International Airport, the 5th busiest airport in the U.S. (69 million annual passengers).
According to Asher, "Retail @ Hotel Row consists of a strong mix of service-based, internet-resistant tenants that are positioned for long-term success. Starbucks is the closest Starbucks drive-thru to the airport and Jersey Mike's is operated by the largest Jersey Mike's franchisee in Colorado. BurgerIM's Denver market was recently purchased by a strong franchisee who is investing significant capital into the location."
The property is located within walking distance of 17 new hotels totaling approximately 3,200+ hotel rooms within a 2-mile radius of the property. One of the nearby hotels, Gaylord Rockies Resort and Convention Center, which opened in 2018, is the state's largest hotel with 1,501 guest rooms.
Retail @ Hotel Row is also located in the path of current and future growth in the High Point master-planned community. Since 2000, the population within a 3-mile radius increased by 413% and is projected to increase an additional 23% by 2024. The community will ultimately include over 12 million square feet of commercial development and 3,000 residential units. Currently, the population count in a 5-mile radius of the property is nearly 91,000 and household income is over $83,000 within a 3-mile radius.
"With the lack of high-quality, single-tenant net lease investments available for sale along with minimal new development of single-tenant net lease retail assets, investors are expanding their search to include multi-tenant retail pad buildings in strong and growing markets," said Asher.
Lefko adds, "As we observed in the Midwest in recent years, we are seeing a growing number of California-based investors trading into properties in the Mountain West area as investors look for higher yields and a more business-friendly political environment."
About Hanley Investment Group   
Hanley Investment Group Real Estate Advisors is a real estate brokerage and advisory services company with a $7.7 billion transaction track record that specializes in the sale of retail properties nationwide. Our expertise, proven track record, and unwavering dedication to putting clients' needs first, sets us apart in the industry. Hanley Investment Group creates value by delivering exceptional results through the use of property-specific marketing strategies, cutting-edge technology, and local market knowledge. Our nationwide relationships with investors, developers, institutions, franchisees, brokers, and 1031 exchange buyers are unparalleled in the industry, translating into maximum exposure and pricing for each property. With unmatched service, Hanley Investment Group has redefined the experience of selling retail investment properties. For more information, visit www.hanleyinvestment.com.
#  #  #