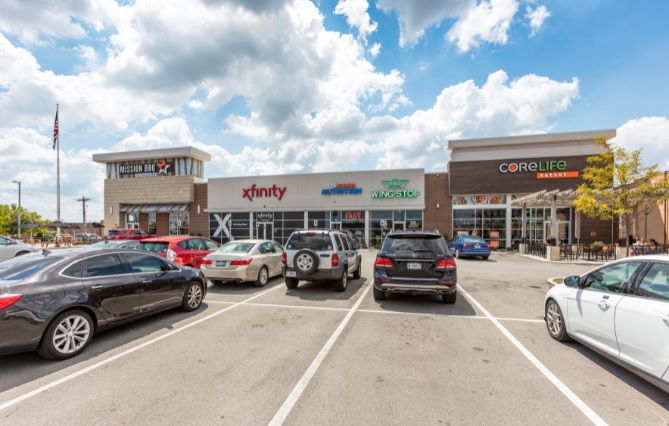 FORT WAYNE, Ind. – RealEstateRama – Hanley Investment Group Real Estate Advisors, a nationally recognized real estate brokerage and advisory firm specializing in the sale of retail properties, announced today that the firm has completed the sale of two multi-tenant retail properties located in Fort Wayne, Indiana for a combined total of $11.8 million. In the last 36 months, Hanley Investment Group has sold $437 million in retail properties in the Midwest.
Hanley Investment Group's Senior Associate Dylan Mallory and Executive Vice President Jeff Lefko represented the seller, a private partnership between Jackson Investment Group and McCormack Development, based in Central Indiana, in the transaction. Matt and Bart Jackson of Jackson Investment Group also played a brokerage role in the sales transaction. The buyer, a private investor based in Mexico City, was represented by Daniel J. Waszak of Quantum Real Estate Advisors, Inc.
Located at 407 W. Coliseum Blvd. in Fort Wayne, the Shops at 407 is a brand-new construction, five-tenant retail pad building occupied by Mission BBQ, WingStop, CoreLife Eatery, Comcast and 5-Star Nutrition. The 14,271-square-foot building, built in 2019, features excellent visibility with over 225′ feet of frontage along Coliseum Blvd.
The second property, referred to as the Corner Shoppes, is located at 401-407 E. Coliseum Blvd. The newly renovated 12,939-square-foot, five-tenant retail pad building is positioned on the signalized hard-corner of Coliseum Blvd. and Coldwater Rd., which is one of the busiest intersections in the state of Indiana with over 91,000 cars per day. The tenants at Corner Shoppes include Blaze Pizza, Red Wing Shoes, iCYRO, T-Mobile and Stanton Optical.
Both properties are located near Glenbrook Square Mall, which is the only super regional mall in Northeast, Indiana and serves a trade area of over 100 miles. The mall draws consumers from all over the region, with major national tenant offerings such as Macy's, JCPenney, H&M, Express, P.F. Chang's China Bistro, Red Robin, Panda Express and Starbucks. The recent redevelopment of the former Sears location has brought additional retailers to the immediate area including HomeGoods, Dave & Busters, Chick-Fil-A, BJ's Brewhouse and Portillo's.
The properties were originally marketed as individual offerings. "Out-of-state and international investors were attracted to the assets because of their strong real estate fundamentals and unique tenant lineups, featuring a mix of national and regional tenants. We were able to procure multiple qualified offers on each property, eventually selecting a single buyer for both assets," said Mallory.
Approximately 175,000 people reside within a 5-mile radius of the two properties, which sit approximately 3 miles from downtown Fort Wayne. Fort Wayne is considered the cultural and economic center of Northeast Indiana, noted Mallory. The city is located within a 300-mile radius of major population centers including Chicago, Cincinnati, Cleveland, Columbus, Detroit, Indianapolis, Louisville, Lexington and Milwaukee. Less than a mile from the two properties is the Allen County War Memorial Coliseum, which is a 14,000-seat entertainment arena that attracts nearly one million annual visitors to the area and is home to the Fort Wayne Mad Ants of the NBA G League. Also close by is Indiana University-Purdue University Fort Wayne, which has a student population in excess of 10,000 students.
"We are seeing more and more investors show interest in markets like Fort Wayne," Mallory said. "The pandemic has changed the way some investors evaluate properties, and states that have had a less-restrictive response to the pandemic, similar to Indiana, have garnered more buyer demand when compared to states that have been more restrictive. Properties that are in states like Indiana have provided investors comfort that their tenants will remain open and fully able to pay their rent should there be future waves of the pandemic."
"Investors are turning to multi-tenant retail pads as a viable alternative to single-tenant net lease assets, especially as single-tenant property cap rates continue to compress to all-time lows," Lefko adds. "We focus on finding local property management groups that can make the asset as passive as possible which opens up the buyer pool to anyone in the country."
At the end of 2020, Mallory completed the sale of three multi-tenant retail properties in the Indianapolis metro area for a total consideration of $10.85 million. Mallory also completed the sale of a new-construction single-tenant Valvoline in Plainfield, Indiana, and a 10,448-square-foot, multi-tenant retail center anchored by Tropical Smoothie and Spectrum Cable in Avon, Indiana. Hanley Investment Group has sold nine retail properties in the state of Indiana over the last 10 months, for a total consideration of $36 million, plus the firm has three additional Indiana properties currently in escrow.
About Hanley Investment Group
Hanley Investment Group Real Estate Advisors is a real estate brokerage and advisory services company with a $7.7 billion transaction track record that specializes in the sale of retail properties nationwide. Our expertise, proven track record, and unwavering dedication to putting clients' needs first, sets us apart in the industry. Hanley Investment Group creates value by delivering exceptional results through the use of property-specific marketing strategies, cutting-edge technology, and local market knowledge. Our nationwide relationships with investors, developers, institutions, franchisees, brokers, and 1031 exchange buyers are unparalleled in the industry, translating into maximum exposure and pricing for each property. With unmatched service, Hanley Investment Group has redefined the experience of selling retail investment properties. For more information, visit www.hanleyinvestment.com.
# # #