SPRING HILL, TN & POPLAR BLUFF, MO – RealEstateRama – Hanley Investment Group Real Estate Advisors, a nationally recognized real estate brokerage and advisory firm specializing in retail property sales, announced today that the firm has completed the sale of two, two-tenant retail properties occupied by a Starbucks Drive-Thru, at record pricing.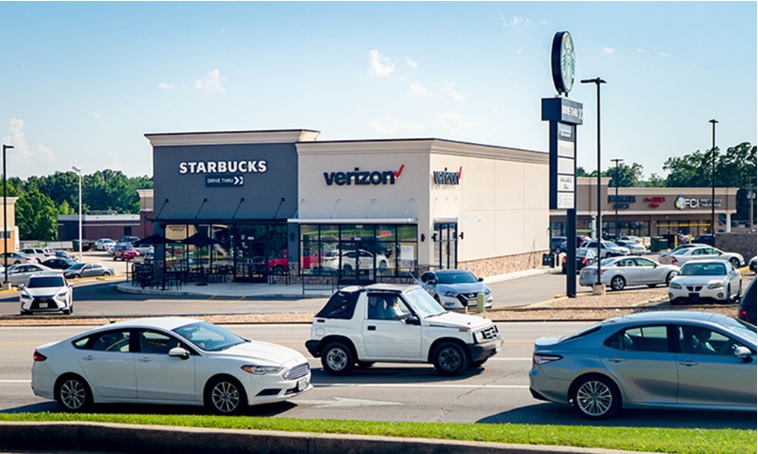 Hanley Investment Group's Executive Vice Presidents Jeff Lefko and Bill Asher arranged the sale of a new construction, 5,646-square-foot retail pad building leased to Starbucks with a drive-thru and Aspen Dental in Spring Hill, Tennessee. Built in 2019 and located at 1058 & 1060 Crossings Circle in Spring Hill, Lefko and Asher represented the buyer, a family trust based in Los Angeles, in an off-market transaction. The seller, a private investor from Nashville, Tennessee, was represented by John Andreini of Capital Pacific Partners in San Francisco. The sale price was $3,621,000, representing a cap rate of 5.95%.
"This is a great location with tremendous retail synergy and low vacancy in the market approximately 30 miles south of Nashville," said Lefko. "The Starbucks and Aspen Dental property is located adjacent to a large, Target and Kohl's-anchored shopping center, The Crossings of Spring Hill, which is a dominant shopping center in the market and visible from Main Street (Highway 31), the main arterial through the city of Spring Hill."
In Poplar Bluff, Missouri, Lefko, along with Hanley Investment Group's Associate Dylan Mallory, arranged the sale of a new construction, 3,750-square-foot retail pad building at 1337-1339 N. Westwood Boulevard, situated as an outparcel to Mansion Mall. The two-tenant building, built in 2018 on 0.68 acres, is leased to Starbucks with a drive-thru and a large authorized Verizon retailer. Mallory and Lefko represented the seller, a private investor local to Poplar Bluff. The buyer, a private investor from New Jersey, was represented by Craig Dunkle of Marcus & Millichap of Philadelphia. The sale price was $2,046,000, representing a cap rate of 6.45%.
"There were four qualified offers generated within the first 30 days of marketing the property," said Mallory. "We procured a private East Coast buyer and closed at 96% of the list price. Investors were attracted to this offering because it is the only Starbucks drive-thru in an 80-mile radius and the Verizon store was a seasoned operator who relocated from a nearby shopping center."
Lefko adds, "As the main north/south thoroughfare for Poplar Bluff, Westwood Boulevard features a variety of national retailers including Walmart Supercenter, Home Depot, Hobby Lobby, ULTA Beauty, Marshalls, Petco, Big Lots, Harbor Freight and ALDI."
"We are seeing an increased buyer demand for two-tenant assets with national credit tenants, which is putting downward pressure on cap rates," said Lefko. "The cap-rate spread between two-tenant properties and single-tenant net-leased properties is narrowing to an all-time low. This is especially true when Starbucks is one of the two tenants in the offering."
Mallory adds, "As a net-leased passive investment, Starbucks provides investors with a high level of confidence and security that requires little to no maintenance. Furthermore, the stores are situated in high-traffic locations with strong demographics, which is extremely appealing to investors long-term."
According to CoStar, there were 22 two-tenant pad sales in the Midwest in 2019 at an average cap rate of 6.95%, which shows a 5-basis point compression from the 7.00% average cap rate in 2018, Lefko notes.
"Buyer demand for this product type has increased for a few reasons," Mallory explained. "Buyers continue to want to diversify their income stream by having two separate tenants. They also like getting a higher return versus a single-tenant property. Additionally, single-tenant Starbucks leases have very similar landlord responsibilities to the two-tenant leases and thus buyers are going to have similar minimal maintenance responsibilities whether they buy a single-tenant Starbucks or a two-tenant Starbucks property. A lot of buyers have the attitude that they might as well buy the two-tenant property with essentially the same amount of work but at a higher cap rate and a more diversified income stream. In the case of both the Spring Hill and Poplar Bluff properties, Starbucks' rent was low relative to most new construction Starbucks properties, which increased the buyer demand."
Hanley Investment Group has been one of the most active brokerage companies in the sale of two-tenant properties across the U.S. Since the start of 2019, Hanley Investment Group has sold a total of 19 two-tenant properties. In spring 2019, Hanley Investment Group also arranged the sale of a two-tenant Starbucks Drive-Thru and QDOBA Mexican Eat in Sioux City, Iowa at a record-cap rate. According to Lefko, "We procured an all-cash, 1031 exchange buyer based in Southern California and obtained a premium for a two-tenant net-leased investment in the Midwest that had approximately 65% of the original lease terms remaining for both tenants."
Lefko adds that Hanley Investment Group recently listed for sale a two-tenant property for sale with tenants Aspen Dental and Vision Works in Knoxville, Tennessee. Additional listings can be found on http://listings.hanleyinvestment.com.
About Hanley Investment Group
Hanley Investment Group Real Estate Advisors is a retail investment advisory firm with a $6+ billion transaction track record nationwide, who works closely with individual investors, lending institutions, developers, and institutional property owners in every facet of the transaction to ensure that the highest value is achieved. For more information, visit www.hanleyinvestment.com.
# # #