SAN ANTONIO – November 8, 2019 – RealEstateRama – Better Homes and Gardens Real Estate HomeCity, a leading forward-thinking real estate brokerage based in San Antonio, announced today it is offering HomeCity Offer Optimizer to give homeowners multiple instant offers on their home with the push of a button.
Offer Optimizer allows homeowners throughout San Antonio and Austin to easily compare as many as a half-dozen iBuyer offers side-by-side before they decide to sell their home. A trusted HomeCity agent provides local knowledge and highly personalized service for the path a homeowner chooses.
HomeCity is providing homeowners purchase offers from Zillow Offers, Opendoor, Offerpad, RedfinNow, abodewell, and Perch. These online firms are called iBuyers because they offer to "instantly buy" homes. HomeCity Offer Optimizer helps local homeowners make the best choice for their circumstances, as sellers sell their home on the open market, accept an iBuyer offer, or choose not to sell.
"Working with a real estate agent is more popular today that it was 20 years ago," notes said Jim Pfirrmann, CEO of Better Homes and Gardens Real Estate HomeCity. "Homeowners want the expertise of a local trusted agent to make the right sales decision," he added.
According to research, today 90 percent of consumers use an agent to sell their homes, up 5 percent from 2014, and 9 percent higher than 2001.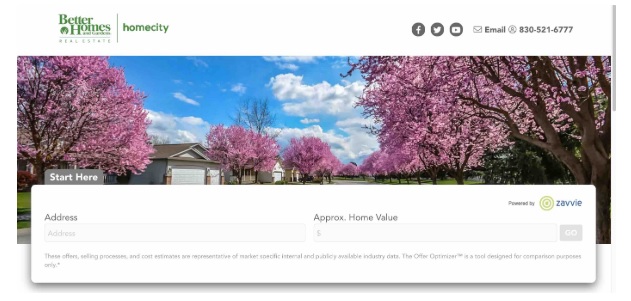 "When a seller accepts an iBuyer offer, they have a HomeCity advocate who can expertly guide them through the sales transaction and be with them every step of the way," Pfirrmann added.
BHGRE HomeCity partnered with zavvie, creator of that Offer Optimizer™ Suite, which powers the iBuyer platforms of top brokerages across America. Using online tools that provide current, reliable, and market-specific data, zavvie connects agents and their clients to iBuyers so homeowners can make informed decisions with the help of a trusted real estate agent.
"While it only takes the push of a button to get an instant offer, selling your home to an iBuyer while swift, it is not instant," said Lane Hornung, CEO and Founder of zavvie. "Sellers still want the expertise of a local agent. Someone who has a deep knowledge of the local market and can provide guidance, and often help sellers with the emotional side of selling a home."
"HomeCity is building a real estate brokerage of the future to neighborhoods throughout San Antonio and Austin. Now HomeCity agents have the latest iBuyer technology to give homeowners access to multiple instant offers at a push of a button, backed by an exceptional customer service team. It's game-changing," Hornung added.
Find more information at homecity.com.
About Better Homes and Gardens Real Estate HomeCity
Better Homes and Gardens Real Estate HomeCity is an innovative real estate brokerage with an award-winning culture with over $1 billion in sales and more than 4,000 transactions annually. HomeCity serves neighborhoods throughout San Antonio, Austin, Temple/Belton, and Corpus Christi. Named to the Austin Business Journal's Fast 50 list as one of the Fastest Growing Companies in Central Texas, HomeCIty has been named a Best Place to Work by the Austin Business Journal and the Dallas Business Journal, a Top Workplace by the Austin American Statesman, and made the Entrepreneur Magazine's Top Company Cultures list.
About zavvie
zavvie is a technology company that connects agents and their clients with iBuyers.  zavvie's Offer Optimizer™ Suite bridges the gap for consumers who may not be aware of all their options for selling. Currently operating in iBuyer markets and rapidly expanding, zavvie gives top brokerages and agents all they need to thrive by serving their clients in today's evolving real estate landscape: easy to use tools, technology, training, marketing, and strategy. Discover more at zavvie.com.
zavvie Offer Optimizer™ received an Inman Innovator Award for Most Innovative Real Estate Technology, and the company is a graduate of the National Association of REALTORS® REach program. For brokerages interested in licensing Offer Optimizer™ technology, visit zavvie.com.
# # #
Media Contact:
Kevin Hawkins
206-866-1220