LOS ANGELES – (RealEstateRama) — International award-winning KTGY Architecture + Planning announced today the firm's Los Angeles office has completed its sixth year of teaching and mentoring students attending Bell High School in the City of Bell, Calif. Through the ACE (Architecture-Construction-Engineering) Mentor Program Los Angeles, volunteer mentors and staff from KTGY's Los Angeles office provide Bell High School ACE students with bi-weekly hands-on learning activities and classes relating to the field of design-build to educate, mentor and inspire these students throughout the school year.
In addition to supporting the ACE Mentor program, KTGY gives an annual monetary donation to the ACE Mentor program, which provides scholarship money for ACE Mentor program graduates. According to Manny Gonzalez, FAIA, managing principal of KTGY's Los Angeles office, "KTGY's ACE mentors and volunteers plan, coordinate and deliver a substantive bi-weekly program that educates 20 Bell High School students annually about the design and construction industry."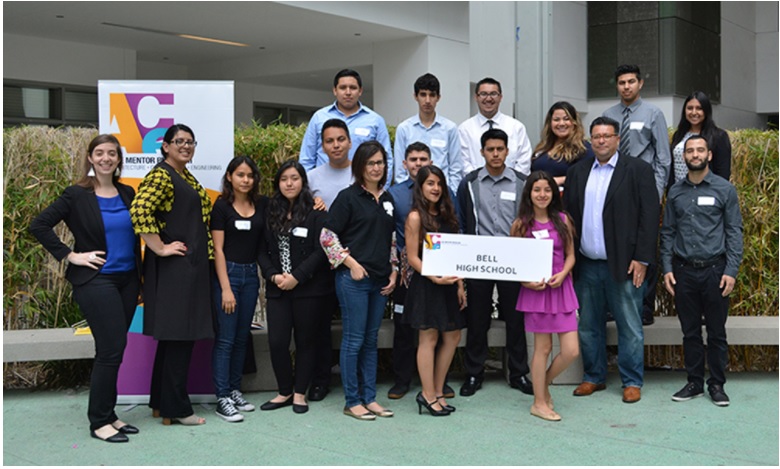 KTGY Project Manager Anabel Martinez,has been involved in the ACE Mentor Program for nearly 14 years and was selected as the ACE Mentor Los Angeles "Architect Mentor of the Year" in the past for her mentorship, team leader activity, and dedication to the growth and impact of ACE Mentor Los Angeles at Bell High School.
Martinez is the liaison for KTGY's ACE Mentor volunteer staff members and Maria Setaro, project associate, has served as the team leader in charge of planning and coordinating mentor activities and lessons. She has been assisted by Fernanda Frisby, senior designer; Jose Cerezo, senior job captain; Arthur Zohrabians, project associate; and Liz Vento, project associate. Oliver Inauen, project manager, has been involved with the West Los Angeles ACE Mentoring Team.
"At KTGY, we are grateful for the opportunity to work with the students at Bell High School," said Martinez. "Introducing them to career possibilities in the construction and design industry sparks their excitement and this is contagious! Some of our students are the first in their family to attend college or trade school. The ACE Mentor program is a great example of how doors can open when you share your life with young people."
Setaro adds, "One of the many things I look forward to is the interaction with our students. We get inspired and motivated with their energy and creativity to develop design activities. We also strongly promote team collaboration and mentorship to the students. These two are very applicable not only in the classroom but in a real-world setting. Greater achievements can be accomplished when you support, contribute, and elevate your team; and both KTGY and ACE are great examples of cultivating team player attitudes."
Last year, KTGY volunteers and the Bell High School Ace Mentor program students toured the landmark Wilshire Grand Tower that was under construction at the time in downtown Los Angeles. "The students learned about the site complexities and limitations of building this 73-story high-rise, which will be the tallest building west of the Mississippi, and is designed to sway up to eight feet in each direction during an earthquake," said Martinez. "Everyone's favorite part of the tour was taking the construction elevator up to the 65th floor and enjoying the amazing views of Los Angeles."
The group also visited the Frank Gehry exhibit at the Los Angeles County Museum of Art (LACMA).  Martinez said, "Several of our students had never been previously to LACMA or even to an art museum. These kinds of activities serve to inspire and spark the imagination."
The ACE Mentor team will launch the new 2017-2018 program in September. For more information about ACE Mentor Program, see www.acementor.org

About KTGY Architecture + Planning
Celebrating 25 years, KTGY Architecture + Planning is an international award-winning full-service architecture and planning firm delivering innovation, artistry and attention to detail across multiple offices and studios, ensuring that clients and communities get the best the firm has to offer no matter the building type or location. KTGY's architects and planners combine big picture opportunities, leading-edge sustainable practices and impeccable design standards to help create developments of enduring value. KTGY serves clients worldwide from offices located in Chicago, Denver, Irvine, Los Angeles, Oakland, Pune and Tysons. Call 888.456.KTGY or visit www.ktgy.com, Facebook, Twitter, LinkedIn,
Instagram, Vimeo, YouTube
#  #  #
Anne Monaghan
MONAGHAN COMMUNICATIONS, INC.


830.997.0963